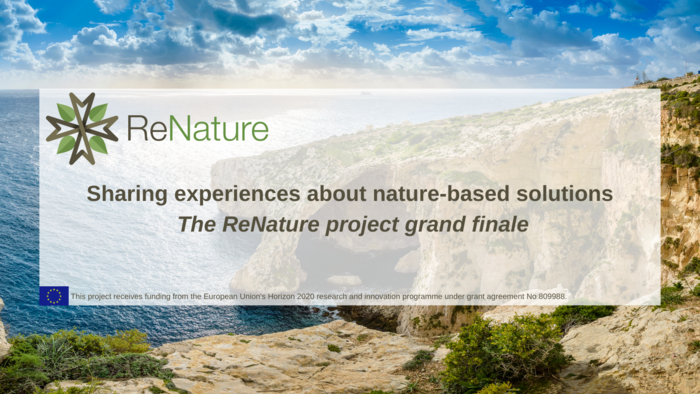 The Horizon 2020 project ReNature is a Twinning project that aims at promoting research excellence and capacity-building in nature-based solutions (NBS). The project has recently come to an end with positive evaluation by the European Commission which has considered the project as having delivered exceptional results with significant immediate and potential impact.
Throughout its duration, ReNature has successfully accomplishing the majority of its objectives, including the establishment of a cluster of stakeholders working on NBS, establishing a compendium and interactive toolkit to share experiences of NBS from a Mediterranean climate, and to develop and implement capacity-building activities with early career researchers. The project was also successful in raising research and innovation (R&I) excellence with a total of 11 peer-reviewed publications, a training collection of resources sharing 5 non peer-reviewed publications, and 19 papers presented in international conferences. Additionally, the project team has accomplished to engage various institutions from the member states to stimulate knowledge exchange between them and nurture a new generation of scientists and practitioners around an emerging nature-based solutions cluster for Malta, as the final project review reports on the credibly built links and informal partnerships beyond the project that will have a lasting effect.
Along with the extremely positive review feedback received from the European Commission, ReNature has shared an article with the European Research Executive Agency (REA).
The article highlights some of the project's contributions, including the ReNature compendium and interactive toolkit, which serve for the identification of suitable NBS with the potential to tackle major societal challenges.
"Through this toolkit, we wanted to provide a practical tool that may be used by different stakeholders to evaluate how nature-based solutions can address the specific challenges impacting on society but at the same time give rise to benefits to communities. It addresses key knowledge gaps identified by our stakeholder community relating to the understanding of the nature-based solution concept, and the identification of effective and context-adapted nature-based solutions."
"We want to ensure the continuation of ReNature's legacy as a nature-based solution knowledge provider within the Mediterranean region by sharing information and further developing collaborations between stakeholders", comments the project Coordinator Dr. Mario Balzan.
---