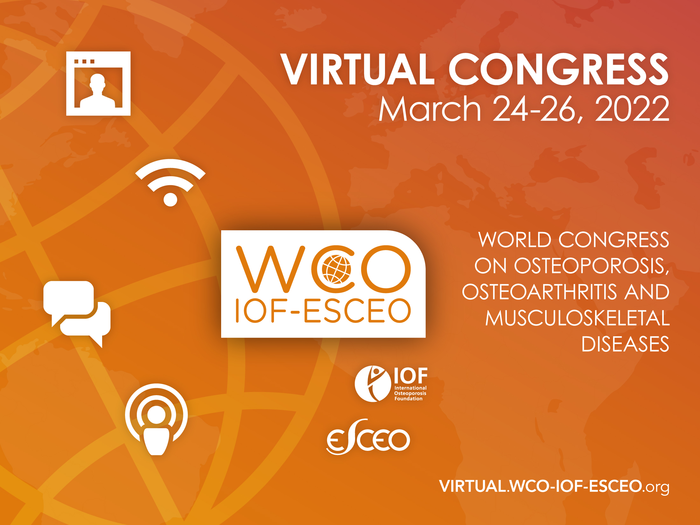 Although the phenomenon of 'fracture begets fracture' is widely known, approximately 80% of patients who sustain a fragility fracture are not diagnosed with or treated for osteoporosis. This treatment gap represents a missed opportunity to protect the most vulnerable patients from a future of life-threatening secondary fractures.
At the upcoming virtual World Congress on Osteoporosis, Osteoarthritis & Musculoskeletal Diseases (virtual WCO-IOF-ESCEO 2022), to take place from March 24 to 26th, 2022, global experts will be discussing a wide range of topics related to musculoskeletal health and disease prevention. One of the key topics to be covered is secondary fracture prevention, with numerous sessions providing essential clinical guidance and information on post-fracture care.
As well, the International Osteoporosis Foundation's (IOF)'s Capture the Fracture® program will be highlighted in a dedicated non-sponsored symposium. Celebrating 10 years since its launch, the global program is dedicated to advancing the implementation, effectiveness, and sustainability of post-fracture care coordination programs, most commonly known as Fracture Liaison Services (FLS). Such models of care are considered to be the single most important strategy to directly improve patient outcomes and reduce fracture-related healthcare costs worldwide.
Congress Co-chairs, Professor Cyrus Cooper (IOF President) and Professor Jean-Yves Reginster (ESCEO President) urge all healthcare professionals with an interest in secondary fracture prevention to attend the virtual Congress and to take part in a variety of sessions dedicated to post-fracture care:
"At this year's Congress, we have planned eleven different sessions, including lectures, Meet-the-Experts sessions, and symposia, which are directed to clinicians, orthopaedic surgeons, or healthcare authorities who aim to prioritize post-fracture care for the prevention of recurrent fractures. It's a not-to-be-missed opportunity to hear about the latest in clinical best practice and to learn how your hospital or clinic can initiate or improve its Fracture Liaison Service."
The following sessions with a focus on post-fracture care, FLS development and secondary fracture prevention are planned and are accessible on-demand for a period of three months to all delegates who register for the Congress:
Educational lectures
Post-fracture care: State of the Art?
Cyrus Cooper (Friday, March 25, 13:30)
How can artificial intelligence impact the management of musculoskeletal diseases?
Hans Peter Dimai (Saturday March 26, 12:10)
Plenary Lecture
Update of the management of patients at imminent fracture risk
Nicholas Harvey (March 24, 15:30)
Meet-the-Expert sessions
Which drugs do impact fracture healing?
Peter Ebeling (Friday, March 25, 9.15)
Role of registries in musculoskeletal management
Cris Ojeda-Thies (Friday, March 25, 14:30)
Pharmacological and non-pharmacological management of patients following hip fracture
Toshitaka Nakamura (Saturday, March 25, 11:30)
Development of fracture prevention services in low- and middle-income countries
Kate Ward (Saturday, March 26, 10:30)
Fall prevention strategies
Stefania Maggi (Saturday, March 26, 14:00)
Symposia
Non-Sponsored Symposium (1)
Capture the Fracture® celebrating 10 years - Learnings and successes
Chairperson: Kristina Åkesson
Introduction – why Capture the Fracture is so important to IOF - Cyrus Cooper
Best Practice Framework – development and why organisational audits support FLSs becoming effective - Kristina Åkesson
Getting mapped – were we started and where we are now - Thierry Thomas
Development of patient-level performance indicators – why and how - Kassim Javaid
Capture the Fracture in the next decade - Serge Ferrari
Summary & Conclusion

Non-Sponsored Symposium (19)
How to optimize monitoring in Osteoporosis?
Chairperson: Serge Ferrari
Introduction - Serge Ferrari
Why monitoring matters? - Willem Lems
FLS pathway and how the Best Practice Framework capture monitoring - Kassim Javaid
Best Practice Framework results - Zaineb Mohsin
Discussion on recommendations for monitoring framework for FLSs - All - Chaired by Serge Ferrari
Sponsored satellite symposium (UCB)
Now we build: embracing multidisciplinary teams for stronger secondary fracture prevention
Chairperson: Eric Hesse
Welcome and Introduction - Eric Hesse
Identifying those postmenopausal patients at higher risk of fracture: When, who and how? Mattias Lorentzon
Clinical decision-making with bone-forming therapy: Where do we begin? - Bente Langdahl
Optimising management through a co-ordinated approach to care - Sherwin Criseno
Q&A/panel discussion - All
Conclusion and closing remarks - Eric Hesse
View the complete WCO-IOF-ESCEO 2022 scientific program (soon to also list oral presentations).
###
About the World Congress on Osteoporosis, Osteoarthritis & Musculoskeletal Diseases (WCO-IOF-ESCEO)
Held jointly by IOF and ESCEO, the WCO-IOF-ESCEO annual congress is the world's largest forum for the presentation of clinical research and new advances in the prevention and management of musculoskeletal disorders, including sarcopenia and frailty. WCO-IOF-ESCEO 2021 will be held as a virtual congress from March 24-26, 2022, with access on demand for registrants up to three months following the congress. For complete information visit http://virtual.wco-iof-esceo.org/ #OsteoCongress
About IOF
The International Osteoporosis Foundation (IOF) is the world's largest nongovernmental organization dedicated to the prevention, diagnosis and treatment of osteoporosis and related musculoskeletal diseases. IOF members, including committees of scientific researchers as well as more than 300 patient, medical and research organizations, work together to make fracture prevention and healthy mobility a worldwide heath care priority. https://www.osteoporosis.foundation @iofbonehealth
www.capturethefracture.org / www.worldosteoporosisday.org
About ESCEO
The European Society for Clinical and Economic Aspects of Osteoporosis, Osteoarthritis and Musculoskeletal Diseases (ESCEO) is a non-profit organization, dedicated to a close interaction between clinical scientists dealing with rheumatic disorders, pharmaceutical industry developing new compounds in this field, regulators responsible for the registration of such drugs and health policymakers, to integrate the management of osteoporosis and osteoarthritis within the comprehensive perspective of health resources utilization. The objective of ESCEO is to provide practitioners with the latest clinical and economic information, allowing them to organize their daily practice, from an evidence-based medicine perspective, with a cost-conscious perception. https://www.esceo.org
---