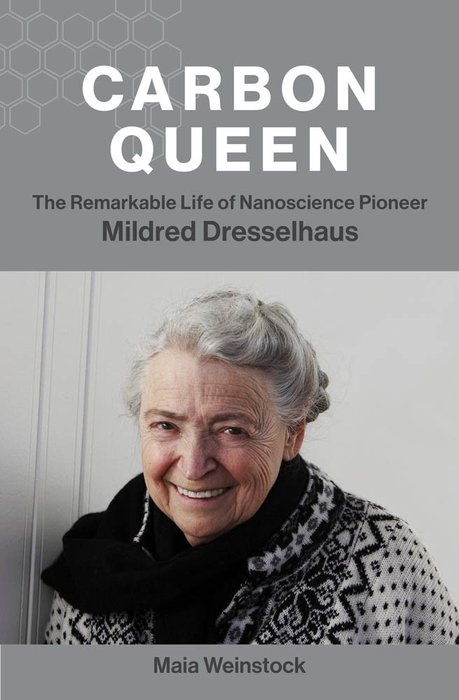 As a girl in New York City in the 1940s, Mildred "Millie" Dresselhaus was taught that there were only three career options open to women: secretary, nurse, or teacher. But sneaking into museums, purchasing three-cent copies of National Geographic, and devouring books on the history of science ignited in Dresselhaus a passion for inquiry.
In "Carbon Queen: The Remarkable Life of Nanoscience Pioneer Mildred Dresselhaus," science writer Maia Weinstock, who is also the deputy editorial director in the MIT News Office, describes how, with curiosity and drive, Dresselhaus defied expectations and forged a career as a pioneering scientist and engineer. Dresselhaus made highly influential discoveries about the properties of carbon and other materials and helped reshape our world in countless ways — from electronics to aviation to medicine to energy. She was also a trailblazer for women in STEM and a beloved educator, mentor, and colleague.
"Millie was nothing less than a hero to many, in her home country and around the world," Weinstock writes in "Carbon Queen." "The story of her life provides insights into the workings of an ever-expanding mind, the ongoing evolution of societal attitudes toward women and people of color in science and engineering, and the unique power of kindness."
Her path wasn't easy. Dresselhaus's Bronx childhood was impoverished. Her graduate advisor felt educating women was a waste of time. But Dresselhaus persisted, finding mentors in Nobel Prize-winning physicists Rosalyn Yalow and Enrico Fermi. Eventually, Dresselhaus became one of the first female professors at MIT, where she would spend nearly six decades. Weinstock explores the basics of Dresselhaus's work in carbon nanoscience, describing how she identified key properties of carbon forms, including graphite, buckyballs, nanotubes, and graphene, leading to applications that range from lighter, stronger aircraft to more energy-efficient and flexible electronics.
Maia Weinstock is an editor, writer, and producer of science and children's media whose work has appeared in Scientific American, Discover, SPACE.com, BrainPOP, and Scholastic's Science World. She is Deputy Editorial Director at MIT News, a lecturer at MIT on the history of women in STEM, and creator of LEGO's "Women of NASA."
Advance Praise:
"A striking portrait of a brilliant mind…This is a fascinating introduction to a game-changing figure."—Publishers Weekly, STARRED review
"Carbon Queen is Maia Weinstock's account of the remarkable life of nanoscience pioneer Mildred Dresselhaus, who, from the 1950s, defied society's expectations of women to become an influential scientist and engineer."— New Scientist
"When the mathematically gifted but impecunious Mildred Spiewak launched her academic career at Hunter College in 1948, she aimed at no more than qualifying for "something better than work in a zipper factory." In chronicling the stunningly successful path that Spiewak subsequently traversed as a research scientist, Weinstock leaves readers grateful that this gifted woman found settings far better than a zipper factory. We see how—before Spiewak joined her life, her career, and her name to those of her husband, solid-state theorist Gene Dresselhaus—she found her own footing as a fearless female scientist under the mentorship of Rosalyn Sussman Yalow, Nobel laureate in medicine. Though Weinstock takes readers into some of the scientific complexities behind the revolutionary carbon nanotubes that Mildred Dresselhaus developed, she also brings into view the exceptionally multivalent personal relationships Dresselhaus fashioned while bearing and caring for four children. Readers see how the same energy and intellectual resourcefulness that enabled Dresselhaus to perceive previously undetected structural characteristics of graphite also helped her envision and create an academic environment more open to and more supportive of women, especially those from ethnic minorities. An exceptional biography showcasing the achievements of a brilliant scientist who broadened the range of the possible for women."— Booklist, STARRED review
On March 16th, Weinstock will join Laurie McNeil, the Bernard Gray Distinguished Professor in the Department of Physics and Astronomy at the University of North Carolina at Chapel Hill, for a virtual event at Politics & Prose. Details here.
On March 24, the MIT Press will collaborate with the MIT Libraries on a special event celebrating the book. Free and open to the public, the event will also feature Evelyn Hu, professor of applied physics and of electrical engineering at Harvard University, and will take place at the Nexus in Hayden Library.
The publication of "Carbon Queen" was supported by the MIT Press Fund for Diverse Voices. The fund aids new work by authors who bring excluded and chronically underrepresented perspectives to the fields in which the press publishes across the sciences, arts, and humanities.
---