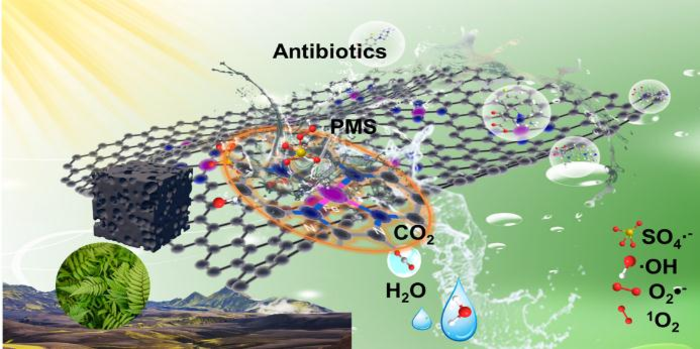 Plants contaminated by heavy metals and antibiotic abuse are two major issues currently facing human sustainable development, as they directly affect food security and drinking water safety. Both pollutants are environmentally persistent and toxic, and can cause potential and long-term negative effects to human health as well as the ecological environment. Rising concerns regarding the addressed issues have all stimulated the search for a more sustainable, eco-friendly solution.
Utilizing heavy metal contaminants for catalytic degradation of antibiotics is one particularly promising strategy for processing both contaminants conceptionally. Fe single-atoms confined by a hierarchical porous carbon framework have been fabricated successfully from Fe-contaminated biomass waste ferns for the efficient photocatalytic removal of six typical antibiotics.

Recently, Prof. Kai Yan from Sun Yat-Sen University and Dr. Wenhao Luo from Dalian Institute of Chemical Physics have developed a sustainable methodology to promote the sustainable utilization of biomass waste for the efficient remediation of antibiotic pollution.

This work demonstrates that utilizing Fe-contaminated biomass waste ferns is an appealing and facile strategy for the synthesis of highly active and stable single atom catalysts, and is relevant for pollutant control among other applications.

This work is supported by the Key Realm Research and Development Program of Guangdong Province (2020B0202080001), CAS Project for Young Scientists in Basic Research (YSBR-022), the Guangdong Basic and Applied Basic Research Foundation (2019B1515120058), the National Natural Science Foundation of China (22078374), the Strategic Priority Research Program of the Chinese Academy of Sciences (XDB36030200), the National Key R&D Program of China (2020YFC1807600), the National Ten Thousand Talent Plan, Key-Area Research and Development Program of Guangdong Province (2019B110209003), the Fundamental Research Funds for the Central Universities (19lgzd25), and the Hundred Talent Plan (201602) from Sun Yat-sen University for financial support.
About the journal
The Journal of Energy Chemistry is a publication that mainly reports on creative researches and innovative applications of chemical conversions of fossil energy, carbon dioxide, electrochemical energy and hydrogen energy, as well as the conversions of biomass and solar energy related with chemical issues to promote academic exchanges in the field of energy chemistry and to accelerate the exploration, research and development of energy science and technologies.

At Elsevier
https://www.sciencedirect.com/journal/journal-of-energy-chemistry

Manuscript submission
https://www.editorialmanager.com/jechem/default.aspx
---
Journal
Journal of Energy Chemistry