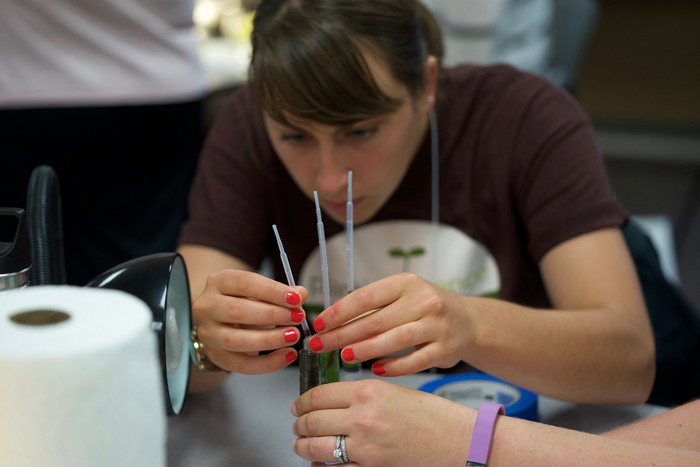 In a study recently published in the Journal of Research in Science Teaching, researchers at the Botanical Society of America (BSA), BSCS Science Learning (BSCS), and the University of Colorado Colorado Springs (UCCS) demonstrated the effectiveness of having high school students, scientist mentors, and teachers working together to learn about photosynthesis and cellular respiration.
The study was based on the PlantingScience program that was developed in 2005 by BSA and supported by a network of scientific societies. Through the online program, PlantingScience has facilitated partnerships between scientists and K-12 classrooms in schools across the country. In PlantingScience, students and teachers have the opportunity to work directly with scientist mentors to conduct experiments and analyze their results. They also develop their own questions and hypotheses, design their own experiments, and report their findings through the custom online platform.
"The PlantingScience program was established as a way to get scientists connected with students in the classroom," said study co-author Catrina Adams, Education Director of the Botanical Society of America. "Everyone has a general sense that this sort of work can be very beneficial, but up until now, there has been a lack of rigorous studies looking at how effective these collaborations between teachers, students, and scientist mentors are."
With funding from the National Science Foundation, 64 teachers and over 1500 students from broad demographic backgrounds took part in a randomized, control designed study on the effectiveness of the PlantingScience Power of Sunlight module, making it the largest study of its kind. The study was supported by 43 early-career scientists and over 400 online scientist mentors recruited from the partnering scientific societies.
As part of the study, teachers convened for a week-long professional learning workshop to immerse into the PlantingScience Power of Sunlight module, which they would be teaching during the following semester. Working with spinach leaves and aquatic plants, teams of early-career scientist mentors and K-12 teachers worked together to learn in-depth about the curriculum that focused on photosynthesis and cellular respiration. Participants also learned about innovative teaching strategies that help effectively convey difficult concepts to students.
"We wanted to make the professional learning experience valuable for both the teachers and the scientists, not just in terms of content, but also pedagogy and implementation strategies," said Anne Westbrook, Senior Science Educator at BSCS Science Learning. "We tried to create something that tied together the curriculum, the professional learning, and the online interaction between scientists and students."
Teachers who attended the workshop the first year implemented the PlantingScience Power of Sunlight module when they returned to their classrooms. Scientist mentors communicated with students via an interactive online platform over the course of several weeks to virtually build connections with the students, answering questions, troubleshooting, and normalizing the problems that inevitably arise during experiments.
By working closely with their peers and with experts, students received tailored guidance on how to formulate questions they could test with available materials and equipment, motivating them to work through various scenarios that required them to think like scientists.
"One of the most joyful aspects of science is the process of trying to figure something out and having ownership of the investigation," Adams said. "Students become more independent and have more control over their experiments as the program continues, so the students are left in charge of everything from the specific question they ask and techniques they use to how they record data and present their results."
Teachers in the control group, who did not attend the professional learning workshop, taught their students about photosynthesis and cellular respiration using their conventional approach without the online mentoring.
At the conclusion of the study, students in the PlantingScience Power of Sunlight group showed greater gains in content knowledge and could be expected to perform 11 percentile points better on assessments compared with students who did not have access to the Power of Sunlight module, or the scientist mentors. This difference is statistically significant.
Another goal of the program is to help dispel negative and limiting preconceptions that students often have about scientists. Students in the PlantingScience group showed improved attitudes about scientists compared with students in the control group. The experience of working with a scientist may help students better understand what doing science is like and consider scientific research as a potential career.
"If students have a limited view of what a scientist looks like, they might not see themselves moving into that field," Westbrook said. "We want students and teachers to see that scientists are people who, in addition to having a keen curiosity about the natural world, have broad interests, and a life outside the lab. We also want students to see that plant scientists do research that impacts all our lives."
Previous programs have brought scientists and students together, but, Adams notes, these are often targeted to students who already have an interest in science, many of whom are academically advanced. "We're really aiming for a 'science for all' approach, where all students have the opportunity to meet and work with scientists. So, it's exciting that our results suggest that students who start at different achievement levels are evenly benefitting from the program," she said.
The outcomes of the study offer encouraging validation for the ongoing work of the PlantingScience team and partners, and the cumulative outreach efforts of thousands of teachers and scientists. BSA, BSCS, and UCCS recently received a new five-year, $3.9 million grant from the National Science Foundation to continue the work. In this new grant, the researchers will replicate the study and expand it to include an online format for the professional learning experience. This study will include approximately 120 high school teachers from across the country and 60 early career scientists.
"Most people who are monitoring this type of research would conclude that there is a replication crisis in education," said lead author Joseph Taylor, Assistant Professor in the Department of Leadership, Research and Foundations at UCCS. "Few interventions in education have been tested more than one time. This can lead to inaccurate conclusions about their effectiveness. We struck one blow against the replication crisis by having a replication funded."
---
Journal
Journal of Research in Science Teaching
Method of Research
Randomized controlled/clinical trial
Subject of Research
People
Article Title
The effect of a student–teacher–scientist partnership program on high school students' science achievement and attitudes about scientists
Article Publication Date
1-Feb-2022