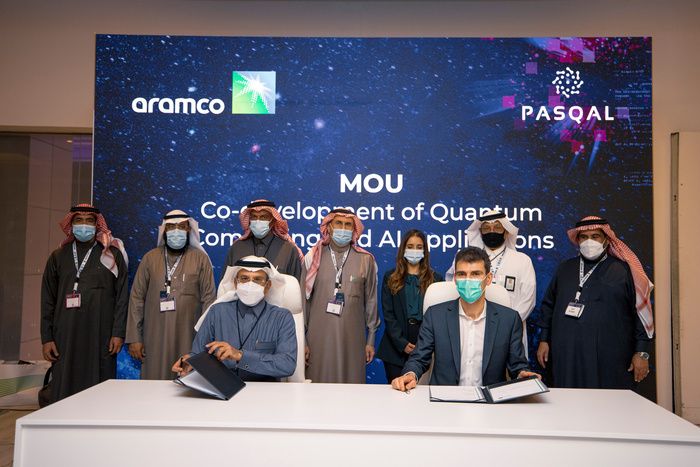 Riyadh, March 9, 2022 – Pasqal, a developer of neutral atom-based quantum technology, and ARAMCO announced the signing of an MoU to collaborate on quantum computing capabilities and applications in the energy sector. Objectives include accelerating the design and development of quantum based machine learning models as well as identifying and advancing other use cases for the technology across the Saudi Aramco value chain. To that end, both companies plan to explore ways for collaborating and cultivating the quantum information sciences ecosystem in the Kingdom of Saudi Arabia.

Quantum computing can be used to address a wide range of upstream, midstream and downstream challenges in the oil and gas industry including network optimization and management, reaction network generation and refinery linear programming. The collaboration will explore potential applications for quantum computing and artificial intelligence in these areas as well.

As part of the project, Pasqal will provide both its quantum expertise and platform to develop new use cases. The companies will explore the applicability and benefit of augmenting Aramco's training programs with Pasqal's quantum technologies, as part of the joint efforts.

For its part, ARAMCO is focused on pioneering the use of quantum computing in the energy sector, positioning itself as an early beneficiary of quantum advantage over classical computers. Pasqal aims to establish operations in the Middle East, and grow its business both in Saudi Arabia and across the region.

"This is a very promising initiative for Pasqal and a perfect opportunity for us to show not only the energy sector, but the entire world, what our technology can do," said Georges-Olivier Reymond, CEO of Pasqal. "It further confirms that our neutral atom technology is one of the most promising in the world."
About Pasqal
Pasqal builds quantum computers from ordered neutral atoms in 2D and 3D arrays with the goal of bringing a practical quantum advantage to its customers in addressing real-world problems, especially in quantum simulation and optimization. Pasqal was founded in 2019 by Georges-Olivier Reymond, Christophe Jurczak, Professor Dr. Alain Aspect, Dr. Antoine Browaeys and Dr. Thierry Lahaye. Based in Palaiseau and Massy, south of Paris, Pasqal has secured more than €40 million in financing combining equity and non-dilutive funding from Quantonation, the Defense Innovation Fund, Runa Capital, BPI France, ENI and Daphni.
Website: http://www.pasqal.com
Twitter: @pasqalio
LinkedIn: www.linkedin.com/company/pasqal/
About ARAMCO
Aramco is a global integrated energy and chemicals company. We are driven by the core belief that energy is opportunity. From producing approximately one in every eight barrels of the world's oil supply to developing new energy technologies, our global team is dedicated to creating impact in all that we do. We focus on making our resources more dependable, more sustainable and more useful. This helps promote stability and long-term growth around the world. www.aramco.com
---