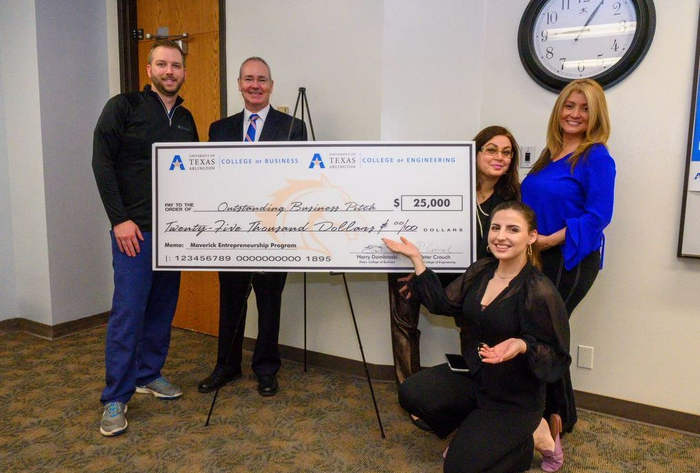 The Maverick Entrepreneur Program and Award Fund awarded $61,000 to five University of Texas Arlington students representing their entrepreneurial startups at the MavPitch business pitch competition, the flagship component of the program.
Jeffrey McGee, the program's organizer and associate professor in the College of Business' Department of Management, said UT Arlington students are encouraged to pitch their ideas to access up to $15,000 each in venture development funds.
"The program is one of the most generously funded student-focused entrepreneurship programs in the country," McGee said. "We award serious money because we want the students to take the competition seriously. We hope to strengthen and grow that entrepreneurial spirit at the University.
"Students have to be sharp. They have to adequately and succinctly pitch their startup business ideas, including the business' profitability."
A panel of current-day entrepreneurs judges the entries. Ninety-one students participated, with a total of 47 video pitches submitted for the competition.
The winning student-led teams were:
Apex Robotics: $15,000. Kashish Dhal is developing autopilot software for drones, leveraging artificial intelligence to make them efficient for industry and public safety operations. Drones equipped with Apex autopilot software could make inspections faster, safer and more cost-effective by reducing downtime.
Von Perry LLC: $15,000. Treyvon Perry is using 3D printing technology to design and build homes. Perry intends to use new features and software to take on the architecture and construction industry.
Harbor: $15,000. Bodie Chisum and Ryan Scott say they are developing a safer and more cost-effective solution to modern housing. Harbor incorporates prebuilt concrete modular construction technology with modern design techniques to streamline the home-building process.
Blueplan8: $10,000. Mahinder Singh envisions a company that designs and manufactures drones that use hydrogen as a fuel to generate electricity, enabling them to fly for up to six hours. The only emission is water, which makes this drone environmentally friendly.
Outside the Box: $6,000. Jacob Liston is building an after-school and daycare service focused on helping kids expand their interests outside of technology. Technology overuse during child development has led to many kids dealing with social development issues, relationship deficiencies and decreased attention spans. Outside the Box will target these struggles by actively engaging children and providing natural opportunities to develop social skills.
Judges included Nikole Dickman, a UTA alumna and founder of Envoy Financial; Anthony Grissett, founder and CEO of Grissett Enterprises; Molly Sandlin, a UTA alumna and founder/president of CAET Project Management Consultants LLC; and Tyler Sickels, a UTA alumnus and founder/CEO of SolGro Inc. Sickels received one of the top awards in MavPitch's inaugural 2018 competition.
---