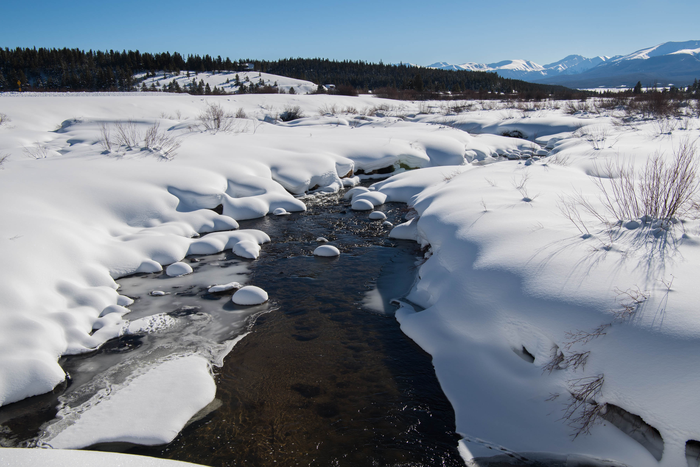 WASHINGTON – The Bureau of Reclamation released The Emerging Technologies in Snow Monitoring report as part of Reclamation's new Snow Water Supply Forecasting Program. The program aims to improve accuracy of water supply forecasts and the report evaluates current and emerging snow measurement technologies for the western United States.
"Snow provides important water storage for the west by slowly releasing water through the late spring and summer," said Chief Engineer David Raff. "A changing climate and an increasing population are stressing water supplies and making it more important to know how much water the snowpack contains."
Findings
The report identified several under-utilized emerging technologies in snow measurement. These emerging technologies have the potential to enhance water supply forecast in the near term.
Additional findings include:
Existing snow measurement stations and tools remain invaluable in monitoring how much water is in snow and in verifying new technologies.
No single snow monitoring technology currently provides complete snow condition information throughout the west.
Improvements in weather forecasting for temperature and precipitation complement enhanced snow monitoring to provide a more complete picture of future water supplies.
Several snow monitoring technologies are in the research and development phase and showing promise for substantial future benefits.
A commitment from federal, state and local agencies is needed to allow emerging technologies to be incorporated into common use for snow monitoring and water supply forecasting.
About the Report
The report was authorized in the Snow Water Supply Forecasting Program Authorization Act of 2020 (P.L. 260-116, Sec.1111). The act placed the program responsibility within the U.S. Department of the Interior. Reclamation is implementing the program on behalf of the Secretary of the Interior.
Implementing findings in the report will increase resilience to drought and impacts of climate change while supporting President Biden's Executive Order on Tackling the Climate Crisis at Home and Abroad.
Reclamation prepared the report in partnership with the California Department of Water Resources, National Aeronautics and Space Administration, National Oceanic and Atmospheric Administration, U.S. Army Corps of Engineers, USDA - Agricultural Research Service, USDA - Natural Resource Conservation Service, and U.S. Geological Survey.
---