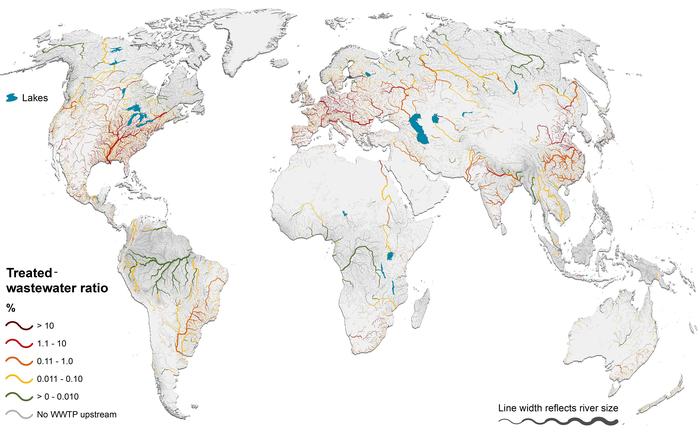 On constate avec étonnement que, même une fois traitées, les eaux usées peuvent constituer une source de pollution concentrée, notamment en raison des produits pharmaceutiques qu'on utilise à la maison. Afin de comprendre l'effet des effluents d'eaux usées sur la qualité des plans d'eau récepteurs, les chercheurs doivent connaître l'emplacement des usines d'épuration ainsi que les quantités d'eaux usées qu'elles rejettent. C'est pourquoi des scientifiques de l'Université McGill ont créé une vaste base de données indiquant l'emplacement et les caractéristiques de 58 502 usines de traitement des eaux usées partout dans le monde.
À l'aide de cette information, Heloisa Ehalt Macedo, doctorante au Département de géographie de McGill, et son équipe ont dressé le relevé de 1,2 million de kilomètres de cours d'eau qui reçoivent les eaux usées rejetées par ces installations. Cet afflux peut présenter un risque si les eaux usées ne sont pas traitées comme il se doit. En effet, certains des cours d'eau étudiés affichaient un taux de dilution des eaux usées considéré comme risqué sur le plan environnemental. Cette étude constitue la première étape de la mise au jour des zones les plus exposées à la pollution par des contaminants dits « nouvellement préoccupants », comme les produits pharmaceutiques des ménages. L'étude jette également les bases qui permettront, à terme, de cibler les usines d'épuration dont la capacité de traitement doit impérativement être améliorée dans une optique de réduction des risques environnementaux.
L'article « Distribution and characteristics of wastewater treatment plants within the global river network », par Ehalt Macedo et coll., a été publié dans Earth System Science Data.
---
Journal
Earth System Science Data
Article Title
Distribution and characteristics of wastewater treatment plants within the global river network
Article Publication Date
9-Feb-2022