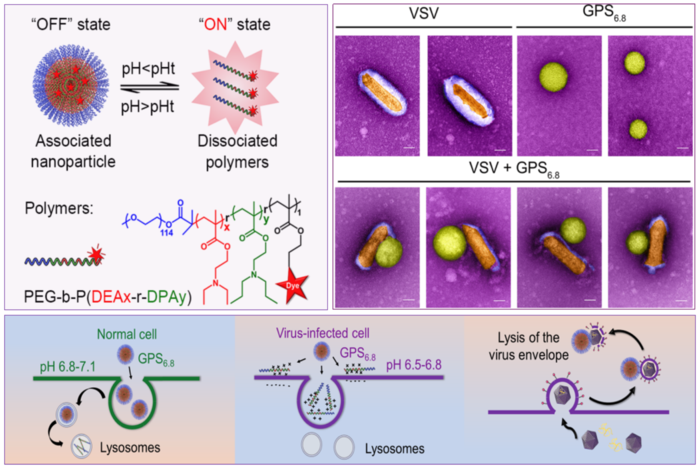 A joint research team from the PKU School of Basic Medical Sciences successfully developed a fine-scale library of pH-sensitive(GPS) polymeric nanoprobes to accurately measure the acidification levels of virus-infected cell membranes or viral envelope, and screened a pH-sensitive polymer(GPS6.8) to interact with and even disrupt viral envelope. The polymer was found to have broad-spectrum and efficient antiviral effects. The paper, entitled "A gradient pH-sensitive polymer-based antiviral strategy via viroporin-induced membrane acidification ", was published in Advanced Materials (doi: 10.1002/adma.202109580).
Viral infectious diseases have become an ongoing challenge for humanity. Due to the high mutability of viruses and the long cycle of antiviral drug development, it is vital to establish a broad-spectrum antiviral strategy responding to future emerging viral infections. In recent years, the lipid membrane as a common feature of enveloped viruses has been considered as an ideal promising broad-spectrum antiviral target. However, it remains a big challenge to identify novel membrane-based targets of viruses and virus-infected cells for development of precision targeted approaches.
To this end, a fine-scale library of gradient pH-sensitive (GPS) polymeric nanoprobe is developed to measure the cellular membrane pH transition from pH 6.8-7.1 (un-infection) to pH 6.5-6.8 (virus-infection). In response to the subtle decrease of pH, the the GPS polymer with sharp response at GPS6.8 selectively binds on virus-infected cell membranes or viral envelope, and even completely disrupts viral envelope. Accordingly, GPS6.8 treatment exerts inhibitory effects on a wide variety of viruses at both cellular levels and in virus-infected mouse models.
The research not only provides a new strategy for accurate detection of pH changes during viral infection, but also has important applied conversion prospects in the development of broad-spectrum antiviral polymer drugs, protection products and disinfection products. The polymer involved (GPS6.8) has been granted a Chinese invention patent (No. ZL202010143254.4).
Researchers Lin Zhiqiang, Lu Dan and You Fuping are the co-corresponding authors of this research paper, while the PKU School of Basic Medical Sciences is the first author. The authors appreciated the assistance of various PKU colleagues, and the financial support of several key foundations.
---
Journal
Advanced Materials
Article Title
A gradient pH-sensitive polymer-based antiviral strategy via viroporin-induced membrane acidification
Article Publication Date
28-Feb-2022