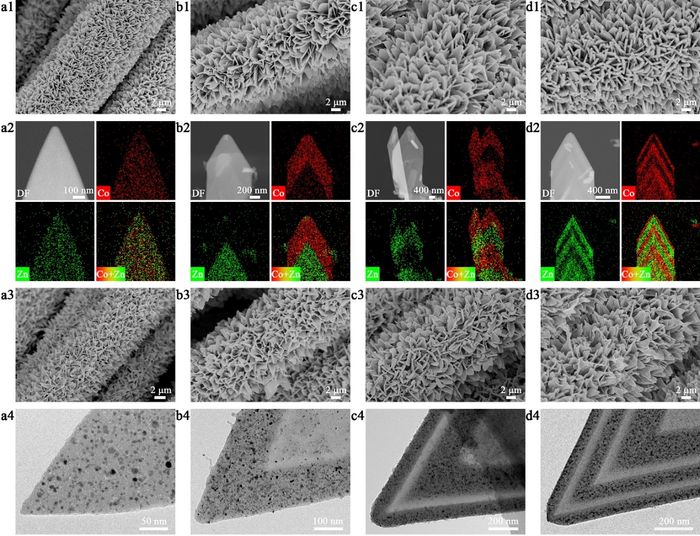 In recent years, electrochemical water splitting has aroused great interest as the most promising technology for producing hydrogen energy. However, efficient electrocatalysts are required for cathodic hydrogen evolution reaction (HER) to overcome the sluggish kinetics and thus reduce the overpotential. So far Pt and its alloys are still regarded as the state-of-the-art HER catalysts, but the commercial applications of these catalysts are greatly restricted by their high cost. Therefore, it is imperative to exploit non-noble metal-based catalysts with low cost but superior performance and stability to replace Pt-based catalysts for efficient HER.
Transition metal phosphide (TMP) based electrocatalysts have been intensively developed as promising electrocatalysts for HER due to their low cost, intrinsic HER activity and good chemical stability. Unfortunately, most of them still suffer from the insufficient catalytic activity and dissatisfied long-time stability over the entire pH range. One effective method to solve these problems is to embed them into porous carbon doped with heteroatoms, which can expedite the charge transfer and avoid the corrosion of active nanoparticles. Furthermore, the construction of multi-phase heterostructures has provided an efficient pathway to promote the HER activity of TMP by optimizing the adsorption of intermediates and accelerating the charge transfer of heterointerfaces. In addition, the rational design of three-dimensional hierarchical nanoarchitectures to increase the number of exposed active sites is also crucial for acquiring extraordinary catalytic properties.
Multi-shelled hollow structures can exhibit enhanced surface-to-volume ratios, shortened distances for mass/charge transfer and multiple electrode/electrolyte interfaces, which make them incomparably interesting for electrocatalytic applications. In the past few years, a large family of multi-shelled hollow materials have been successfully prepared by using MOFs as precursors or templates, but most of them are still in powder form and thus need to be cast on a current collector using polymer binders when being applied to electrocatalysis, which requires complicated preparation processes and lead to multiple undesirable effects. Therefore, synthesizing multi-shelled hollow TMP-based arrays on a current collector as self-supported electrode materials for HER will be greatly attractive.
Very recently, Prof. Kui Shen and colleagues in South China University of Technology developed a scalable MOF-assisted strategy for fabricating multi-shelled hollow N-doped carbon nanosheet arrays with confined Co/CoP heterostructures on carbon cloth (Co/CoP@NC/CC). The key to this strategy is the step-by-step epitaxial growth of multilayer ZIF-L arrays on carbon cloth, which are subsequently pyrolyzed and controllably phosphorized to achieve the precise control over the shell number and nanoarchitectures of the Co/CoP@NC/CC.
Impressively, electrochemical tests show that the HER performances can be significantly enhanced by increasing hollow shell number, and the optimal triple-shelled hollow Co/CoP@NC/CC exhibits low overpotentials of 86, 78 and 145 mV in acidic, alkaline and neutral media to deliver a current density of 10 mA cm−2, respectively, which outperforms most of the transition-metal-based pH-universal HER catalysts reported previously. Further DFT calculations suggest that the Co/CoP heterostructures can effectively boost the cleavage of H–OH to generate protons and optimize the adsorption energy of hydrogen (ΔGH*), which, together with multiple electrode/electrolyte interfaces, abundant accessible active sites and better conductivity, are responsible for the remarkably improved HER performances. This study would provide valuable insights into the rational design and preparation of multi-shelled hollow nanoarrays on conductive substrates for electrocatalysis and beyond.
See the article:
Wang Z, Shen K, Chen L, Li Y. Scalable synthesis of multi-shelled hollow N-doped carbon nanosheet arrays with confined Co/CoP heterostructures from MOFs for pH-universal hydrogen evolution reaction. Sci China Chem, 2022, 65, https://doi.org/10.1007/s11426-021-1175-2
---
Journal
Science China Life Sciences
Article Publication Date
15-Jan-2022