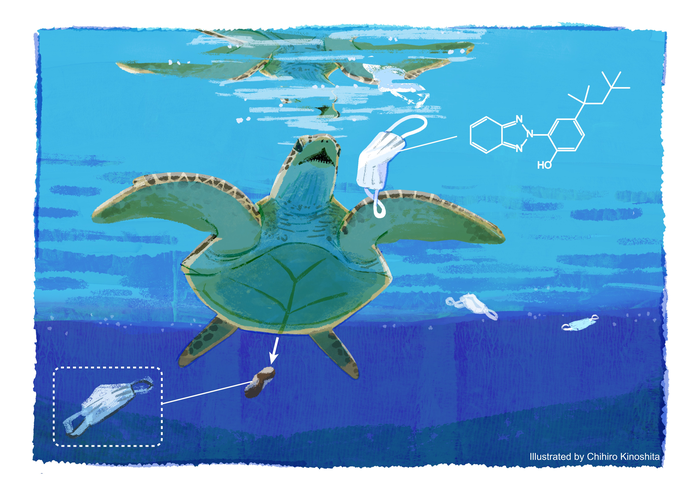 In the summer of 2021, off the northeast coast of Japan, a young green sea turtle fed near the surface of the water. A healthy diet would normally consist of jellyfish, seaweeds, seagrass and more, but this turtle ingested wood fragments, gooseneck barnacles and plastic — including a disposable face mask. The discovery was made on Aug. 10 during a routine fecal analysis of turtles live captured from the area. It is the first such evidence of the direct impact the COVID-19 pandemic is having on marine turtles.
The results were made available online Feb. 1, ahead of publication in Marine Pollution Bulletin.
Over the last 15 years, sea turtles have been live caught in the region and moved to individual tanks so that researchers can collect and analyze their feces to better understand how human activities are affecting marine diets. Occasionally, dead turtles are also found, and the researchers directly analyze their gut contents. In total, the researchers have analyzed the gut contents or waste matter of 76 sea turtles.
"Face masks had never been found in this survey before the pandemic, and, unfortunately, this is the first detection," said paper author Takuya Fukuoka, a post-doctoral researcher in the Laboratory of Organic Geochemistry (LOG) at Tokyo University of Agriculture and Technology. "The turtle, in this case, excreted the mask; however, the physical consequences of debris ingestion in many marine species are under discussion."
The researchers conducted a chemical analysis of the mask, as well as five other common brands readily available in stores. They all — including the turtle's mask — were made of polypropylene, a plastic with float-friendly low density. While a widely used protective measure against the virus that causes COVID-19, the plastics potentially contain endocrine-disrupting additives that can leach into the digestive fluid of marine organisms that accidentally consume them, according to Hideshige Takada, professor in the LOG.
"We detected UV stabilizers in four out of five brands of face masks we tested, ranging from 1.4 to 848 nanograms per gram of material," Takada said. "This concentration range is similar to those detected in plastic bottle caps, shopping bags and food packaging."
UV stabilizers are used to prevent light from degrading the plastic's integrity and are generally considered safe for human use — but humans do not eat the products they are used in. Three of the detected UV stabilizers are known to interfere with the molecules involved with hormone regulation, according to Takada.
"Exposure of marine organisms that ingest PPE wastes to the chemicals and the consequential endocrine-disruption are of further concern," Takada said. "We urgently need to study the ecotoxicological consequences of the ingestion of waste PPE by marine organisms and potential endocrine disruption. As a precautionary action, it is necessary to establish appropriate waste management systems to stop the entry of PPE into the environment and the use of safer additives to PPE."
The researchers' call to action to consider the knock-on effects echoes the movement to reduce single-use plastics and to improve food safety by non-plastic containers. The researchers plan to continue studying how COVID-19-derived plastic debris enters the environment, as well as how organic pollutants and additives from plastic waste transfer into marine organisms in efforts to mitigate further harm.
"As the pandemic continues, the usage of disposable personal protective equipment (PPE) continues," Takada said. "The COVID-19 pandemic affects not only human life, but also marine life through waste management issues. Unless appropriate waste management is instituted, the ingestion of PPE, associated chemicals and microplastics will increase in a variety of marine life very soon."
Other contributors include Fumiki Sakane and Kaoruko Mizukawa, LOG, Tokyo University of Agriculture and Technology; Chihiro Kinoshita, The University of Tokyo's International Coastal Research Center; and Katsufumi Sato, The University of Tokyo's Atmosphere and Ocean Research Institute.
The Japanese Society for the Promotion of Science Research Fellowship for Young Scientists, Grant-in-Aid and donations to the UTokyo Foundation supported this research.
##
For information about the Takada laboratory, please visit http://pelletwatch.org
Original publication
Takuya Fukuoka, Fumiki Sakane, Chihiro Kinoshita, Katsufumi Sato, Kaoruko Mizukawa, Hideshige Takada, Covid-19-derived plastic debris contaminating marine ecosystem: Alert from a sea turtle, Marine Pollution Bulletin, Volume 175, 2022, 113389,
https://doi.org/10.1016/j.marpolbul.2022.113389.
About Tokyo University of Agriculture and Technology
TUAT is a distinguished university in Japan dedicated to science and technology. TUAT focuses on agriculture and engineering that form the foundation of industry, and promotes education and research fields that incorporate them. Boasting a history of over 140 years since our founding in 1874, TUAT continues to boldly take on new challenges and steadily promote fields. With high ethics, TUAT fulfills social responsibility in the capacity of transmitting science and technology information towards the construction of a sustainable society where both human beings and nature can thrive in a symbiotic relationship. For more information, please visit http://www.tuat.ac.jp/en/.
Contact
Takuya Fukuoka, Ph.D.
Postdoctoral Fellow,
Laboratory of Organic Geochemistry (LOG),
Tokyo University of Agriculture and Technology, Japan
e-mail: t.fukuoka2@gmail.com
---
Journal
Marine Pollution Bulletin
Article Title
Covid-19-derived plastic debris contaminating marine ecosystem: Alert from a sea turtle
Article Publication Date
1-Feb-2022