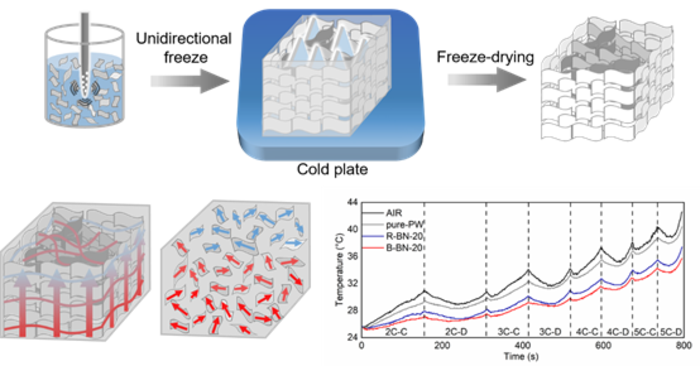 While electric vehicles have reaped the rewards of new high-energy lithium-ion batteries and rapid charging technology, challenges remain.
For example, although cars can cover longer distances between charges, and battery charging times have reduced, the lifespan of those batteries has also decreased, and low heat dissipation efficiency has led to safety issues.
Researchers from the US and China set out to find an economic but efficient battery thermal management strategy to keep battery temperatures within a safe range. In a study, published in KeAi journal Green Energy & Environment, they shared their findings – a 3D, interconnected, thermally-conductive boron nitride network that greatly improves thermal conductivity compared to random distribution.
Study co-author, Professor Bing Zhang of China's Zhejiang University, explains: "We designed a three-dimensional (3D) network of boron nitride, and systematically studied its effect on the thermal management performance of power cells.
"What we found is that the hexagonal boron nitride thermal network (h-BN) constructed by the ice template method with varying temperature gradients showed structural differences in different directions. Generally, structure determines performance, and different structures in different directions means a greater spread of performance. And by creating a composite with paraffin (h-BN/PW), we could achieve excellent anti-leakage performance and ultra-fast heat dissipation performance in lithium-ion batteries."

He adds: "Our results showed that the maximum surface temperature of the battery with continuous charge and discharge at 2 C-5 C was reduced by 6.9 ℃ . We think that this demonstrates the great potential of this process for application in battery thermal management systems."
###
Contact the author: Yingying Lu, yingyinglu@zju.edu.cn
The publisher KeAi was established by Elsevier and China Science Publishing & Media Ltd to unfold quality research globally. In 2013, our focus shifted to open access publishing. We now proudly publish more than 100 world-class, open access, English language journals, spanning all scientific disciplines. Many of these are titles we publish in partnership with prestigious societies and academic institutions, such as the National Natural Science Foundation of China (NSFC).
---
Journal
Green Energy & Environment
Method of Research
Experimental study
Subject of Research
Not applicable
Article Title
Ultrafast battery heat dissipation enabled by highly ordered and interconnected hexagonal boron nitride thermal conductive composites
Article Publication Date
22-Feb-2022
COI Statement
The authors declare that they have no known competing financial interests or personal relationships that could have appeared to influence the work reported in this paper.