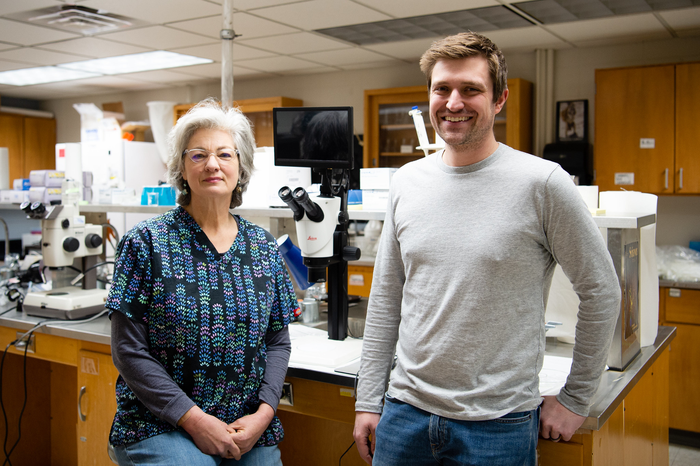 A new research collaboration between the University of Wisconsin Oshkosh and the California-based biotech company Fauna Bio seeks to translate disease resistance strategies found in the animal kingdom into new treatments for human disease.
Fauna Bio has provided a $500,000 sponsorship that increases UW Oshkosh's capacity for biomedical collaborations and helps establish the University as a destination for researchers looking to study emerging animal models.
"This partnership will advance the work already being done at UWO. It's an opportunity for our faculty to solidify their position as leaders in this field and to expand our educational opportunities for students," said UWO Provost John Koker.
In the first two years, the partnership will grow the research impact of UWO and Fauna Bio, said Benjamin Sajdak '13, Fauna Bio's director of emerging animal models and a UWO adjunct biology professor.
"We also will create new educational opportunities to foster the next generation of scientists in regeneration and disease resistance from local scientific seminars to research and biotechnology internships for students," he said.
The collaboration will increase Fauna Bio's capabilities "centered on our beloved hibernating 13-lined ground squirrel as well as expanding to other species with unique adaptations."
Advancing research
"With the ability to prospectively design studies and collect samples at precise physiological time-points, the collaboration with UWO will enrich and enhance our own internal biobank datasets and no doubt lead to more novel insights on how species like the 13-lined ground squirrel resist developing human pathologies. This will help us develop more therapeutic programs and ultimately treat human diseases," said Katharine Grabek, Fauna Bio's chief scientific officer.
Neurophysiologist Dana Merriman began UWO's 13-lined ground squirrel breeding colony in 2003 to support the work of her visual system research. The ground squirrel is a promising animal model for studying human diseases, including Merriman's research on retinal diseases like the genetic disorder known as Usher Syndrome.
"While traditional animal models like rats and mice have the stability provided by big businesses, breeding colonies of emerging model organisms are developed and maintained by individual scientists committed to them, as in my situation," she said.
Hibernating animals are known to be hard to raise in captivity, and Merriman is the only scientist to have been successful with the squirrels.
She said the collaboration with Fauna Bio offers UWO global visibility and the opportunity to connect with scientists around the globe.
Merriman retired in June 2021 but continues to work at UWO on National Institutes of Health-funded and contract research. Her primary involvement with Fauna Bio will be recruiting additional UWO faculty and students for the project and working to optimize operations and detail written protocols for raising the colony.
Sajdak, a UWO biology major, completed undergraduate research in Merriman's lab as a McNair Scholar. He went on to earn a doctorate at the Medical College of Wisconsin, using UWO squirrels in his research.
---