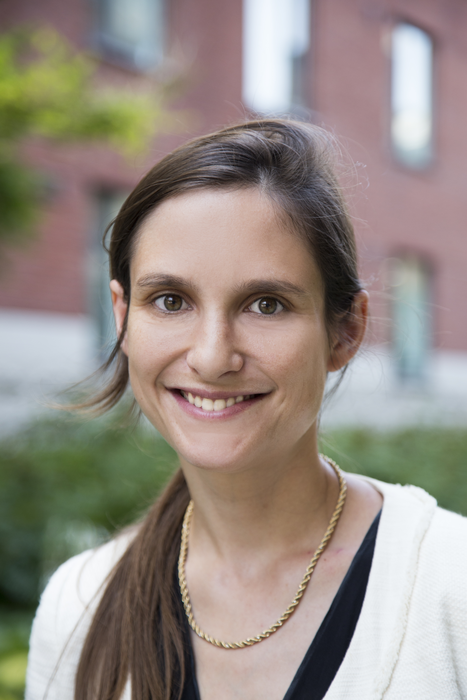 Toronto – Claire Célérier, an assistant professor of finance at the University of Toronto's Rotman School of Management, is the recipient of the Bank of Canada's Governor's Award for 2022. The annual award provides financial support to academics who are recognized for their expertise and research in areas important to the Bank's core functions and consists of a $30,000 annual research grant for a term of up to two years.
This is the fourth time since 2016 that the award has been presented to a finance professor at the Rotman School. Prof. Andrey Golubov received the award in 2020 and Prof. Mikhail Simutin received the award in 2017. Prof. Liyan Yang, who holds the Peter L. Mitchelson/SIT Investment Associates Foundation Chair in Investment Strategy, was the recipient in 2016.
A leading academic expert in household finance, Prof. Célérier studies why, how and when households benefit from financial inclusion, namely broader access to financial products and services. Her work on the design of innovative financial products, behavioral biases and investment decisions has notably drawn the interest of central banks and market regulators around the world. Prof. Célérier is also conducting research at the nexus of finance and history to explore the impact of financial inclusion on discriminated populations. She joined the Rotman School in 2016 from the University of Zurich, where she was an assistant professor. Prof. Célérier holds a PhD from the Toulouse School of Economics.
The Rotman School of Management is part of the University of Toronto, a global centre of research and teaching excellence at the heart of Canada's commercial capital. Rotman is a catalyst for transformative learning, insights and public engagement, bringing together diverse views and initiatives around a defining purpose: to create value for business and society. For more information, visit www.rotman.utoronto.ca.
-30-
For more information:
Ken McGuffin
Manager, Media Relations
Rotman School of Management
University of Toronto
E-mail: mcguffin@rotman.utoronto.ca
---