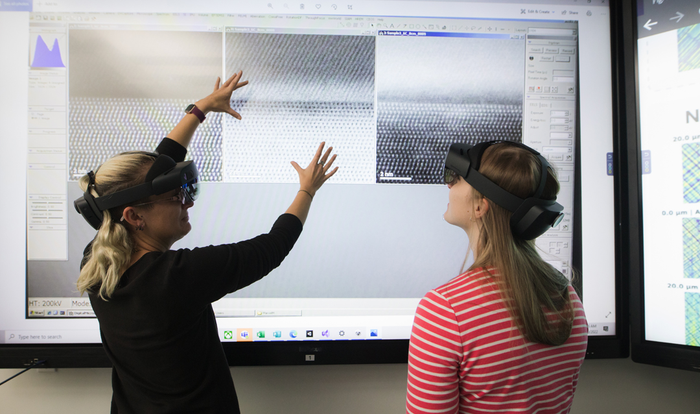 Lehigh University, in partnership with The Ohio State University (Ohio State), has entered into a Cooperative Agreement with the U.S. Army Research Lab (ARL) to develop novel structural materials for high-strength applications. The agreement, effective Feb. 10, 2022, provides up to $25 million over five years.
The first installment of $3 million has been authorized by Congress.
The team's proposal, "Lightweight High Entropy Metallic Alloy Discovery (LHEAD)," includes three basic science projects that seek to address the critical need for longer-lasting and more resilient alternative structural materials for use in advanced material systems such as hypersonic missiles. The first two projects aim to develop new generations of superalloys—high-strength materials that can function at extreme temperatures—and leverage recent advancements in solid-state materials processing to develop next-generation high-entropy metallic alloys for improved performance. In addition to alloy design, the team will also explore powder-based material processing, phase transformation pathways, atomic-resolution characterization, in-situ high-throughput mechanical testing, and additive manufacturing. The third project, rooted in Lehigh's Nano/Human Interfaces (NHI) Presidential Engineering Research Initiative, will support the first two by providing participating researchers with unique resources to improve their communication, problem solving, and collaborative use of research instrumentation.
"We are thrilled to be partnering with ARL on this important work," said Martin Harmer, the Alcoa Foundation Professor of Materials Science and Engineering, director of the NHI Initiative and Principal investigator of the LHEAD project. "This Cooperative Agreement has been cultivated through an enduring and immensely valuable relationship between Lehigh and ARL that has grown stronger and more successful over time. The LHEAD project has the potential to lead to tremendous advancements in both materials development and in how scientists conduct research together."
This Cooperative Agreement is the latest of many Lehigh collaborations with ARL, which have resulted in significant discoveries, papers in high-profile publications, award-winning poster submissions, and the placement of Lehigh students in prestigious fellowships. The LHEAD project is also a continuation of Lehigh's strong partnership with Ohio State.
"These projects launch an exciting research partnership between our Center for the Accelerated Maturation of Materials (CAMM) and Lehigh's Presidential Nano/Human Interfaces (NHI) Initiative," said Ayanna Howard, dean of Ohio State's College of Engineering. "This partnership will synergistically combine Ohio State's expertise in high-strength alloys with Lehigh's expertise in grain boundaries and cognitive research to develop a futuristic platform that will accelerate the innovation of high-performance materials."
The LHEAD project was inspired in part by an earlier project, "Anti-Thermal Behavior of Materials: Reversing the Trends of Nature," a collaboration between Lehigh and Carnegie Mellon University funded by a $1 million grant from the W.M. Keck Foundation and led by Harmer. The W. M. Keck Foundation was established in 1954 in Los Angeles by William Myron Keck, founder of The Superior Oil Company. One of the nation's largest philanthropic organizations, the W. M. Keck Foundation supports outstanding science, engineering and medical research. The Foundation also supports undergraduate education and maintains a program within Southern California to support arts and culture, education, health and community service projects.
Developing New Superalloys
Superalloys are incredibly strong, can withstand high temperatures, and are resistant to creep (deformation due to mechanical stresses) and corrosion, which makes them ideal for use in hypersonic applications. However, existing superalloys have limitations that can inhibit the performance of the equipment in which they're used. Through the LHEAD project, researchers from Lehigh and Ohio State plan to design and produce two specific types of next-generation alloys to be used at temperatures greater than 1100 degrees Celsius: BCC/B2 refractory high-entropy alloys that exhibit an optimum combination of high strength, ductility, and creep resistance at high temperatures; and complex Rh-free Ni-based alloys containing nanoclusters that mitigate creep at high temperatures.
"[Superalloys] are kind of capped out at the temperature at which they can operate," said research scientist Chris Marvel '12 '16 Ph.D., associate director of the NHI and co-principal investigator of the LHEAD project. "In order to manufacture hypersonics that are better and more efficient at high temperatures, we need new materials. Every aspect of the LHEAD project is trying to find alternative materials to get the overall performance to be a lot better."
The alloys the team develops "hopefully will give the Army a new class of materials to draw upon so that they can develop better engines and hypersonics," said Harmer.
Two separate projects—"Creep Resistant Complex Ni Alloys," led by Marvel at Lehigh, and "Creep Resistant Refractory HEAs," led by Hamish Fraser, professor of materials science and engineering at Ohio State—involve close collaboration between the two institutions, building upon their existing partnership on the NHI Initiative to develop two different types of alloys. Marvel calls the projects "alternative approaches to the same goal," relying on Lehigh and Ohio State's shared and individual expertise, as well as research instrumentation located at each university.
"The problem that we're trying to solve is very complicated. We don't know what the single best answer is," Marvel said. "So we're putting together Lehigh and Ohio State to hedge our bets and try to find a bunch of good materials that could potentially solve that problem."
In addition to Marvel and Fraser, Lehigh PIs on these projects include Harmer and Helen Chan, the New Jersey Zinc Professor of Materials Science and Engineering; and Ohio State's Yunzhi Wang, professor of materials science and engineering; Maryam Ghazisaeidi, associate professor of materials science and engineering and physics; and Steven Niezgoda, associate professor of materials science and engineering.
Cutting-Edge Technology for an Immersive & Collaborative Research Experience
The third project, "High-Throughput Collaboration via Augmented Reality," supports the first two projects by providing unique resources that allow researchers and students to more efficiently communicate and problem solve; share and collaboratively analyze data; and receive effective training on research instrumentation, on site and remotely. The team will leverage the existing collaboration between Lehigh and Ohio State on the Nano/Human Interfaces (NHI) Presidential Engineering Research Initiative, a multidisciplinary research effort launched in 2017 that integrates the social sciences and engineering to allow researchers to solve problems more quickly by improving how they interact with scientific tools and how they collect, interpret, analyze and share data.
"The NHI team is creating a new, exciting, and highly visual way of interacting with instruments of scientific discovery," said Stephen P. DeWeerth, dean of the P.C. Rossin College of Engineering and Applied Science. "They are integrating materials science, data science, and social science to extract deeper meaning from the physical world, and the tools they are developing will enable new ways of understanding and addressing research challenges. The continuation of long-term successful collaboration among Lehigh, ARL, and Ohio State will amplify the team's success: It is an inspired effort from a truly inspiring group of researchers."
The LHEAD project requires the expertise and research instruments of both institutions, and so the team will establish remote two-way electron microscopy connections as well as remote mechanical testing and simulation capabilities that allow researchers to interact as they would if they were collecting and analyzing data in the same location. Lehigh's new, state-of-the-art NHI Lab in the university's recently opened Health, Science and Technology (HST) Building will serve as the main control center for these immersive remote collaborations.
"In order for big schools like Lehigh and Ohio State to work together, there needs to be better methods of communicating and sharing data, and solving these problems together. The NHI enables us to bridge and develop new technologies that can help us communicate a lot more effectively," said Marvel.
Added Harmer: "When we started the NHI Initiative, [our goal was] to create something new and exciting, which we have with this new idea of creating a modern way to interact with scientific instruments."
The NHI Lab includes a Visualization Lab with six 98-inch touchscreens, virtual and augmented reality interfaces, and controls that allow secure remote access to electron microscopes located at Lehigh and in Ohio State's Center for Electron Microscopy. Ohio State's lab will have similar controls to allow researchers there to access Lehigh's microscopes. This approach addresses two problems: the physical distance between researchers and the number of individuals who can access a piece of equipment at once—which, in the case of an electron microscope, is currently limited to one or two individuals in a very small space. The team plans to extend this technology to other types of instrumentation at each university, such as equipment used for mechanical testing, 3D printing, and simulations, and to enrich these remote experiences with augmented reality.
This project, the team writes in its proposal, will provide "easy access to over 20 separate electron microscopes, as well as other experimental tools of data collection," producing "an unmatched collaborative infrastructure."
The new facility also includes a "lab within a lab": a human observation lab in which cognitive scientists can track, using a system of cameras and software for observation of eye gaze and human behavior, how researchers work as a team and how they interact with scientific instruments. These observations will help improve the research experience by identifying potential barriers to accelerate scientific discovery, and the team will use this information to develop a framework for an artificial intelligence user assistance capability called the Buddy System.
"We have modern technology as an assistant to accomplishing the goal of scientific research," Harmer explained. "So it becomes your 'buddy,' much like a soldier might refer to the AI technology that they're wearing as their 'buddy' in a social setting. Buddy is an invisible assistant that's able to do all these amazing things to help us, to prompt us about what we might want to think about doing next in our experiments, and prompt us on how we might interpret some results. It can help guide us and to speed up the process of doing research."
Marvel likens Buddy to KITT, the talking car of television's "Knight Rider" fame, or Apple's Siri and Amazon's Alexa: a non-human, real-time assistant that makes human tasks easier.
"The Buddy System will streamline data collection by making data collection/analysis more efficient, and therefore increase the speed with which new alloys can be designed and developed," the team wrote in its proposal.
This responsive user interface will extend into applications using Microsoft HoloLens 2 mixed-reality headsets: HoloBuddy, an interactive application for microscope operation that would allow multiple users wearing headsets to experience what the microscope operator is seeing in an "augmented workspace"; HoloCollaboration, which will integrate HoloBuddy and enable remote collaboration; and HoloMicroscopy, an educational app that will teach new users how to operate electron microscopes, taking them "inside" the instrument for deeper understanding.
The project also includes the development of a DataFed repository that will be integrated into the team's user interfaces and augmented reality applications. The repository will allow for the management of data collection, meta-tagging and sharing, ensuring that all data is standardized, easily searchable and accessible to all researchers.
In addition to Harmer as lead PI, additional Lehigh PIs on this project include Marvel; Kate Arrington, professor of psychology; Andrea Harmer, NHI director of education innovation; Brian Chen, associate professor of computer science and engineering; Joshua Agar, assistant professor of materials science and engineering; and Masashi Watanabe, associate professor of materials science and engineering; as well as Fraser from Ohio State.
Said Nathan Urban, provost and senior vice president for academic affairs: "Modern experimental approaches in materials science, and in many other areas, allow us to collect data on an unprecedented scale, which can be like using a microscope to find a needle in a haystack. Our internal investment in the NHI project enables us to better use these advanced tools to answer fundamental questions and make new discoveries faster and more efficiently. It is exciting to see this approach being applied to projects like this that help enhance our national defense, and we look forward to extending it in the future to other national priorities, such as protecting human health and improving our infrastructure."
---