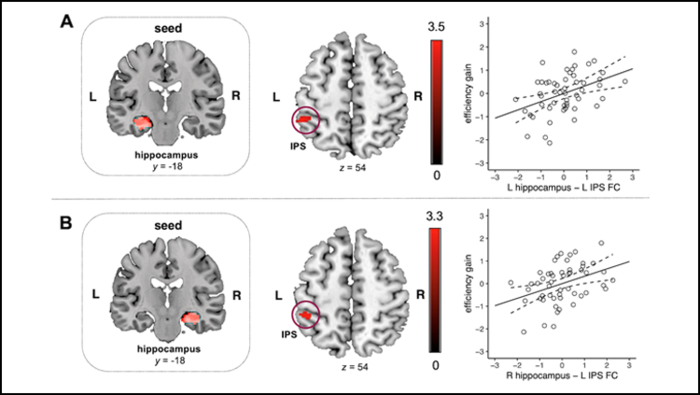 The strength of a brain circuit predicts the ability of children to learn math, according to research recently published in JNeurosci. Tutoring regimes designed to target the circuit may improve learning outcomes for children across a range of abilities.
Before children can learn to add and subtract, they must learn which abstract symbol, like "4" or "6," represents which quantity, a skill also known as number sense. Researchers know the intraparietal sulcus (IPS) plays a role in number processing but didn't know the brain circuits involved in learning number sense. Chang et al. developed a four-week number sense training program and identified brain circuits which drive learning in elementary school-aged children. The training emphasized mapping abstract number symbols to the non-abstract quantities they represent, rather than simple fact memorization. The researchers examined synchronized activity between the hippocampus, an area involved in learning and memory, and other brain areas.
The connection between the hippocampus and the IPS before training predicted a child's ability to learn number sense: children with more synchronized activity learned more during the course. This relationship held true for typically developing children as well as children with mathematical learning difficulties.
###
Paper title: Foundational Number Sense Training Gains Are Predicted by Hippocampal–parietal Circuits
Please contact media@sfn.org for the full-text PDF and to join SfN's journals media list.
About JNeurosci
JNeurosci, the Society for Neuroscience's first journal, was launched in 1981 as a means to communicate the findings of the highest quality neuroscience research to the growing field. Today, the journal remains committed to publishing cutting-edge neuroscience that will have an immediate and lasting scientific impact, while responding to authors' changing publishing needs, representing breadth of the field and diversity in authorship.
About The Society for Neuroscience
The Society for Neuroscience is the world's largest organization of scientists and physicians devoted to understanding the brain and nervous system. The nonprofit organization, founded in 1969, now has nearly 37,000 members in more than 90 countries and over 130 chapters worldwide.
---
Method of Research
Experimental study
Subject of Research
People
Article Title
Foundational number sense training gains are predicted by hippocampal–parietal circuits
Article Publication Date
11-Apr-2022