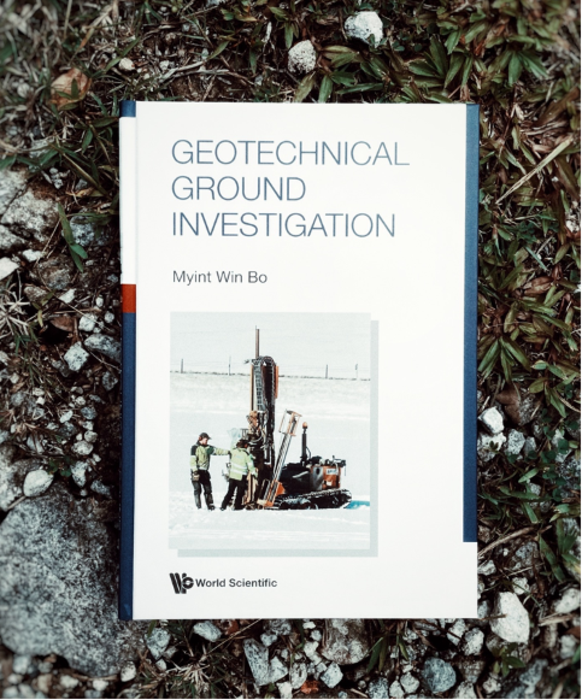 Ground investigation is the very first piece of an important and necessary task to obtain information related to below ground materials such as soils, rocks and groundwater which could impact on the proposed development of infrastructure. President and Chief Executive Officer at Bo & Associates Inc., Canada, Prof Myint Win Bo, describes and presents step by step approach of planning, implementation to reporting on geotechnical ground investigation in his latest handbook, Geotechnical Ground Investigation.
This book describes in depth knowledge of Ground Investigation for geotechnical purposes. The success of geotechnical design and construction lies with a systematically planned ground investigation. Only thoughtfully planned ground investigation and geotechnical testing including laboratory and in-situ tests can reveal the sub-surface conditions such as ground and groundwater profiles, assess geotechnical characteristics of soils and rocks, and provide representative design parameters for geotechnical analyses. The reliability of geotechnical information obtained from ground investigation can affect construction cost and the safety of the infrastructures developed considerably.
Geotechnical Ground Investigation is written by a practicing geotechnical engineer with academic background and extensive research experience who was deeply involved in geotechnical ground investigations and in-situ tests in many mega geotechnical investigation projects around the world in four continents such as Far East, Oceania, Europe, and North America. Prof Bo walks through the cradle to grave steps consisting of desk studies, preliminary investigation, intrusive investigation, sample collections and laboratory testing to geotechnical instrumentation and factual reporting.
This book is intended to be a good reference for beginners in geotechnical investigation and geotechnical engineers who would like to upgrade their systematic geotechnical knowledge related to both planning and execution of ground investigation. In addition, this book will be a good reference textbook for tertiary education where geotechnical courses are offered.
Geotechnical Ground Investigation retails for US$108 / £85 (hardcover) and is also available in electronic formats. To order or know more about the book, visit http://www.worldscientific.com/worldscibooks/10.1142/12270.
###
About the Author
Professor Myint Win Bo is President / Chief Executive Officer in Bo & Associates Inc., Canada. He graduated with a BSc (Geology) from the Rangoon Arts and Science University, Myanmar and received his Postgraduate Diploma in Hydrogeology from University College London, UK and MSc Degree from University of London, UK. He obtained his PhD in Civil Engineering (specializing in geotechnics) from Nanyang Technological University, Singapore and obtained his Certificate of Executive Management and Leadership from Massachusetts Institute of Technology, USA. He is a Fellow of the Geological Society, London, UK and a Fellow of Institution of Civil Engineers, UK.
Dr Bo is also a professional engineer, professional geoscientist, International Professional Engineer (UK), Chartered Geologist, Chartered Scientist, Chartered Engineer, Chartered Environmentalist, Chartered Manager, European Geologist and European Engineer. Dr Bo has been serving many professional societies as a committee member in both national and international levels and has been working across four continents, namely, North America, Europe, the Far East and the Pacific. Dr Bo is an experience practicing engineer, geologist, environmentalist, scientist and entrepreneur as well as an educator and he has given more than 40 special/Keynote lectures and workshops at international conferences, tertiary institutions and professional associations. Dr Bo is also an Adjunct Professor in York University and Ryerson University, Canada and Adjunct Professor in Swinburne University of Technology, Australia. He has published four textbooks, five book chapters, and 200 over technical papers in international journals and conference proceedings. Dr Bo is an Editor for five international journals including Environmental Geotechnics and Geotechnical Research by the Institution of Engineers, UK. Dr Bo is attracted more than $1 million in research grants and is the winner of many awards for personal achievements, as well as for designing many award-winning projects around the world.
About World Scientific Publishing Co.
World Scientific Publishing is a leading international independent publisher of books and journals for the scholarly, research and professional communities. World Scientific collaborates with prestigious organisations like the Nobel Foundation and US National Academies Press to bring high quality academic and professional content to researchers and academics worldwide. The company publishes about 600 books and over 140 journals in various fields annually. To find out more about World Scientific, please visit www.worldscientific.com.
For more information, contact WSPC Communications at communications@wspc.com.
---