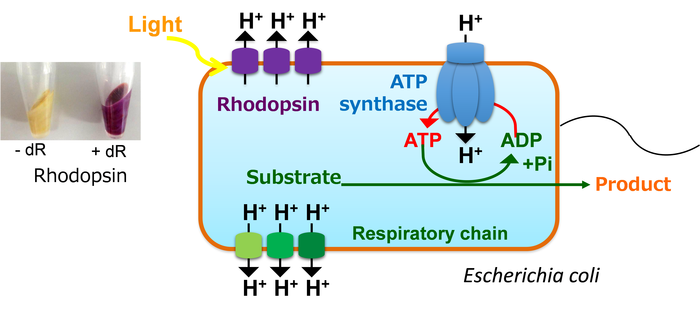 Osaka, Japan - Sharing is key to living in society, whether it's toddlers sharing toys or nations sharing natural resources; but there's no avoiding the fact that one side getting more means that the other side gets less. Now, researchers from Osaka University, in collaboration with the University of Shizuoka and Kobe University, have found a way to get around the need for sharing energy in biomanufacturing, so that the cellular pathways dedicated to generating the product always get more.
In a study published recently in Metabolic Engineering, the researchers have revealed that microorganisms can be engineered to use light for energy, freeing up cellular resources to produce biomanufactured products.
Metabolically engineered microorganisms are used to produce various useful chemicals throughout the world, but there's a catch: both microbial growth and chemical synthesis require a molecule called ATP as an energy source. Because of this, keeping the cellular "factories" healthy limits chemical production.
"Microorganisms that produce useful substances are usually developed by modifying metabolism to convert energy that would normally be used for growth into a resource for synthesizing these target substances," explains Yoshihiro Toya, first author on the study. "We reasoned that instead we could use light, an external energy source, to improve production of useful substances without disrupting the microorganisms' natural metabolism."
To test this, the researchers introduced a heterologous membrane protein called rhodopsin into Escherichia coli, a common microorganism used in biomanufacturing. Rhodopsin is a pump that is activated by light, and the action of the pump leads to the generation of ATP without using the cell's natural machinery (known as the TCA cycle and respiratory chain) to produce it. This approach has the added benefit of reducing the emission of carbon dioxide, a byproduct of the TCA cycle.
"The results clearly showed the success of our strategy," states Kiyotaka Y. Hara, project leader. "The cells expressing rhodopsin generated significantly more chemical products when exposed to light, and the carbon flow in these cells was directed away from energy generation and toward chemical synthesis."
Once they had proved that this concept worked for various compounds such as 3-hydroxypropionate, mevalonate, and glutathione, the researchers went on to create three new strains of E. coli. One of these strains expressed super-rhodopsins with even better pump activities than the original rhodopsin that was tested; this strain was developed by Dr Toya's group at Osaka University. The other two strains incorporated synthetic biological systems that provided an intrinsic supply of retinal, the activator of rhodopsin, and optimized the balanced expression of multiple genes in the relevant metabolic pathway; these strains were established by Dr Jun Ishii's group at Kobe University. Finally, Dr Hara's group at the University of Shizuoka integrated all of these systems into a single E. coli strain that produces a chemical in a light-dependent manner.
"Our findings suggest that biomanufactured microorganisms designed to use light for energy source can be used to efficiently biosynthesize useful target compounds," states Hara.
This new approach is expected to increase the efficiency of producing useful materials through fermentation and other bioprocesses while simultaneously reducing carbon emissions.
###
The article, "Optogenetic reprogramming of carbon metabolism using light-powering microbial proton pump systems," was published in Metabolic Engineering at DOI: https://doi.org/10.1016/j.ymben.2022.03.012
About Osaka University
Osaka University was founded in 1931 as one of the seven imperial universities of Japan and is now one of Japan's leading comprehensive universities with a broad disciplinary spectrum. This strength is coupled with a singular drive for innovation that extends throughout the scientific process, from fundamental research to the creation of applied technology with positive economic impacts. Its commitment to innovation has been recognized in Japan and around the world, being named Japan's most innovative university in 2015 (Reuters 2015 Top 100) and one of the most innovative institutions in the world in 2017 (Innovative Universities and the Nature Index Innovation 2017). Now, Osaka University is leveraging its role as a Designated National University Corporation selected by the Ministry of Education, Culture, Sports, Science and Technology to contribute to innovation for human welfare, sustainable development of society, and social transformation.
Website: https://resou.osaka-u.ac.jp/en
---
Journal
Metabolic Engineering
Method of Research
Experimental study
Subject of Research
Cells
Article Title
Optogenetic reprogramming of carbon metabolism using light-powering microbial proton pump systems
Article Publication Date
26-Mar-2022
COI Statement
YH-H and KYH are shareholders and board members of 396bio Co., Ltd. YT, FM and JI are scientific advisory board members of 396bio Co., Ltd. There are no other competing interests.