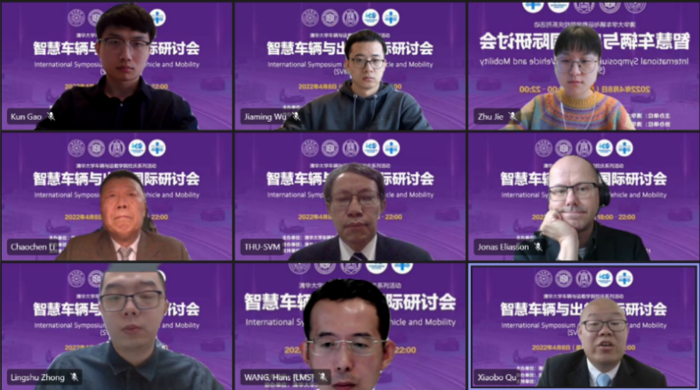 The School of Vehicle and Mobility of Tsinghua University, in collaboration with Tsinghua University Press, China Intelligent Transportation Systems Association (ITS China), and the World Conference on Transport Research Society C1, held a virtual Symposium on Smart Vehicle and Mobility on April 8, 2022, to pique interest in a new generation of smart vehicle and mobility technologies and management. Nine renowned researchers participated in the event, including Mr. Li Chaochen (Chairman of the board of ITS China), Dr. Li Keqiang (Professor of Tsinghua University, Member of the Chinese Academy of Engineering), Dr. Jonas Eliasson (Director of Swedish National Transportation Administration, Member of the Royal Swedish Academy of Engineering Sciences), Dr. Deb Niemeier (Professor of Maryland University, Member of National Academy of Engineering USA), Dr. Gilbert Laporte (International member of National Academy of Engineering USA), Dr. Henry Liu (Professor of the University of Michigan) and Dr. Xiaopeng Li (Associate professor at the University of South Florida), to share their perspectives, exchanging ideas, and discuss the future development of the emerging industry.
Audience from all over the world, including USA, UK, Canada, Australia, Hungary, Italy, Germany, the Netherlands, France, Romania, Singapore, Malaysia, Chinese mainland, and Hong Kong, China, participated in this international symposium online via 3 live streaming channels, with a total of 7,750 viewers across the globe and a total of over 16,000 likes.
Also, Communications in Transportation Research (COMMUN TRANSPORT RES) presented the Best Paper Award to Jonas Eliasson (Director of Swedish National Transportation Administration) for 'Efficient transport pricing–why, what, and when?', and Journal of Intelligent and Connected Vehicles (JICV) awarded the Best Paper Award to Qing Xu, Jiangfeng Wang, Botong Wang, and Xuedong Yan for 'Modeling and simulation of intersection quasi-moving block speed guidance based on connected vehicles' in the symposium.
Feel free to watch the replay. Link: https://ukx.h5.xeknow.com/s/47OC22.
The symposium was hosted by Drs. Xiaobo Qu and Shuaian Wang, included a mix of welcome speeches, technical sessions, and the best paper and best editorial board awards for two well-developed new journals: Communications in Transportation Research and Journal of Intelligent and Connected Vehicles. Topics and discussions centered on 'Efficient transportation pricing', 'Roadmap to cooperative & automated transportation', 'Rethink the safety challenge for highly automated vehicles', 'ETS-Data-sharing to advanced mobility', and 'The history, influence and recent research trends of vehicle routing problem' explored both the development and value of new technologies from multiple perspectives and provided ways and platforms to publish and reproduce research works.
The symposium focused on the role of emerging technologies in promoting smart vehicle and mobility. In addition, it helped enhance the linkage between mobile communications and shared mobility which gradually opened up the smart city vein. In the mode of collaborative development of people, vehicles, roads, networks, and clouds, a series of breakthroughs in advanced technologies and system solutions will drive a comprehensive upgrade of the travel experience. Participants welcomed the opportunity to exchange views on planning and scheduling strategies with peers from the broad audience.
In the symposium, the host also announced that Tsinghua University and ITS China will co-host the journal of Communications in Transportation Research, and a signing ceremony has been arranged on 23 April 2022.
In his closing statement, Dr. Xiaobo Qu emphasized the importance of interdisciplinarity in transport and vehicle research, open science, and international collaborations. All sectors wish to strengthen the collaborations for a safer, sooner and greener transport system. The host highlighted: "When we collaborate, the science prevails".
Communications in Transportation Research publishes peer-reviewed high-quality research representing important advances of significance to emerging transport systems. Since her first paper was published in Aug 2021, the journal has published 33 articles, with authors from 16 countries/regions (see Figure below). In the past 7 months, these articles attracted 108 citations from 25 countries/regions. Our journal has attracted citations from not only all major transportation journals but also other areas such as energy and computer science.
Journal of Intelligent and Connected Vehicles (JICV) publishes peer review research covering all aspects of intelligent and connected vehicles (ICVs) technology. It was selected as a Tier 1 top journal in the field of automotive engineering of China by Chinese Association for Science and Technology in January 2021. In 2022, the journal has received 28 citations, which are two times compared the discipline average. The editors predict to publish over 20 full length articles from 10 countries/regions. The journal is among the first transport/vehicle journals to enforce replication package. A dedicated promotional editor is in place to promote JICV papers on a one by one basis, via social media platforms (LinkedIn, Twitter, WeChat, EurekAlert!) and MailChaimp. All papers will be published in open access but no fee to our authors.
Related Links:
http://www.svm.tsinghua.edu.cn/
https://www.sciencedirect.com/journal/communications-in-transportation-research
https://ets-data.sciopen.com/home
https://www.emeraldgrouppublishing.com/journal/jicv
---