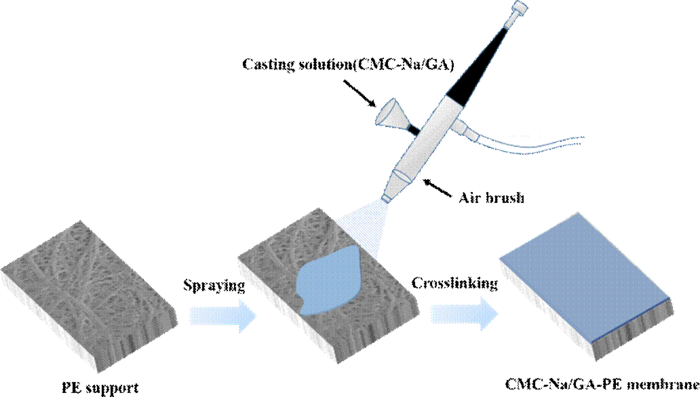 Industrial process often generates a large amount of alkaline waste solutions. The existing alkali treatment processes have high investment, complicate and low efficiency. Membrane technology has advantages of high efficiency and energy saving. However, current polymeric membrane materials are not strong enough in harsh alkaline environment. To solve this problem, Prof. Li Pei from Beijing University of Chemical Technology and Dr. Jianzhong Xia from Shenzhen University developed an alkali-resistance pervaporation membrane. The relevant work was published in Frontiers of Chemical Science and Engineering on March 28, 2022.
In this work, they synthesized a super alkali resistant polymer-sodium carboxymethyl cellulose, and coated it on top of a chemical stable polyethylene porous substrate. They also created a spray-coating technology to solve the incompatible problem between the hydrophobic polyethylene layer and the sodium carboxymethyl cellulose layer. Pervaporation flux of the composite membrane reached 35 ± 2 kg·m−2·h−1 with a sodium chloride rejection of 99.9% ± 0.1% when separating a 3.5 wt-% sodium chloride solution at 70 °C. The desalination performance was stable after soaking the membrane in a 20 wt-% NaOH solution at room temperature for 9 days and in a 10 wt-% NaOH solution at 60 °C for 80 h. Moreover, the membrane was stable in 4 wt-% sulfuric acid and a 500 mg·L−1 sodium hypochlorite solution. In a process of concentrating a NaOH solution from 5 to 10 wt-% at 60 °C, an average water flux of 23 kg·m−2·h−1 with a NaOH rejection over 99.98% was obtained.
Because the composite membrane has excellent alkali resistance, the membrane material has a good application prospect in alkali concentration in papermaking, electroplating industry and water resource recovery in coal chemical industry and alumina production industry.
###
Reference: Guiqin Bai et al. (2021). Fabrication of high-performance pervaporation composite membrane for alkaline wastewater reclamation, Frontiers of Chemical Science and Engineering DOI: 10.1007/s11705-021-2078-2
About Higher Education Press
Founded in May 1954, Higher Education Press Limited Company (HEP), affiliated with the Ministry of Education, is one of the earliest institutions committed to educational publishing after the establishment of P. R. China in 1949. After striving for six decades, HEP has developed into a major comprehensive publisher, with products in various forms and at different levels. Both for import and export, HEP has been striving to fill in the gap of domestic and foreign markets and meet the demand of global customers by collaborating with more than 200 partners throughout the world and selling products and services in 32 languages globally. Now, HEP ranks among China's top publishers in terms of copyright export volume and the world's top 50 largest publishing enterprises in terms of comprehensive strength.
The Frontiers Journals series published by HEP includes 28 English academic journals, covering the largest academic fields in China at present. Among the series, 13 have been indexed by SCI, 6 by EI, 2 by MEDLINE, 1 by A&HCI. HEP's academic monographs have won about 300 different kinds of publishing funds and awards both at home and abroad.
About Frontiers of Chemical Science and Engineering
Frontiers of Chemical Science and Engineering presents the latest developments in chemical science and engineering, emphasizing emerging and multidisciplinary fields and international trends in research and development. The journal promotes communication and exchange between scientists all over the world. The contents include original reviews, research papers and short communications. Coverage includes catalysis and reaction engineering, clean energy, functional material, nanotechnology and nanoscience, biomaterials and biotechnology, particle technology and multiphase processing, separation science and technology, sustainable technologies and green processing. The Editors-in-Chief are Academician Jingkang Wang from Tianjin University, Academician Qunji Xue from Ningbo Institute of Industrial Technology and Academician Jiongtian Liu from Zhengzhou University. The journal has been indexed by SCI, Ei, CA, ChemWeb, INSPEC, SCOPUS, Source Journals for Chinese Scientific and Technical Papers and Citations, CSCD, etc.
---
Journal
Frontiers of Chemical Science and Engineering
Method of Research
Experimental study
Subject of Research
Not applicable
Article Title
Fabrication of high-performance pervaporation composite membrane for alkaline wastewater reclamation
Article Publication Date
28-Mar-2022