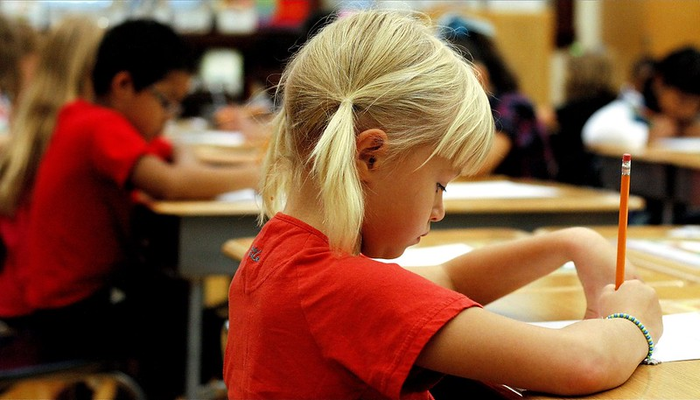 Cognitive development in children could be affected regardless of which biological parent has type 1 diabetes, according to research publishing April 19th in the open access journal PLOS Medicine. The research shows for the first time that having a parent with a chronic disease like type 1 diabetes may be associated with lower school performance rather than maternal high blood sugar during fetal development.
The influence of maternal diabetes during pregnancy on the cognition of their children has been widely researched. Glucose crosses the placenta and maternal high blood sugar, hyperglycemia, can affect fetal development including the baby's brain. There is little evidence on different diabetes subtypes and the effect of having a father with type 1 diabetes.
Anne Lærke Spangmose and colleagues from Copenhagen University Hospital, Denmark obtained data from Danish registers and also on test scores in math for grades three and six, and reading for grades two, four, six and eight. The team included 622,073 children between 6-18 years old attending public schools over a seven-year period. There were 2,144 children with mothers with type 1 diabetes, 3,474 children with fathers with type 1 diabetes, and 616,455 children from the background population. Children of mothers and fathers with type 1 diabetes had mean scores of 54.2 and 54.4 respectively, compared with mean scores of 56.4 in children from the background population.
The team acknowledge that having a parent suffering from a serious chronic disease like diabetes could cause stress and be detrimental to a child's school performance. However this study suggests a different explanation for previously observed adverse effects of maternal type 1 diabetes during pregnancy on children's cognitive development.
Spangmose adds, "Lower test scores in the offspring of mothers with type 1 diabetes appear to reflect a negative association of having a parent with type 1 diabetes rather than a specific adverse effect of maternal type 1 diabetes during pregnancy on the fetus. Our recent large Danish cohort study, including 622,073 children, has shown this."
#####
In your coverage, please use this URL to provide access to the freely available paper in PLOS Medicine:
http://journals.plos.org/plosmedicine/article?id=10.1371/journal.pmed.1003977
Citation: Spangmose AL, Skipper N, Knorr S, Wullum Gundersen T, Beck Jensen R, Damm P, et al. (2022) School performance in Danish children exposed to maternal type 1 diabetes in utero: A nationwide retrospective cohort study. PLoS Med 19(4): e1003977. https://doi.org/10.1371/journal.pmed.1003977
Author Countries: Denmark
Funding: ALS received funding from The Research Fund of Rigshospitalet, Copenhagen University Hospital; NS received funding from Det Frie Forskningsråd (Award number: 8019-00055B). The funders had no role in study design, data collection and analysis, decision to publish, or preparation of the manuscript.
---
Method of Research
Observational study
Subject of Research
People
COI Statement
Competing interests: I have read the journal's policy and the authors of this manuscript have the following competing interests: all authors have completed the ICMJE uniform disclosure form at www.icmje.org/coi_disclosure.pdf and declare no support from any organization for the submitted work; JS reported serving as an adviser to Medtronic and Novo Nordisk, to owning shares in Novo Nordisk, and to receiving speaking fees from Medtronic and Novo Nordisk; PD participate in clinical studies in pregnant women in collaboration with Novo Nordisk, no personal honorarium is involved; no other relationships or activities that could appear to have influenced the submitted work.