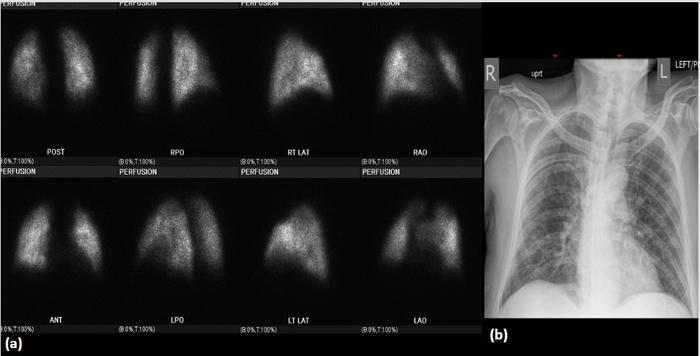 New Orleans, LA | Leesburg, VA | May 3, 2022—A Scientific E-Poster presented during the 2022 ARRS Annual Meeting in New Orleans, LA discussed how to prevent contamination and spread of COVID-19 during nuclear medicine ventilation/perfusion scintigraphy (V/Q) by modifying to lung perfusion scintigraphy only.
"This study provides a comparative analysis of lung perfusion scans performed during the COVID-19 pandemic to V/Q scans performed during the immediate prior pre-COVID era," said presenting author Pokhra Suthar of Rush University Medical Center in Chicago, IL.
Suthar and team's retrospective study included a comparison of lung perfusion scintigraphy during the COVID-19 pandemic (April 2020 to July 2021) to the V/Q scans performed during immediate pre-COVID era (December 2018 to March 2020) in a large tertiary care teaching hospital.
"We compared the probability of scintigraphy scans in terms of low, intermediate, and high probability based on modified PIOPED II and perfusion-only modified PIOPED II criteria," Suthar et al. continued.
Instead of the ventilation scan, chest radiographs or CT scans performed within 24 hours were used to correlate lung perfusion findings during the COVID era.
As expected, there was 30% decline (154 less lung scans, 357 total) in the overall number of lung scans performed during the COVID-19 pandemic, compared with the pre-COVID era, where 511 V/Q scans were performed.
Out of 511 patients who underwent a V/Q scan pre-COVID, 349 (68.3%) had low, 142 (27.8%) had intermediate, and 20 (3.9%) had a high probability scan for pulmonary embolism (PE).
Out of 347 patients who underwent lung perfusion scintigraphy during COVID, 199 (57.3%) had low, 114 (32.9%) had indeterminate scans, and 34 (9.8%) had high probability scans for PE.
---
North America's first radiological society, the American Roentgen Ray Society (ARRS) remains dedicated to the advancement of medicine through the profession of medical imaging and its allied sciences. An international forum for progress in radiology since the discovery of the x-ray, ARRS maintains its mission of improving health through a community committed to advancing knowledge and skills with the world's longest continuously published radiology journal—American Journal of Roentgenology—the ARRS Annual Meeting, InPractice magazine, topical symposia, myriad multimedia educational materials, as well as awarding scholarships via The Roentgen Fund®.
---