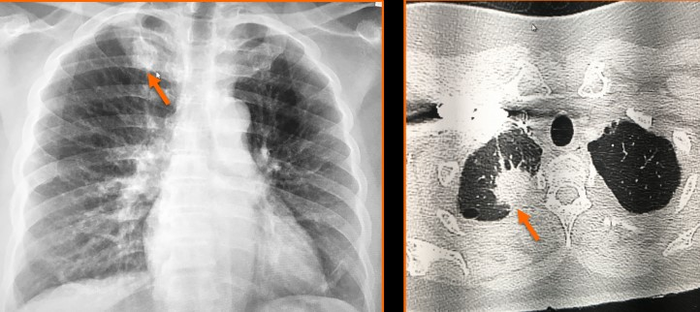 New Orleans, LA, May 5, 2022—Significant imaging findings (cancer, infection, pseudoaneurysm, fracture, bowel perforation) can occur in emergency department (ED) patients undergoing imaging, an award-winning Electronic Exhibit noted this morning during the 2022 ARRS Annual Meeting in New Orleans, LA.
"Astute radiologists can wander by these diagnoses due to inattention blindness," wrote Willie McClure, First Author, of David Grant USAF Medical Center, Travis Air Force Base in CA. "The cases in this exhibit can be of benefit in peer learning to teach places to perform a second look during interpretation."
Sharing cases seen in peer learning frameworks that involved misidentification and/or misinterpretations of the significance of imaging findings in the chest, abdomen, or pelvis on ED exams, McClure and team presented a variety of imaging modalities (x-ray, fluoroscopy, CT, US, and MRI). They wanted to share cases where the finding was obvious when recognized, but not reported due to inattention blindness bias: "missing a finding hiding in plain sight due to its unexpected nature."
Also known as "tunnel vision," the term refers to missing findings that are "hiding" in plain sight, owing to their unexpected location or nature. This bias is related to the notion that humans cannot process everything in their visual field at one time. Expert radiologists have learned where and how to look for clinically significant findings, often focusing their attention to many seemingly irrelevant areas. Awareness of a patient's focal clinical finding may elevate the significance of a subthreshold imaging finding or prompt additional imaging.
McClure et al. presented five cases, including a round white ball in the spleen that should be considered to represent a pseudoaneurym, until proven otherwise (Fig. 1).
Other case review highlights of the exhibit included missing bone margins that should be assessed to not miss malignant bony destruction, as well as numerous locules of gas adjacent to the colon that mimic diverticulosis.
---
North America's first radiological society, the American Roentgen Ray Society (ARRS) remains dedicated to the advancement of medicine through the profession of medical imaging and its allied sciences. An international forum for progress in radiology since the discovery of the x-ray, ARRS maintains its mission of improving health through a community committed to advancing knowledge and skills with the world's longest continuously published radiology journal—American Journal of Roentgenology—the ARRS Annual Meeting, InPractice magazine, topical symposia, myriad multimedia educational materials, as well as awarding scholarships via The Roentgen Fund®.
MEDIA CONTACT:
Logan K. Young, PIO
44211 Slatestone Court
Leesburg, VA 20176
703-858-4332
---