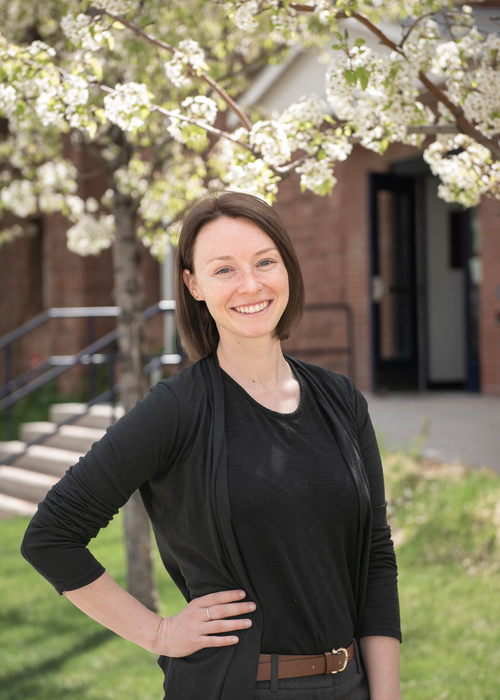 Northern Arizona University graduate student Victoria Monsaint-Queeney has won a fellowship from the U.S. Department of Energy (DOE) to work in one of its national labs and study the future of soil in a warmer world. Monsaint-Queeney, of the Center for Ecosystem Science and Society (Ecoss) at NAU, is one of 80 graduate students representing 27 states to receive a Science Graduate Student Research (SCGSR) award from the DOE. This award will allow Monsaint-Queeney to work at Pacific Northwest National Laboratory in Richland, WA for six months while she continues her doctoral program at NAU.
"I have been eager to get practical work experience during my PhD, and this award offers me a great opportunity to do that in state-of-the-art lab facilities," Monsaint-Queeney said. She is the third graduate student from NAU to win the award in two years. Ecoss graduate student Megan Foley and applied physicist and materials scientist Maria Bolar of NAU received the award in 2021.
"Tori is a phenomenal thinker and science communicator, and her interest in the mysteries and potential of soils has been a great credit to our lab," said Bruce Hungate, director of Ecoss and Monsaint-Queeney's PhD advisor. "We look forward to the yields this opportunity will bring to both Tori and to our group's science."
While at Ecoss, Monsaint-Queeney has been conducting an experiment to learn which soil microbes are responsible for cycling nitrogen, a critical nutrient for plants. "Which microbes take up each form of nitrogen, and what do they do with it?" asked Monsaint-Queeney. "Do they use it to build new cells, or do they just use it for their metabolism and excrete it in a different form?"
To get at these questions, Monsaint-Queeney added three types of nitrogen tagged with special isotopes to soils collected around the San Francisco Peaks north of Flagstaff. Using the Ecoss-developed technique quantitative stable isotope probing, or qSIP, she can follow the labeled nitrogen and see which microbes absorbed which form. "The cool thing about my experiment is that we're aiming to quantify almost every aspect of the nitrogen cycle in this soil, including all transformations," said Monsaint-Queeney. "And we're quantifying microbial nitrogen uptake down to the species level, which has never been done before."
At PNNL, Monsaint-Queeney will work with Microbiome Science Team Lead Kirsten Hofmockel to ask similar questions about very different soils.
"The group at PNNL I'm joining is working with high-moisture peat soils from the SPRUCE experiment in Minnesota," Monsaint-Queeney said. "In contrast, the soil I collected here from Hart Prairie was so dry that I could just tumble it in a 5-gallon bucket to mix it. So one of the fun parts of my work at PNNL will be to help transpose this research to a very different kind of soil using different analytic tools called proteomics.
"Instead of tracing nitrogen into DNA, as qSIP does, we'll be tracing it into proteins," said Monsaint-Queeney of her future work. "If DNA tells you what cells are capable of doing—a kind of library of all the things that microbes can eat and do—proteins tell you what microbes are actually doing."
Since 2014, the SCGSR program has provided more than 870 U.S. graduate awardees from 155 universities with supplemental funds to conduct part of their thesis research at a host DOE laboratory in collaboration with a DOE laboratory scientist.
"For decades, DOE has cultivated the expertise to meet the nation's greatest scientific challenges. Now more than ever, we need to invest in a diverse, talented pipeline of scientists, engineers, and entrepreneurs who will be the future science and innovation leaders of this country," said Under Secretary of Science and Innovation Dr. Geraldine Richmond. "I'm thrilled these outstanding students will help us tackle critical research at our labs, and I know their futures are bright."
---