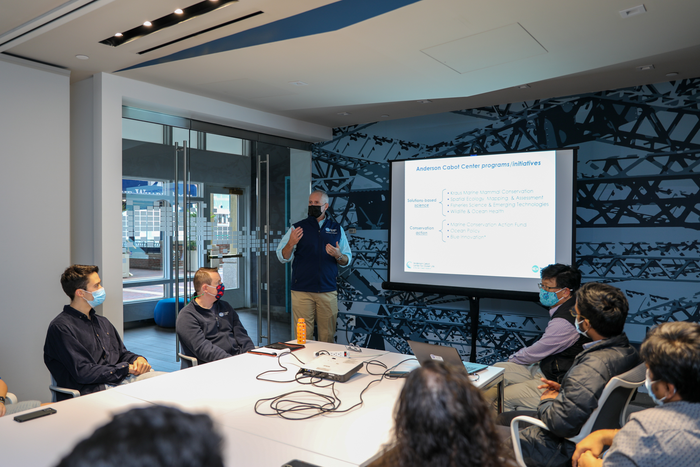 Following two exciting cohorts, SeaAhead, Inc. and the New England Aquarium are pleased to open the application period for the next cohort of the BlueSwell Incubator program, a first of its kind program in the Northeast focused on supporting early stage entrepreneurship in bluetech.
BlueSwell is designed to help with the creation and growth of startups that have the potential for significant impact on ocean sustainability and global resilience. The incubator, which is a partnership between SeaAhead and the New England Aquarium, focuses on bridging the gaps between innovators, ocean experts, industries, and the venture community. BlueSwell leverages SeaAhead's bluetech domain expertise, network, and experience in building companies and the Aquarium's five decades as a global leader in ocean conservation research and as a trusted steward to the oceans. Aquarium scientists offer their expertise to the entrepreneurs who are creating businesses that solve the ocean's most pressing problems.
"We continue to build a community of entrepreneurs commercializing solutions with meaningful impact on ocean health. Now that two cohorts have graduated, this year is all about momentum," says Program Manager Katherine Woolford. "We're building on the knowledge we've gained, providing hands-on business support, making more connections than ever, and harnessing the excitement in our growing community. If you have an emerging technology that enables ocean sustainability or a prosperous blue economy, we encourage you to apply to the incubator so that we might help you realize your vision in Cohort III."
Seven startups graduated from BlueSwell's second cohort, which took place from October 2021 through March 2022. The program provides teams with $50,000 of funding, an increase from $35,000 for the previous two cohorts, to get their organizations off the ground; access to leaders from industry, investment, academia, government, and NGOs; a cohort of peer companies to learn from; and mentorship and a curriculum designed to improve their leadership skills and business acumen. The teams from Cohort I and II have collectively raised over $9.6 million dollars since they joined the Incubator.
"We are excited for the scientists and technical experts in the Anderson Cabot Center for Ocean Life to continue mentoring these transformational startups to maximize their positive impacts on ocean health," said Dr. John Mandelman, Vice President and Chief Scientist at the Aquarium's Anderson Cabot Center for Ocean Life. "Being part of BlueSwell provides invaluable expertise from Aquarium scientists with decades of experience guiding industry, policy, and ocean management."
Applications opened for the program's third cohort on May 2, 2022 and will close on July 8, 2022 at 5 p.m. ET. A webinar will be held on May 10 to review the program and application process. Please see the website for more information. The BlueSwell program is made possible by sponsoring foundations, public sector entities, companies, and individuals that prioritize the ocean as a source of solutions, including the US Department of Energy's Water Power Technologies Office, the U.S. Economic Development Agency, Orsted, the Massachusetts Clean Energy Center, the Massachusetts Tech Collaborative, Builders Vision, Cambridge Innovation Center, Giant Shoulders, Foley Hoag, Wolf & Company, Freeport Metrics and Goodwin Proctor.
BlueSwell recently received an Honorable Mention in the Corporate Social Responsibility and Experimental categories for Fast Company's 2021 World Changing Ideas Awards.
About SeaAhead
At SeaAhead, we are on a mission to launch new ocean-related ventures into scalable businesses. We are a community of entrepreneurs, technologists, mentors, and investors seeking solutions to the toughest challenges facing the ocean. Our partnerships allow us to break down barriers to growth and support startups with expertise, resources, and connections across a variety of bluetech sectors – from offshore renewable energy to resilient waterfronts, clean shipping, fisheries and aquaculture. We drive innovation. Our innovation challenges inspire new ideas, the BlueSwell Incubator builds companies, and the Blue Angels facilitate bluetech investment. Working alongside cutting-edge ocean entrepreneurs gives us unique market insight and deal flow, which has led us to launch SeaAhead Ventures, a new fund dedicated to emerging ocean technology currently in formation.
About New England Aquarium
The New England Aquarium is a global leader in marine science and conservation, working to safeguard ocean animals and habitats. With more than 1.3 million visitors a year, the Aquarium is one of the premier visitor attractions in Boston and a major public education resource for the region. The Aquarium's research and rescue efforts build on the institution's 50-year legacy of protecting the blue planet and advocating for vital and vibrant oceans. In the Anderson Cabot Center for Ocean Life, scientists conduct applied marine research that informs ocean management, policy, and industry practices, and contributes to the innovation of new technologies. Through its Sea Turtle Rescue Program, the Aquarium helps protect critically endangered and threatened sea turtle populations through rescue, rehabilitation, and release efforts.
---