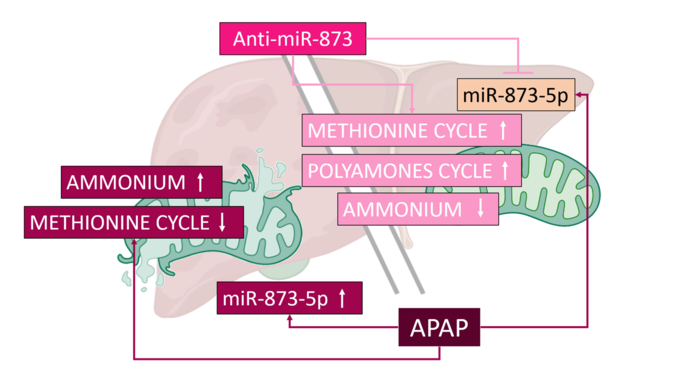 Acute liver failure is a serious condition that affects mainly Western countries and is caused by the hepatotoxic effects of various drugs. In Europe, the abuse of paracetamol (or acetaminophen, APAP) is responsible for 40-70% of all cases related to this liver disease. To date, the standard treatment for liver failure associated with APAP overdose is the administration of N-acetylcysteine (NAC), which has a 66% chance of saving the liver if administered within 8 hours of intoxication. "In general, current therapeutic approaches provide very small time windows and low probabilities of rescuing the liver after the acute failure. Therefore, approaches are needed to improve the prognosis of these patients" explains Dr. Martínez Chantar, principal investigator of the Liver Disease laboratory at CIC bioGUNE member of Basque Research and Technology Alliance and CIBER de Enfermedades Hepáticas y Digestivas (CIBEREHD), as senior author of the article published in Antioxidants Journal on April 30th 2022.
Since their recent approval by the Food and Drug Administration (FDA), RNA molecules have made an important contribution to clinical practice. In this context, a growing number of reports have pointed out the important utility of microRNAs (miRNAs) as biomarkers or drugs, promoting their use in the medical treatment of many diseases.
In collaboration with Tekniker Technology Center, Hospitals (Virgen de la Victoria University Hospital in Málaga) and Universities (Complutense University of Madrid and University of Valencia), the Liver Disease laboratory at CIC bioGUNE has identified the therapeutic potential of microRNA 873 for the treatment of acute liver failure due to APAP overdose.
Anti-miR-873-5p treatment (US patent granted) appears to be an effective therapy against APAP-induced liver injury. Modulation of miR-873-5p rescues the liver 24 hours after an overdose, significantly extending the therapeutic window. We found that the restoration of GNMT and the methionine cycle may prevent mitochondrial dysfunction while activating hepatocyte proliferative response, says Ruben Rodriguez first author of the article together with Naroa Goikoetxea.
"We are confident that the regulation of miR-873-5p can be exploited clinically and improve the therapeutic strategies available to cure APAP", says Jorge Simon co-corresponding author of the article.
---
Method of Research
Experimental study
Subject of Research
Animals
Article Title
Methionine Cycle Rewiring by Targeting miR-873-5p Modulates Ammonia Metabolism to Protect the Liver from Acetaminophen
Article Publication Date
30-Apr-2022