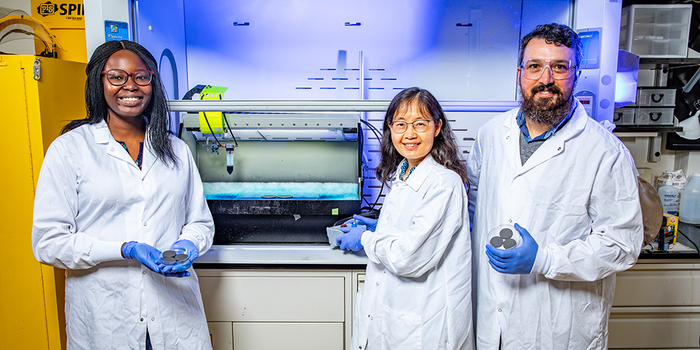 A research and development team led by Min Zou, professor of mechanical engineering and an Arkansas Research Alliance Fellow, has received a $550,000 grant from the National Science Foundation to develop low-friction, durable, graphite-lubricant coatings for industrial conveyor systems.
Belt conveyors comprise about a quarter of the $7.65 billion global conveyor market, which has expanded significantly in recent years because of e-commerce. However, an enormous amount of energy is wasted in these systems. High sliding friction between conveyor belts and slider bed materials is responsible for more than half of the total energy losses in a flat conveyor system.
The researchers will develop novel graphite coatings that will significantly reduce energy consumption and equipment failure in conveyor systems. The research will also deepen a fundamental understanding of the novel coating technology to enable applications in other fields, which could lead to significant savings in many U.S. industries.
The technology is based on a unique, patented bonding approach, developed by Zou's group, in which graphite coatings adhere tightly to a substrate material.
After developing and optimizing fast-coating deposition processes for conveyor materials, the researchers will build scalable coating processes for full-sized belt conveyors. They will then build a prototype for evaluating the coating performance and demonstrate the feasibility of the coatings for industrial applications.
The new project is a collaboration between university researchers and industry leaders. Zou's team at the University of Arkansas will partner with researchers at Arkansas State University and Hytrol Conveyor Company Inc., the largest conveyor manufacturer in the U.S.
Robert Fleming, assistant professor at Arkansas State; Ty Keller, Hytrol's manager of product innovation; and Boyce Bonham, Hytrol's chief engineer, will serve as co-principal investigators.
The project will support a doctoral student at the U of A, who will serve as the entrepreneurial lead, a master's student at Arkansas State, and undergraduate students from underrepresented groups. They have benefited from site and national NSF I-Corps training and Office of Entrepreneurship and Innovation support and training, as well as mentoring by Cynthia Sides, assistant vice chancellor for research and innovation at the U of A, and Douglas Hutchings, director of the Arkansas Research Alliance Academy.
Zou's research focuses on nanoscale materials and manufacturing. She is an international expert on surface engineering and tribology — the study of friction, wear and lubrication in the design of bearings and interacting surfaces in motion. Zou has designed, refined and tested solid lubricant coatings for various applications. The coatings are thinner, more durable and environmentally superior to petroleum-based oil lubricants.
Zou holds the Twenty-First Century Chair of Materials, Manufacturing and Integrated Systems.
---