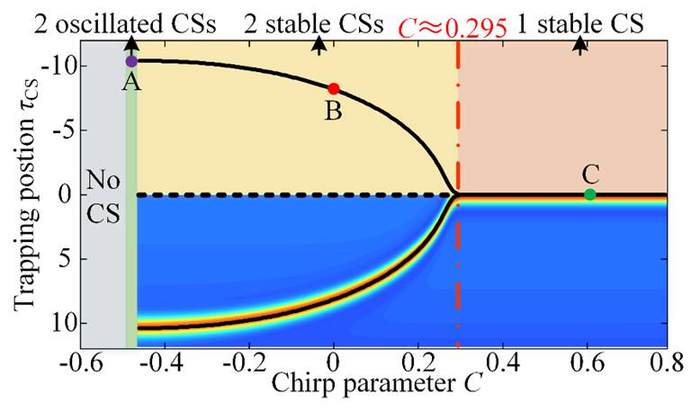 Researchers led by Prof. Tianye Huang at China University of Geosciences (Wuhan), China, are interested in the passive Kerr-resonators-based dissipative cavity solitons. The pulsed driving is an effective method to increase the temporal overlap between cavity soliton (CS) and pump field, thereby increasing the pump-to-comb conversion efficiency. The amplitude-modulated inhomogeneity of the background wave causes the solitons to drift toward edges of the driving pulse. To eliminate the multiple temporal trapping positions, induced by the spontaneous symmetry breaking, they propose the chirped pulse driving for deterministic single soliton generation. They theoretically explain the physical mechanism of the chirp pulse driving, as the combination of amplitude and phase modulation. The results demonstrate the chirp is responsible for the single soliton generation. A detailed investigation for dynamics of CSs sustained by chirped pulses, shows the recovery of spontaneous symmetry breaking. In addition, with considering a weak chirp parameter, the desynchronization-dependent trapping position diagram is divided into multiple areas including two CSs, a single CS, two oscillated CSs, and no CS. With a sufficient chirp parameter considered, the trapping position curve becomes a monotonous function of the desynchronized drift velocity, which indicates deterministic single soliton generation. The work entitled "Dynamics of cavity soliton driven by chirped optical pulses in Kerr resonators" was published on Apr. 27, 2022 in Frontiers of Optoelectronics.
###
Reference: Jianxing Pan, Chaoyu Xu, Zhichao Wu, Jing Zhang, Tianye Huang, Perry Ping Shum. Dynamics of cavity soliton driven by chirped optical pulses in Kerr resonators. Front. Optoelectron. 15, 14 (2022). https://doi.org/10.1007/s12200-022-00018-3
About Higher Education Press
Founded in May 1954, Higher Education Press Limited Company (HEP), affiliated with the Ministry of Education, is one of the earliest institutions committed to educational publishing after the establishment of P. R. China in 1949. After striving for six decades, HEP has developed into a major comprehensive publisher, with products in various forms and at different levels. Both for import and export, HEP has been striving to fill in the gap of domestic and foreign markets and meet the demand of global customers by collaborating with more than 200 partners throughout the world and selling products and services in 32 languages globally. Now, HEP ranks among China's top publishers in terms of copyright export volume and the world's top 50 largest publishing enterprises in terms of comprehensive strength.
The Frontiers Journals series published by HEP includes 28 English academic journals, covering the largest academic fields in China at present. Among the series, 13 have been indexed by SCI, 6 by EI, 2 by MEDLINE, 1 by A&HCI. HEP's academic monographs have won about 300 different kinds of publishing funds and awards both at home and abroad.
About Frontiers of Optoelectronics
Frontiers of Optoelectronics (FOE) aims at introducing the most recent research results and the cutting edge improvements in the area of photonics and optoelectronics. It is dedicated to be an important information platform for rapid communication and exchange between researchers in the related areas. The journal publishes review articles, research articles, letters, comments, special issues, and so on. The Editors-in-Chief are Academician Qihuang Gong from Peking University and Prof. Xinliang Zhang from Huazhong University of Science and Technology. FOE has been indexed by ESCI, Ei, SCOPUS, CSCD, Source Journals for Chinese Scientific and Technical Papers and Citations, etc. FOE is fully open access since 2022.
---
Journal
Frontiers of Optoelectronics
Method of Research
Experimental study
Subject of Research
Not applicable
Article Title
Dynamics of cavity soliton driven by chirped optical pulses in Kerr resonators
Article Publication Date
27-Apr-2022