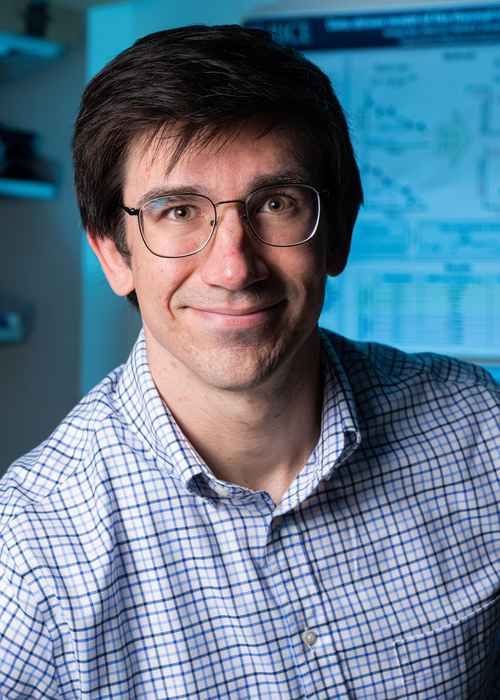 HOUSTON – (May 6, 2022) – Daniel Preston, an assistant professor of mechanical engineering at Rice University, is the latest of eight young researchers in the George R. Brown School of Engineering to receive a National Science Foundation CAREER Award, making 2022 a record-setting year for the honor.
In all, 12 Rice faculty members have won the prestigious award so far this calendar year.
The director of the Preston Innovation Laboratory was awarded a five-year, $600,000 grant for his proposal, "Textile-Based Wearable Robots with Integrated Fluidic Logic." Some 85 million adults in the United States who live with physical functional limitations could potentially benefit from the proposed work.
"When they're incorporated into wearable robots," Preston said, "soft fluidic actuators provide assistive, rehabilitative and even superhuman capabilities while having advantages over hard exoskeletons. They are lightweight and safe, and they feel comfortable when worn in close contact with the body."
Soft fluidic actuators pose problems of their own. They rely on bulky, hard components, such as valves and electronic control systems that increase weight and decrease comfort when integrated into wearable robots. They sometimes require cumbersome tethers to external devices, making people with mobility limitations less likely to adopt the technologies.
To address these problems, Preston proposes the development of a platform for completely textile-based, non-electronic computation that can be integrated directly into the structure of wearable robots. This would eliminate the need for rigid control systems and enable soft wearables that look and feel like everyday clothing.
"Our first objective is to develop a fundamental understanding of this approach, starting from the circuit level, by designing textile-based fluidic analogs to resistors, capacitors and relays," he said.
Second, Preston proposes using these circuit elements as building blocks for fluidic digital logic, engineered for high performance in terms of speed and other computational metrics. Finally, he aims to integrate textile-based fluidic computers, along with textile-based input/output devices and actuators, directly into the structures of wearable robots.
Preston earned his master of science degree and Ph.D. in mechanical engineering from the Massachusetts Institute of Technology in 2014 and 2017, respectively, followed by two years of postdoctoral research at Harvard University. He joined the Rice faculty in 2019.
Laura Schaefer, the Burton J. and Ann M. McMurtry Chair in Engineering, professor of mechanical engineering and department chair, noted that every junior faculty member in her department has won an NSF CAREER Award. In addition to Preston, the recipients are Matthew Brake, Pedram Hassanzadeh and Geoff Wehmeyer, all assistant professors of mechanical engineering.
-30-
Read the abstract at https://www.nsf.gov/awardsearch/showAward?AWD_ID=2144809&HistoricalAwards=false.
This news release can be found online at https://news.rice.edu/news/2022/daniel-preston-wins-nsf-career-award.
Follow Rice News and Media Relations via Twitter @RiceUNews.
Related materials:
Preston Innovation Laboratory: https://pi.rice.edu
Department of Mechanical Engineering: https://mech.rice.edu
George R. Brown School of Engineering: https://engineering.rice.edu
Image for download:
https://news-network.rice.edu/news/files/2022/05/0509_DOE-1-web.jpg
Daniel Preston. (Credit: Jeff Fitlow/Rice University)
Located on a 300-acre forested campus in Houston, Rice University is consistently ranked among the nation's top 20 universities by U.S. News & World Report. Rice has highly respected schools of Architecture, Business, Continuing Studies, Engineering, Humanities, Music, Natural Sciences and Social Sciences and is home to the Baker Institute for Public Policy. With 4,052 undergraduates and 3,484 graduate students, Rice's undergraduate student-to-faculty ratio is just under 6-to-1. Its residential college system builds close-knit communities and lifelong friendships, just one reason why Rice is ranked No. 1 for lots of race/class interaction and No. 1 for quality of life by the Princeton Review. Rice is also rated as a best value among private universities by Kiplinger's Personal Finance.
---