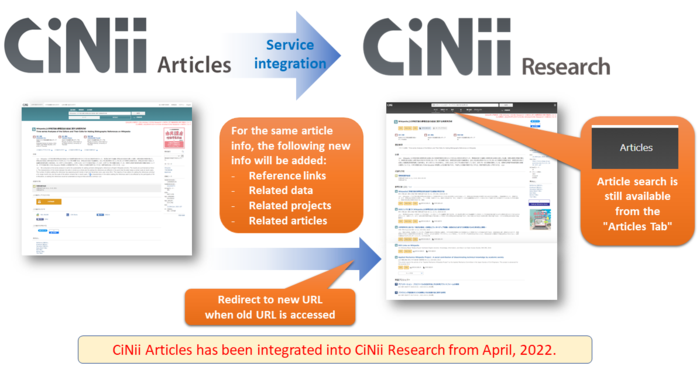 The Research Center for Open Science and Data Platform (*1) (RCOS, Center Director: YAMAJI Kazutsuna, Professor of Digital Content and Media Sciences Research Division) of the National Institute of Informatics (NII, Director General: KITSUREGAWA Masaru, Tokyo, Japan) has integrated CiNii Articles, an article search service that NII has provided for over 10 years, into CiNii Research, a platform service for integrating scholarly information (Link: https://cir.nii.ac.jp/?lang=en). The new CiNii Research provides enriched discovery of scholarly information by connecting article information to citation information as well as various academic research result data and allowing users to browse them.
CiNii Articles has been used by many users as a search platform for article information for more than 10 years. Alongside this, we have been offering CiNii Research as a new academic information search platform since April 2021 to meet the recent diversification of research results information and the demand for integrated browsing. We have integrated these two services into CiNii Research so that it covers books, projects, and research data in addition to the same article information as CiNii Articles. With this integration, users will be able to browse article information with links to 30 million relevant scholarly information and conduct advanced article searches.
The functionality of CiNii Articles is inherited by CiNii Research (*2). We will continue to improve the functionality of CiNii Research to ensure that it will be used for many years similarly to CiNii Articles.
Comments from YAMAJI Kazutsuna, Center Director of the Research Center for Open Science and Data Platform, NII:
"The CiNii is now grown up as the synonym for article search in Japan. Its name was originated from allowing users to search for article information with citation information. Under the current open science activity, researchers require various other relevant information, including research data. CiNii Research, which encompasses CiNii Articles, will continue to provide an enriched searching experience to meet users' needs. Our team will continue to work together to make CiNii a more accessible and crucial service for daily research activity."
(*1) Research Center for Open Science and Data Platform: In response to the global momentum toward open science, this research center was established within NII in April 2017 to develop and operate an academic platform to serve as an infrastructure for open science. It is expected that, through the wide sharing of academic papers and research data in academia and society, and a wide range of research activities being carried out openly, research activities will be accelerated, problem solving based on close cooperation with society will be promoted, and that this will push academic activities to a new dimension (open science). See https://rcos.nii.ac.jp/en/ for details.
(*2) There are some differences in API specifications and target datasets that may affect the functionality. For detailed information on the specific impact, please refer to the "NII Support Academic Information Services" (Link: https://support.nii.ac.jp/en/news/cir/20210706).

###
About the National Institute of Informatics (NII)
NII is Japan's only academic research institute dedicated to the new discipline of informatics. Its mission is to "create future value" in informatics. NII conducts both long-term basic research and practical research aimed at solving social problems in a wide range of informatics research fields, from fundamental theories to the latest topics, such as artificial intelligence, big data, the Internet of Things, and information security.
As an inter-university research institute, NII builds and operates academic information infrastructure essential for the research and educational activities of the entire academic community (including the Science Information Network) as well as developing services such as those that enable the provision of academic content and service platforms.https://www.nii.ac.jp/en/
About the Research Organization of Information and Systems (ROIS)
ROIS is a parent organization of four national institutes (National Institute of Polar Research, National Institute of Informatics, the Institute of Statistical Mathematics and National Institute of Genetics) and the Joint Support-Center for Data Science Research. It is ROIS's mission to promote integrated, cutting-edge research that goes beyond the barriers of these institutions, in addition to facilitating their research activities, as members of inter-university research institutes.
---