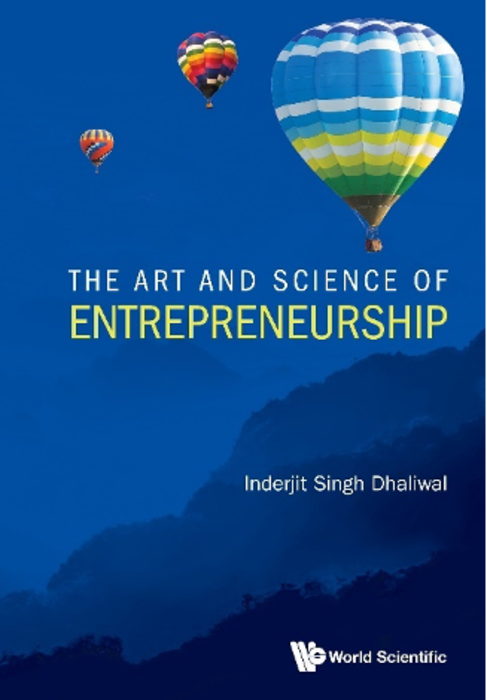 Entrepreneurs who are ready to start companies often lack enough knowledge and skillsets to do it correctly. How can they gain these? How can anyone, an aspiring entrepreneur, a leader, an employee, a policy maker, learn from history and from experiences of successful entrepreneurs, for key events that shaped the past economies and businesses?
Former co-president of the World Entrepreneurship Forum and Professor of the Technopreneurship and Innovation Programme at Nanyang Technological University (NTU), Singapore, Prof Inderjit Singh Dhaliwal, believes that entrepreneurship is more about having the right mindset than about starting companies; that anyone can think like an entrepreneur; and that an entrepreneurial mindset can solve any problems we may encounter in life. In his new book, The Art and Science of Entrepreneurship, he addresses the problems that will allow anyone to learn how to think like an entrepreneur.
In the first section of the book, Prof Inderjit converts the most abstract aspects about how an entrepreneur thinks and does things into learnable theories of entrepreneurship, and integrates these with academic and real-life experiences and examples, so that the reader can easily relate to and understand entrepreneurial thinking in-depth. More importantly, he converts practice to theory by converting the practice of an entrepreneur to teachable theories. Included in the book are many real entrepreneurship and start-up stories, experiences and examples of his own and of many successful entrepreneurs so that the reader can easily visualize the theory imparted, to make it easy for anyone who wants to think like an entrepreneur to learn. Any reader who reads the first section will be able to learn to think and work like an entrepreneur no matter what he or she does in life.
The second section of The Art and Science of Entrepreneurship addresses the "How to". Anyone ready to start a company, must understand all the intricacies, develop the right skill sets, and understand the entrepreneurial ecosystem that an entrepreneur must work with in order to create a successful start-up. In the section, Prof Inderjit Singh starts right from the beginning: the idea, then how to transform the idea into a business model, and finally converting the model into a business. The section then brings the entrepreneurs all the way from starting a company to scaling up. A significant part of this section focuses on fund raising, one of the greatest challenges entrepreneurs face in their start-up journey. Based on his own experiences of raising funds as big as US$138million and also investing in and mentoring start-ups, the former Chairman GPC for Singapore's Finance and Trade & Industry Ministries shares how entrepreneurs can successfully raise funds at different stages of their company's growth. In all, this section imparts the necessary skillsets and knowledge on how to start and grow companies.
The third section of the book captures many lessons learnt from the past. Even just within modern history, the world has gone through many cycles in terms of economic growths and collapses; starting with the Great Depression of 1929, past recessions, and the dot.com bubble, all the way to the current economic disruption caused by the Covid-19 pandemic. Start-ups too go through cycles like economic cycles; there are good times, bad times, complex times, team issues and many more. Based on his experiences, the experiences of successful global entrepreneurs, and history, Prof Inderjit presents a series of lessons learnt, and guidelines and skillsets that entrepreneurs, leaders, businessmen, policy makers and anyone involved in the whole Innovation ecosystem can use to survive, emerge stronger and create success in the face of any crises and challenges they may face.
The Art and Science of Entrepreneurship is designed to be easy and fun for readers to read at their own pace and in their preferred order. It is structured such that readers can jump to any chapter and still have a complete picture of the topic he or she is interested to learn about.
This book can also be used as a textbook. It teaches theories of entrepreneurship and includes original research on entrepreneurship used to teach the Masters of Technopreneruship programme at Nanyang Technology University, Singapore that will help teachers and students gain a better grasp about innovation and entrepreneurship.
The Art and Science of Entrepreneurship retails for US$48 / £40 (paperback) and US$98 / £80 (hardcover) online and at major bookstores, and is also available in electronic formats. To order or know more about the book, visit http://www.worldscientific.com/worldscibooks/10.1142/12319.
###
About the Author
Inderjit Singh Dhaliwal has a rare combination of experiences as a multi-national company leader, a serial entrepreneur, a policy maker, and educator. He is an engineer by training and has worked for Texas Instruments Singapore for 13 years, holding the post of Director of Operations from 1996 to 1998 before he started his entrepreneurship journey at age 37, founding his first Unicorn company, United Test and Assembly Center, a large semiconductor company. Inderjit currently runs a multinational company, Solstar International, doing business in 38 countries in Africa, Middle East and Asia.
Inderjit was Member of Parliament, Ang Mo Kio GRC from 1996 to 2015 and was a Deputy Government Whip, Chairman GPC for Finance and Trade & Industry Ministries and was instrumental in shaping policies in support of entrepreneurship, start-ups and for SMEs.
Inderjit has actively started and run companies around the world, including in the Silicon Valley. He has invested in start-ups, helped to create a good ecosystem through policy changes and educated rising entrepreneurs on building their business. He was the Deputy Chairman for Action Community of Entrepreneurship (ACE) in the initial years.
He was the Co-president of the World Entrepreneurship Forum, is a current Board Member of the World Business Angel Forum (WBAF), and is the President of the WBAF's Global Startup Investment Promotion Agency (WIPA). He was a Board Member of the Nanyang Technological University (NTU), Chairman, of NTUitive, the Innovation company of NTU. As a professor, he teaches Strategy at the NTU Master of Science (Technopreneurship and Innovation Programme).
Inderjit received his B Eng (EEE, Hons) degree from NTU (NTI at that time), his MBA from University of Strathclyde, and an Honorary Doctorate from Amity University in 2018.
About World Scientific Publishing Co.
World Scientific Publishing is a leading international independent publisher of books and journals for the scholarly, research and professional communities. World Scientific collaborates with prestigious organisations like the Nobel Foundation and US National Academies Press to bring high quality academic and professional content to researchers and academics worldwide. The company publishes about 600 books and over 140 journals in various fields annually. To find out more about World Scientific, please visit www.worldscientific.com.
For more information, contact WSPC Communications at communications@wspc.com.
---