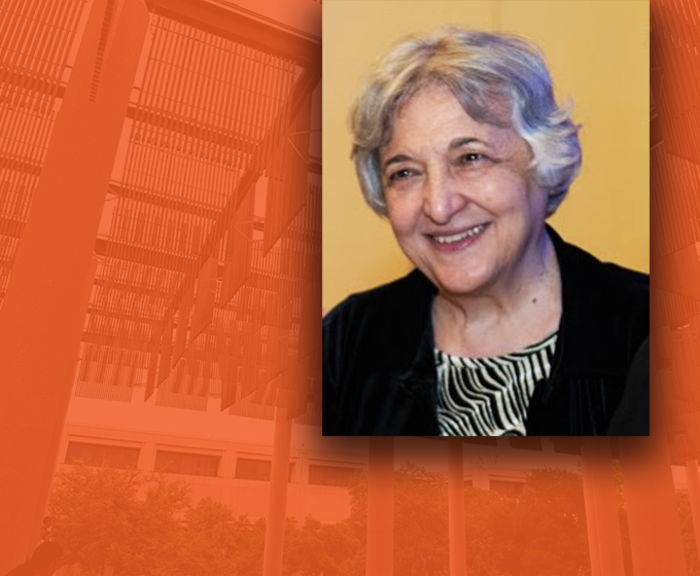 Rena Bizios, Lutcher Brown Endowed Chair in Biomedical Engineering and professor of biomedical engineering in UTSA's Margie and Bill Klesse College of Engineering and Integrated Design (Klesse College), has been elected to the American Academy of Arts and Sciences (AAA&S).
Founded in 1780 by John Hancock, John Adams and 60 other scholar-patriots, the AAA&S is one of the nation's longest established academic societies. It serves as both an honorary society and an independent research center that convenes leaders from many disparate fields to "advance the interest, honor, dignity and happiness of a free, independent and virtuous people."
Bizios was previously elected to the National Academy of Engineering (NAE) in 2022, the National Academy of Inventors (NAI) in 2019 and the National Academy of Medicine (NAM) in 2015.
Bizios is a globally recognized educator and researcher who has made pioneering contributions to biomedical engineering curricula as well as groundbreaking contributions to the understanding of cell-material interactions at the tissue/implant interface with applications in implant biomaterials, tissue engineering and tissue regeneration.
A chemical and biomedical engineer by training, Bizios joined the UTSA faculty in 2006. Her research focuses on cellular and tissue engineering, tissue regeneration, biomaterials (including nanostructured biomaterials) and biocompatibility.
Her discoveries have contributed to the development of biomaterials for implants and have established principles that are applied today in multiple medical devices that are used to promote tissue regeneration. Likewise, her research into cell and protein interactions with nanostructured materials has led to the development of various applications for nanomaterials, ranging from drug delivery to the promotion of specific biological responses. In all, she holds four issued patents.
Bizios has taught fundamental undergraduate and graduate engineering courses, and she has developed biomedical engineering courses. Her published work includes peer-reviewed papers and book chapters. She is co-author of the landmark textbook, "An Introduction to Tissue-Biomaterial Interactions," which is a standard in the biomaterials field and has been adopted for upper-level undergraduate and graduate courses by several biomedical engineering programs in the United States and abroad.
She is also co-editor of "Biological Interactions on Materials Surfaces: Understanding and Controlling Protein, Cell, and Tissue Responses" and has a third book in the works.
In addition to her national academies memberships, Bizios is a fellow of five professional societies: the American Institute for Medical and Biological Engineering, International Union of the Societies for Biomaterials Sciences and Engineering, Biomedical Engineering Society, American Institute of Chemical Engineers, and the American Association for the Advancement of Science.
While at UTSA, Bizios has received numerous awards including the Houston Society for Engineering in Medicine and Biology's Distinguished Scientist Award (2009), the American Institute of Chemical Engineers' Women's Initiatives Mentorship Excellence Award (2010), the Society for Biomaterials' Founders Award (2014), the Biomedical Engineering Division of the American Society for Engineering Education's Theo C. Pilkington Outstanding Educator Award (2014), The University of Texas at San Antonio Ambassadors' Amber Award (2014), the American Institute for Medical and Biological Engineering's Excellence in STEM Education Award (2018), the Surfaces in Biomaterials Foundation's Excellence in Biomaterials Science Award (2019) and the BioMedSA Award for Innovation in Healthcare and Bioscience (2020).
Bizios was also elected as a charter member of the UTSA Academy of Distinguished Researchers in 2015. The academy honors accomplished UTSA faculty members who are committed to research excellence, to fostering the highest quality of research and scholarly activity and to promoting the university's vision as a premier public research institution.
"Rena is an exemplary researcher and educator," said JoAnn Browning, dean of the Klesse College of Engineering and Integrated Design. "Admission to just one national academy is a significant professional feat, to be inducted to four is truly remarkable. Our students and faculty are fortunate to be able to learn from and work with Rena."
Bizios' class of AAA&S inductees includes 261 members from across the nation. More than 13,500 leaders from many academic disciplines have been elected to AAA&S since its founding.
UTSA is a Tier One research university and a Hispanic Serving Institution that is committed to tackling society's grand challenges through world-class education and research programs. As an urban serving university, it is driving San Antonio's knowledge economy, living out the notion that great universities need great cities and great cities need great universities.
---