Feature Story | 11-May-2022
HKUST pushes forward research on early diagnostics and gene therapy for neurodegenerative diseases
Hong Kong University of Science and Technology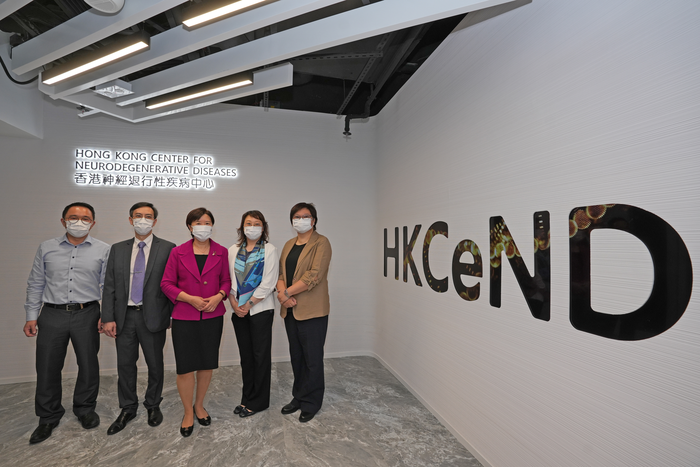 Researchers at the Hong Kong Center for Neurodegenerative Diseases (HKCeND), founded by The Hong Kong University of Science and Technology (HKUST), have made promising breakthroughs in early diagnosis and therapeutic treatment of Alzheimer's disease (AD) that have the potential to transform disease management. The team has established advanced biomarker discovery platforms, identified new blood-based biomarkers, and created an innovative artificial intelligence-based scoring system that enables risk prediction, early detection, and classification of AD. Furthermore, the team has successfully developed a gene therapy strategy as a novel therapeutic treatment for AD.
Established in 2020 with an initial funding of HK$500 million from the Hong Kong government's InnoHK Clusters initiative, HKCeND aims to be the world's leading research center focused on neurodegenerative diseases. A multi-disciplinary team of prominent scientists from HKUST, University College London and Stanford University School of Medicine are engaged in cutting-edge research with the goal of developing novel biomarkers and identifying therapeutic targets and systemic factors to treat neurodegenerative diseases.
AD, the most common form of dementia, is a devastating and incurable neurodegenerative disease that affects more than 50 million people globally. Treating AD remains a significant challenge since there are no objective diagnostic methods and patients are only diagnosed when the disease is at an advanced stage - after clinical symptoms such as memory loss appear. Given that disease onset is at least 10 - 20 years prior to the appearance of symptoms, early diagnosis of AD is the key to effective treatment. Early detection of AD, when it manifests as mild cognitive impairment or early dementia, would enable timely management/ therapeutic intervention resulting in improved outcomes. Biomarkers associated with early stages of AD have been found to have important applications in early diagnosis.
HKCeND researchers have extensive expertise in biomarker research. Previous achievements include conducting the first whole genome sequencing study of AD in the Chinese population and establishing the first comprehensive Chinese AD genetic database, resulting in the identification of AD genetic risk factors. These accomplishments have led to the development and establishment of novel and robust biomarker platforms at the HKCeND. Furthermore, by leveraging their genetic studies on Chinese AD patients and utilizing artificial intelligence tools, the team has developed the first deep learning-based polygenic risk scoring system that enables objective assessment of AD risk.
The team has also identified blood-based protein biomarkers and is developing a customized panel of AD blood protein biomarkers that can accurately classify patients with AD and evaluate disease status from a single drop of blood. This technology can be applied towards developing a clinical tool to efficiently and effectively diagnose AD at an early stage and for disease stratification. Given the clinical value of such tests, the team is actively pursuing commercialization opportunities with strategic industry partners. Collectively, these successes are increasing the HKCeND's stature as the preeminent center for advanced biomarker research and laying a solid foundation for the development of precision diagnosis.
Concurrent to their biomarker research, the HKCeND team is also focusing on developing new therapeutic approaches for AD, in particular, gene therapy. Gene therapy has not been considered a promising therapeutic approach for brain diseases such as AD due to the lack of an effective and non-invasive delivery tool capable of crossing the blood-brain-barrier. Recently, the team generated the first engineered delivery vehicle and demonstrated its ability to not only effectively cross the blood-brain-barrier but also deliver a genome-editing tool to the entire brain through a single non-invasive intravenous administration. Using this system, the team successfully disrupted AD-associated mutations and alleviated AD pathologies in the entire brain of AD mouse models. This work is an important milestone in the development of new disease-modifying therapies.
"Together with our collaborators from different parts of the world, we are drawing leading scientists in the field to conduct pioneering research at the Center. The InnoHK initiative provides an important platform for the Center to facilitate multi-disciplinary and cross-institutional collaborations to further advance knowledge for early detection and therapeutic treatment of AD," said Prof. Nancy Ip, Director of HKCeND and The Morningside Professor of Life Science at HKUST.
"We are confident that the Center will play a leading role in advancing research in neurodegenerative diseases, from talent development to conducting world-class research, to accelerate the development of precision diagnosis and medicine that will benefit millions of people globally," Prof Ip added.
The research work of the Center is led by eminent scientists and brings together more than 60 researchers from all over the world. The Center is looking for research talent to join the fast-growing team, and is committed to nurturing a new generation of innovation and technology (I&T) talent.

Disclaimer: AAAS and EurekAlert! are not responsible for the accuracy of news releases posted to EurekAlert! by contributing institutions or for the use of any information through the EurekAlert system.