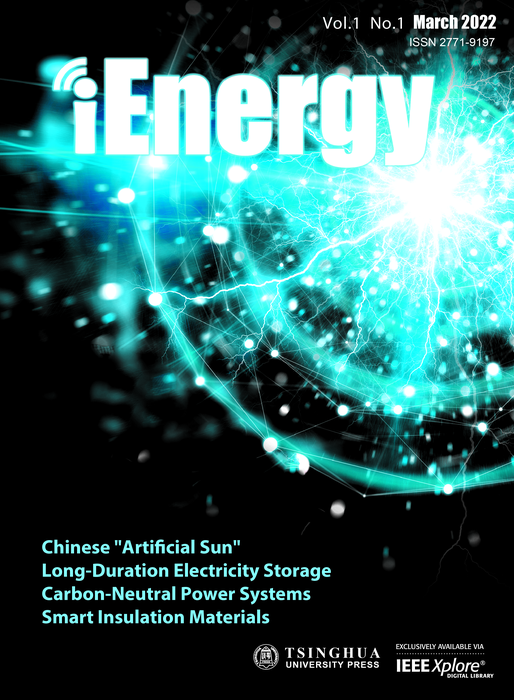 The "i" in iEnergy, a quarterly scientific journal launched by Tsinghua University Press this spring has multiple meanings, according to editor-in-chief Jinliang He.
"Internet of energy, intelligent energy, innovation for energy, interdisciplinary energy, information energy — iEnergy intends to unite the best experts in energy-related disciplines, support brilliant minds and innovation, accelerate the transformation of the energy structure and aid in achieving carbon neutrality," said He, who is professor and chair of the High Voltage Engineering Research Institute in the Department of Electrical Engineering at Tsinghua University. "This journal aims to disseminate original research at the frontiers of technologies and solutions for power and energy challenges."
In an editorial published on April 22 that welcomes readers to the first issue of iEnergy, He and co-author Chongqing Kang, professor and dean in Tsinghua University's Department of Electrical Engineering, also highlight the journal's special connection to electrical energy.
"iEnergy focuses on electrical energy, since 'i' is the symbol for 'current'." He said, also noting that the first issue celebrates the 90th anniversary of Tsinghua University's Department of Electrical Engineering. "However, iEnergy goes beyond any one discipline as the provision of energy is a key issue at the heart of modern society and tackling energy supply challenges is an essential aim in many fields. This journal's mission is to serve the entire power and energy community by publishing and disseminating insightful research results with lasting value."
In addition to original research letters and articles, the journal will also publish editorials, highlights, news and views, as well as reviews to address the diverse needs of such a broad readership.
The editorial calls attention to two original research articles in the first issue, each authored by international teams. The first is from researchers at Imperial College London on how high energy storage capacities can affect how the energy system will evolve and reduce system costs, especially in synergy with renewable resources. The second is the result of a multi-institute collaboration in the United States and focuses on how to convert power from individual, leading-edge technologies to improve the full system power and performance.
He and Kang also point to a letter led by Guo Jianbo, an academician in the Chinese Academy of Engineering, discussing the challenges of how to incorporate renewable energy at a high proportion in a new power system that meets China's national goals of a carbon emission peak by 2030 and full carbon neutrality by 2060.
"In the 21st century, the world is facing major historical opportunities and challenges in the field of energy transition from fossil fuels to green energy," He said. "The majority of scientific, technological, economic, political and social changes necessitate collaboration and coordinated efforts from academia, industry and governments. At such a historical juncture, we believe that launching a new comprehensive energy journal is essential."
Energy-related review papers, news, perspectives and opinions from experts in energy disciplines round out the journal's first issue. The selection includes updates on materials for next-generation energy and power equipment, recent progress on capacitive energy storage, advances in efficient energy utilization, the latest on energy chemistry for large-scale energy storage and more. According to He, the topics are carefully chosen to serve a broad audience with overlapping and interlocking interests.
"We believe that iEnergy will become a home for global researchers, uniting research communities from a wide range of disciplines such as material science, electrical engineering, chemical engineering, energy economics and energy policy," He said. "The best editors and authors globally will be united by iEnergy, to make it one of the most influential journals in the power and energy fields in the near future."
Readers are invited to submit suggestions, feedback and questions to ienergy@tsinghua.edu.cn.
The editorial can be found on IEEE Xplore (https://doi.org/10.23919/IEN.2022.0010) and also available on SciOpen (https://www.sciopen.com/journal/2771-9197) by Tsinghua University Press.
##
About SciOpen
SciOpen is a professional open access resource for discovery of scientific and technical content published by the Tsinghua University Press and its publishing partners, providing the scholarly publishing community with innovative technology and market-leading capabilities. SciOpen provides end-to-end services across manuscript submission, peer review, content hosting, analytics, and identity management and expert advice to ensure each journal's development by offering a range of options across all functions as Journal Layout, Production Services, Editorial Services, Marketing and Promotions, Online Functionality, etc. By digitalizing the publishing process, SciOpen widens the reach, deepens the impact, and accelerates the exchange of ideas.
---