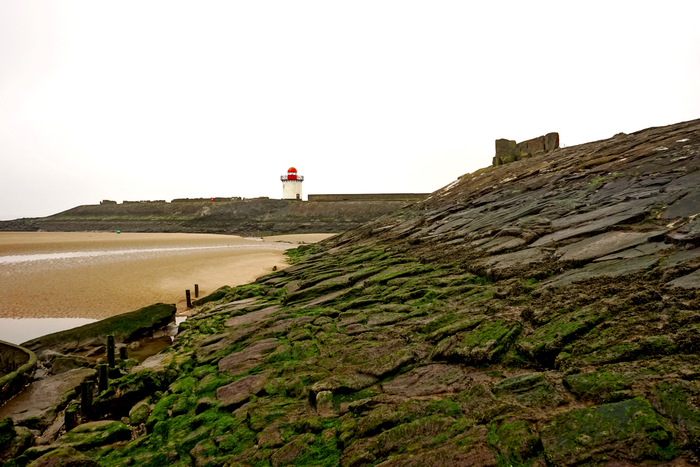 Seeing a larger number of species on urban coastlines - from marine animals to seaweed - is likely to improve the wellbeing of local people and visitors, new research from a team at Swansea University has revealed. The findings provide further evidence that biodiversity brings wide-ranging benefits.
Studies of land-based environments such as meadows, woodlands, and city parks have shown that people often find places that contain lots of different types of plant and animal life to be more visually pleasing and interesting, as well as more likely to relieve stress.
However, we know much less about seashore species and whether they generate the same positive feelings that land-based wildlife does, despite almost half of the world's population living close to the coast.
Anecdotal evidence suggests that people may associate marine life such as seaweeds with unpleasant slimy textures and smells or perceive them to be messy additions to coastlines. As such, having a greater variety of coastal species may not lead to the same positive effects on wellbeing as are observed on land.
This is important because coastal structures like seawalls are becoming increasingly familiar sights and can be home to many different marine species. Many of them now incorporate measures to conserve or promote biodiversity, such as the Sea Hive project in Mumbles in Swansea, but how these might affect the perceptions and wellbeing of beach visitors isn't well understood.
To understand how biodiversity may shape peoples' views, scientists at Swansea University undertook a research study.
They recruited 937 participants from the UK and Ireland. They asked them how appealing, interesting, and calming they found images of seawalls with different numbers of seaweed and animal species on them.
The images included between zero and eight different marine species: comprising of different types of seaweeds, barnacles, limpets, mussels and anemones.
To see whether the type of seawall that seaweeds and animals were growing on changed peoples' views, images ranged across three different structure types: from regular-shaped concrete walls to more irregular boulder – or "rip-rap" – sea defences.
They also included two different viewing scales – from the whole structure, to close-up viewing - to see if how people view seawalls affects their perceptions.
The survey found:
Biologically diverse images on irregular structures were rated most favourably
Respondents strongly and positively valued scenes that were seen as diverse, as they were seen as more interesting and calming
The older sea wall and the rip rap were seen as more "natural" and therefore viewed more positively than the more "artificial" regular sea wall
Diversity and naturalness were rated as the most important qualities in participants' comments
This was especially true with close-up images, which is how people sometimes view coastal habitats, for example exploring or looking at rockpools
Dr Tom Fairchild of Swansea University, lead researcher, said:
"People found structures that had more species to be more appealing, interesting, and calming to look at. This suggests that high numbers of species provide a range of human benefits, despite occasional negative feelings towards species.
This occurred because structures were perceived to be more "natural" and have greater "biodiversity" when they were home to a wide variety of sea life: strongly influencing how we see natural spaces.
As public awareness about human impacts on the natural world increases, projects to conserve or enhance biodiversity are becoming more common.
Our study supports the idea that designing seawalls to support biodiversity not only brings benefits to wildlife but can also benefit the lives of people who live by or use our urban coastlines."
The research was carried out as part of the UK/Ireland Ecostructure project and published in People and Nature.
END
Pictures:
Credit for all pictures: Tom Fairchild/Swansea University
Images of coastline and coastal structures that formed part of the research project
Notes to editors:
Swansea University is a world-class, research-led, dual campus university offering a first-class student experience and has one of the best employability rates of graduates in the UK. The University has the highest possible rating for teaching – the Gold rating in the Teaching Excellence Framework (TEF) in 2018 and was commended for its high proportions of students achieving consistently outstanding outcomes.
Swansea climbed 14 places to 31st in the Guardian University Guide 2019, making us Wales' top ranked university, with one of the best success rates of graduates gaining employment in the UK and the same overall satisfaction level as the Number 1 ranked university.
The 2014 Research Excellence Framework (REF) 2014 results saw Swansea make the 'biggest leap among research-intensive institutions' in the UK (Times Higher Education, December 2014) and achieved its ambition to be a top 30 research University, soaring up the league table to 26th in the UK.
The University is in the top 300 best universities in the world, ranked in the 251-300 group in The Times Higher Education World University rankings 2018. Swansea University now has 23 main partners, awarding joint degrees and post-graduate qualifications.
The University was established in 1920 and was the first campus university in the UK. It currently offers around 350 undergraduate courses and 350 postgraduate courses to circa 20,000 undergraduate and postgraduate students. The University has ambitious expansion plans as it moves towards its centenary in 2020 and aims to continue to extend its global reach and realise its domestic and international potential.
Swansea University is a registered charity. No.1138342. Visit www.swansea.ac.uk
For more information:
Kevin Sullivan, senior press officer, Swansea University k.g.sullivan@swansea.ac.uk
Follow us on Twitter: www.twitter.com/SwanseaUni
Find us on Facebook: www.facebook.com/swanseauniversity
---
Journal
People and Nature
Article Title
Species diversity enhances perceptions of urban coastlines at multiple scales
Article Publication Date
11-May-2022