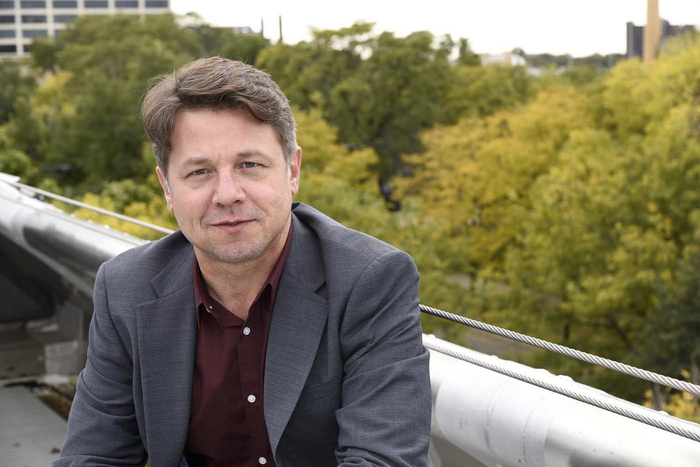 CHICAGO, May 10, 2022—Illinois Institute of Technology Professor of Political Science Matthew A. Shapiro has been awarded a Fulbright United States Scholar Program award in political science/international relations for the 2022–2023 academic year.
"I am honored to have been selected as a Fulbright U.S. Scholar," Shapiro says. "It will be a remarkable opportunity to go back into the field in South Korea with the support of the Fulbright program."
Shapiro's research lies at the intersection between economics and public policy. More specifically, he attempts to understand how national innovation systems are formed and contribute to sustainable development; how environmental and energy issues are addressed and impacted by relevant policies and political forces; and how communications from politicians, scientists, and the media impact both of these areas.
"My research is focused on how Korean innovation policy can be designed to increase its 'green,' technology-oriented research collaborations with the U.S. and China," Shapiro says. "Yet, given existing tensions between the U.S. and China, I will also focus on how Korea's innovation policy avoids alienating either country with regard to potential economic and security concerns."
Shapiro will be based in Seoul, South Korea, for his research, and will likely travel to other parts of the country such as Daejeon, which is another science and technology hub in South Korea. He will interview key governmental personnel, scientists, researchers, and energy-oriented nonprofit organizations to understand and identify the motivations for specific policies and the mechanisms underlying Korea's green technology-related innovation policy.
The Fulbright Program project overlaps closely with Shapiro's previous research in Asia, which includes studying the challenges between South Korea and China in addressing transboundary air pollution, the lack of viable technology-oriented agreements between South Korea and China, and South Korea's domestic politics regarding domestic and international R&D collaboration. Upon returning to the U.S., Shapiro will publish his research and hopes to share his findings with policymakers in the U.S., Beijing, and Seoul. He says that "a model of research collaboration and technology transfer among rival and intermediating countries in pursuit of green technology has particular significance given the amount of greenhouse gases emitted by the U.S. and China. It should also provide an important update to traditional theories of international relations that tend to downplay the role of non-state actors."
Shapiro is a research affiliate at Argonne National Laboratory's Joint Center for Energy Storage Research and has held research fellowships and appointments at the Asiatic Research Institute at Korea University, the East Asia Institute, the Industrial Technology Research Institute, and the Electronics and Telecommunications Research Institute.
Since 1946, the Fulbright Program has provided more than 400,000 participants from more than 160 countries the opportunity to study, teach, and conduct research, exchange ideas, and contribute to finding solutions to shared international concerns. The primary source of funding for the Fulbright program is an annual appropriation by the U.S. Congress to the U.S. Department of State's Bureau of Educational and Cultural Affairs. Fulbright alumni include 61 Nobel Prize laureates, 88 Pulitzer Prize recipients, and 40 who have served as a head of state or government.
ILLINOIS INSTITUTE OF TECHNOLOGY
Illinois Institute of Technology, also known as Illinois Tech, is a private, technology-focused research university. Illinois Tech is the only university of its kind in Chicago, and its Chicago location offers students access to the world-class resources of a great global metropolis. It offers undergraduate and graduate degrees in engineering, science, architecture, business, design, human sciences, applied technology, and law. One of 22 institutions that comprise the Association of Independent Technological Universities, Illinois Tech provides an exceptional education centered on active learning, and its graduates lead the state and much of the nation in economic prosperity. Illinois Tech uniquely prepares students to succeed in professions that require technological sophistication, an innovative mindset, and an entrepreneurial spirit.
---