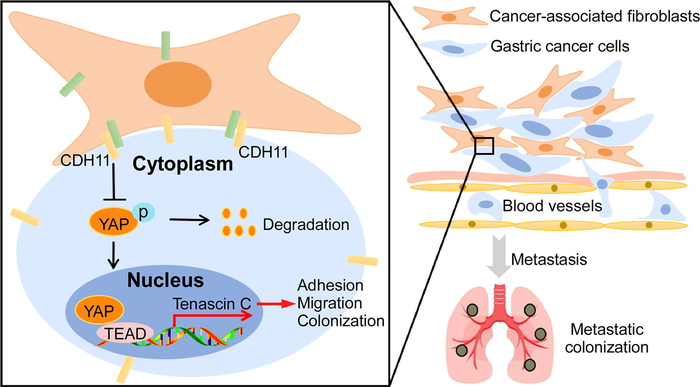 This study is led by Prof. Wei Zhuo (Zhejiang University School of Medicine), Prof. Tianhua Zhou (Zhejiang University School of Medicine), Prof. Liangjing Wang (Department of Gastroenterology, the Second Affiliated Hospital Zhejiang University School of Medicine) and Prof. Lisong Teng (Department of Oncology Surgery, the First Affiliated Hospital Zhejiang University School of Medicine)
The complex dynamic interactions between tumor cells and stromal cells in the tumor microenvironment are crucial for tumor metastasis. Cancer-associated fibroblasts (CAFs) are the major cell population in the tumor microenvironment. CAFs have previously been reported to promote tumor metastasis through aberrant paracrine signaling. But it is still unclear that weather CAFs and adjacent gastric cancer (GC) cells transduce juxtacrine signals to modulate cancer metastasis.
The Cadherins family (cadherins) is one of the most important molecules that can mediate cell-cell adhesion. The classical cadherin superfamily also initiates different intracellular signaling cascades and regulates cytoskeletal dynamics, permeability, cell polarity, and tumor progression.
First, Jiaojiao Ni et al. explored the crucial cadherin molecules that are involved in GC cell stromal cell juxtacrine interactions by comprehensive analysis of The Cancer Genome Atlas (TCGA). They found that cadherin 11 (CDH11) was the only member that was significantly upregulated in GC tissues with poor prognosis and advanced TNM stage. In addition, among various stromal cells, the expression levels of CAFs markers were strongly correlated with CDH11 expression in the TCGA database, suggesting that CDH11 may be involved in the GC cell-CAF interaction.
Subsequently, both in vitro and in vivo studies indicate that CDH11 mediates the adhesion interaction between CAFs and GC cells, thereby inducing malignant behaviors such as migration, colony formation, and metastasis of GC cells.
By further exploring the underlying mechanism of CDH11-mediated GC cell-fibroblast interactions, the team found that CDH11-mediated GC cell-CAFs interactions and juxtacrine activate the YAP-Tenascin C (TNC) pathway, upregulate the expression of TNC, eventually leading to the aggressive behavior of GC cells.
These findings prompted scientists to explore the clinical relevance and prognostic value of the CDH11-YAP-TNC axis in GC. They found that there was a prominent positive correlation between the expression of CDH11 and YAP, CDH11 and TNC, YAP and TNC in clinical GC samples. And the high CDH11, YAP, or TNC expression were all significantly correlated with poor prognosis in GC patients.
This team identifies a novel juxtacrine model by which CDH11 mediates GC cells binding with fibroblasts and activates YAP-TNC signaling in GC cells, which enhances the malignancy of GC cells. Considering that targeting CAFs is a potential therapeutic strategy for cancer treatment, it will be interesting to further test the therapeutic potential of targeting the CDH11-YAP-TNC signaling axis against GC metastasis.
See the article:
Cadherin 11-mediated juxtacrine interaction of gastric cancer cells and fibroblasts promotes metastasis via YAP/tenascin-C signaling
https://doi.org/10.1016/j.scib.2022.02.005
---