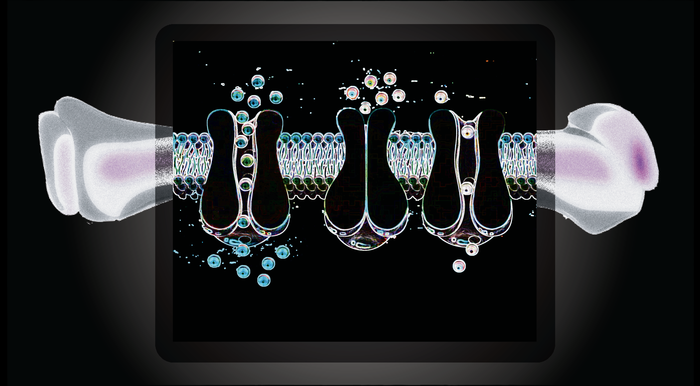 Kyoto, Japan -- A study at Kyoto University has identified that c-type natriuretic peptide, or CNP, facilitates intracellular Ca2+ signals in growth plate cartilage cells, or chondrocytes, for stimulating growth at both ends of developing long bones.
"The signaling pathway was as we predicted, but the results of our experiment turned out clearer than expected," says lead author Atsuhiko Ichimura.
In addition to identifying CNP signaling pathways using pharmacological and genetic experiments, a potential target protein in the pathway has also been eyed for developing new therapeutic agents to treat growth disorders such as retardation.
While the CNP analog peptide VOXZOGO™, or vosoritide, has been approved for treating achondroplasia in Europe and the United States, the precise molecular mechanism in which CNP promotes bone growth has long remained unclear.
To investigate the physiological links between the signaling pathway and bone growth, the research team developed unique methods to analyze intracellular Ca2+ concentration in living chondrocytes, using bone samples from fetal mice.
The pharmacological data indicate that CNP is involved in elevating the intracellular signaling molecule cyclic guanosine monophosphate, or cGMP, via its receptor distributing on the cell membrane. The study shows that a cascade of ionic channel events boosts intracellular Ca2+ concentration, inducing long bone outgrowth.
"It was surprising to discover that an ion channel activator stimulates Ca2+ signaling in chondrocytes, thereby inducing bone outgrowth," adds Ichimura.
The team believes that the development of chemical agents that specifically target this pathway may lead to promising clinical treatments for bone-related developmental disorders. Also, the technology could be applied to artificially modify body size in farm and pet animals.
"We have identified a new signaling cascade in CNP after more than 30 years from the discovery of this peptide," notes Ichimura. "Now, these results may enable us to develop new bone growth-stimulating agents."
###
The paper "C-type natriuretic peptide facilitates autonomic Ca2+ entry in growth plate chondrocytes for stimulating bone growth" appeared 15 March 2022 in Cell Biology, with doi: https://doi.org/10.7554/eLife.71931
About Kyoto University
Kyoto University is one of Japan and Asia's premier research institutions, founded in 1897 and responsible for producing numerous Nobel laureates and winners of other prestigious international prizes. A broad curriculum across the arts and sciences at both undergraduate and graduate levels is complemented by numerous research centers, as well as facilities and offices around Japan and the world. For more information please see: http://www.kyoto-u.ac.jp/en
---
Method of Research
Experimental study
Subject of Research
Cells
Article Title
C-type natriuretic peptide facilitates autonomic Ca2+ entry in growth plate chondrocytes for stimulating bone growth
Article Publication Date
15-Mar-2022
COI Statement
Authors declare no conflicts of interest.