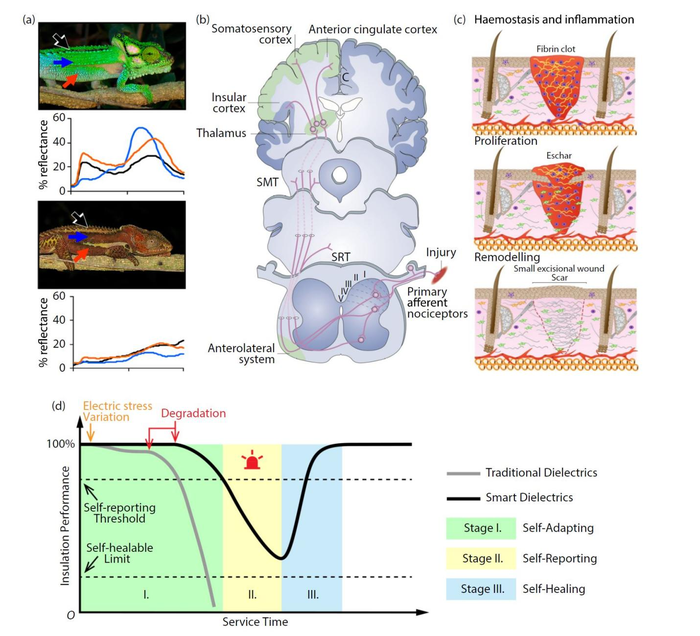 In a renewed push to find materials that will make next-generation power grids and other critical data and electric transmission infrastructure more efficient and more reliable, scientists are looking to the plant and animal worlds for insights into how to last longer in harsh environments. Desert plants and animals are of particular interest in this endeavor, because of the parallels that exist between desert survival and the conditions found in critical components of power grids, such as transformers and other types of substations.
An ideal next-generation power grid, scientists and engineers have found, would possess greater resilience and dependability through the ability heal itself and self-report to inspectors the segments nearing failure, helping the utility provider avoid costly service interruptions. The development of so-called "smart dielectric materials" for use as electrical insulators is well underway, with some smart materials close to being viable for mass production and use, according to a group of Chinese researchers led by Professor He professor He of the Tsinghua University School of Electrical Engineering in Beijing, who published a comprehensive review of the state of dielectric materials on April 22, 2022 in iEnergy (DOI 10.23919/IEN.2022.0007).
"The utilization of bionic smart dielectrics in equipment manufacturing is expected to spur the evolution of advanced power apparatus and even energy production, transmission, and utilization, which will help greatly as the developed world's need for electricity grows at an increasing rate," professor He said. "Exploring and implementing next-generation technologies like this is especially important as the world transitions to all electric vehicles over the next 10 to 20 years."
Materials professor He and his team examined fall into three categories: self-adapting, self-reporting, and self-healing. One prominent parallel to smart dielectrics in nature is wound healing in humans and other animals following a cut or puncture to the skin. Following the trauma, chemical signals trigger clotting factor to stop bleeding and protect the site from infection and further damage. The surrounding tissues are soon induced to grow into the puncture site, producing scar tissue, effectively replacing the damaged skin.
"In a conceptually similar way, certain smart dielectric materials we reviewed demonstrate self-adapting and healing properties, which, in practice would extend their service life," professor He said.
Materials engineers inspired by animals that can change their skin's color to blend in with surroundings as a framework for developing the self-reporting aspect of smart dielectrics that would further add value by giving electrical grid inspectors a visual cue such as fluorescence under UV light when the insulation is nearing failure. Workers could then replace the weathered segments before failure occurs, avoiding an unscheduled node failure. "For self-reporting," Jianliang said, "the way a chameleon's skin changes reflectance profile triggered by signals from the animal's central nervous system is a key parallel in nature to the ideal three-stage service life of these next-generation smart materials."
Materials that would follow this three-stage service life model would need to function based on cues provided by the state of the electric fields. Proposed smart materials may be engineered to jump into self-adaptive mode which could detect a predetermined point triggered by unbalanced or severely distorted electric fields to prevent damage to the materials.
Self-healing components of proposed smart materials are most often made with insolation materials of Carbon, Hydrogen, and Oxygen elements. In the right compounds, these elements can be highly stable in normal operating conditions.
Professor He said smart materials are still in a relatively early stage of development and research, and there is still a vast amount of potential work to be done in the search for ideal materials for different industrial applications.
"Nonetheless, there are also plenty of obstacles to designing, fabricating, and utilizing smart materials either in the laboratory or in the commercial sector," professor He said. "A lot of effort should be put forth to turn the concepts into reality."
The paper can be found on IEEE Xplore (https://ieeexplore.ieee.org/document/9762246) and also available on SciOpen (https://www.sciopen.com/article/10.23919/IEN.2022.0007) by Tsinghua University Press.
##
About iEnergy
iEnergy (Published by Tsinghua University Press), has multiple meanings, intelligent energy, innovation for energy, internet of energy, and electrical energy due to "i" is the symbol of current. iEnergy, publishing quarterly, is a cross disciplinary journal aimed at disseminating frontiers of technologies and solutions of power and energy. The journal publishes original research on exploring all aspects of power and energy, including any kind of technologies and applications from power generation, transmission, distribution, to conversion, utilization, and storage. iEnergy provides a platform for delivering cutting-edge advancements of sciences and technologies for the future-generation power and energy systems.
About SciOpen
SciOpen is a professional open access resource for discovery of scientific and technical content published by the Tsinghua University Press and its publishing partners, providing the scholarly publishing community with innovative technology and market-leading capabilities. SciOpen provides end-to-end services across manuscript submission, peer review, content hosting, analytics, and identity management and expert advice to ensure each journal's development by offering a range of options across all functions as Journal Layout, Production Services, Editorial Services, Marketing and Promotions, Online Functionality, etc. By digitalizing the publishing process, SciOpen widens the reach, deepens the impact, and accelerates the exchange of ideas.
---
Article Title
Smart dielectric materials for next-generation electrical insulation
Article Publication Date
22-Apr-2022