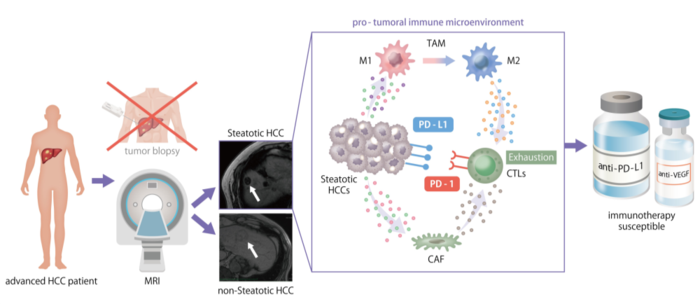 Osaka, Japan – In recent years, the immunotherapy field has revolutionized oncology treatment methods by developing therapeutics that help a cancer patient's own immune system fight their disease. However, these treatments have had varied efficacies in different cancer types. Although immunotherapy has become the standard therapeutic method for fighting liver cancer, also called hepatocellular carcinoma (HCC), its response rate has only been approximately 30% in patients with advanced disease. In a recent article published in Hepatology, a team led by researchers at Osaka University developed an analytical method that could help predict if an HCC patient would successfully respond to immunotherapy.
The tumor immune microenvironment (TIME) is the area inside the tumor in which various immune cells and other cell types interact and send/receive messages and signals. Within the TIME, the presence of tumor-infiltrating lymphocytes, one type of white blood cells, is critical because they can recognize tumor cells and help fight them. Additionally, expression levels of immune checkpoint proteins are also important, because these are targets of many immunotherapy drugs. Therefore, the Osaka University group aimed to examine and characterize the TIMEs of various HCC patients to identify immunotherapy-susceptible cases.
"We examined 113 patients that developed HCC without hepatitis virus infection," says Hiroki Murai, lead author of the study. "We used a multi-omics approach, meaning we examined the DNA sequences of specific genes frequently mutated in HCC, but also performed a more general assessment of RNA sequences to investigate expression levels of all genes in these tumors."
Using this workflow, the team categorized the 113 HCC cases based on their TIME composition estimated by gene expression profile. The TIME is commonly labeled as immune-excluded, immune-active, or immune-exhausted. Interestingly, they found a unique TIME in 23% of the HCC cases that had a significant amount of intra-tumoral fat accumulation, known as steatotic HCC.
"Steatotic HCC tumors tended to have an immune-enriched, but immune-exhausted TIME," explains senior author Tetsuo Takehara. "There was high infiltration of immune cells, including M2 macrophages and cancer-associated fibroblasts, but the nearby T cells were exhausted. They lost much of their fighting ability."
The group also determined that the increased fat levels in these tumor cells induced expression of PD-L1, an immune checkpoint molecule that leads to an immunosuppressive TIME.
"PD-L1 is a common target of immunotherapy drugs because interfering with this protein can help restore the functions of the immune cells," says Takahiro Kodama, co-lead author of the study. "Our findings suggest that HCC tumors with steatosis would therefore be susceptible to these types of drugs."
Searching for a non-invasive identification system, the authors found that MRI scans could be used to identify steatotic HCC patients who may be susceptible to a combined immunotherapy approach. The data presented in this work are therefore extremely important and demonstrate that intratumor steatosis could be used as a novel biomarker for evaluating immunotherapy efficacy in HCC cases.
###
The article, "Multiomics identifies the link between intratumor steatosis and the exhausted tumor immune microenvironment in hepatocellular carcinoma," was published in Hepatology at DOI: https://doi.org/10.1002/hep.32573
About Osaka University
Osaka University was founded in 1931 as one of the seven imperial universities of Japan and is now one of Japan's leading comprehensive universities with a broad disciplinary spectrum. This strength is coupled with a singular drive for innovation that extends throughout the scientific process, from fundamental research to the creation of applied technology with positive economic impacts. Its commitment to innovation has been recognized in Japan and around the world, being named Japan's most innovative university in 2015 (Reuters 2015 Top 100) and one of the most innovative institutions in the world in 2017 (Innovative Universities and the Nature Index Innovation 2017). Now, Osaka University is leveraging its role as a Designated National University Corporation selected by the Ministry of Education, Culture, Sports, Science and Technology to contribute to innovation for human welfare, sustainable development of society, and social transformation.
Website: https://resou.osaka-u.ac.jp/en
---
Method of Research
Experimental study
Subject of Research
People
Article Title
Multiomics identifies the link between intratumor steatosis and the exhausted tumor immune microenvironment in hepatocellular carcinoma
Article Publication Date
14-May-2022