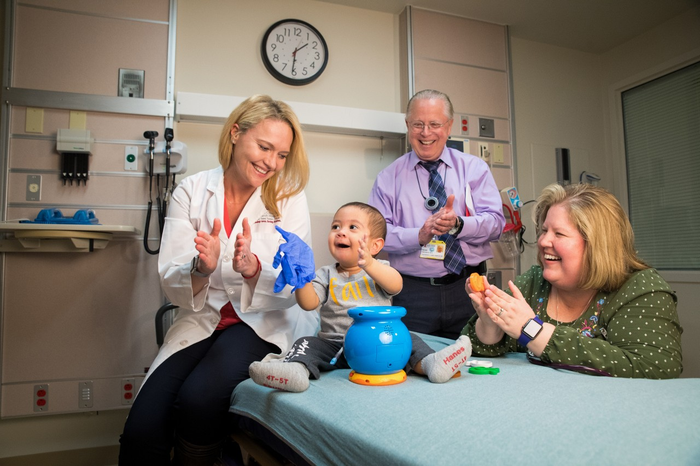 (MEMPHIS, Tenn. – May 12, 2022) Interim results of an ongoing clinical trial found lentiviral gene therapy is safe and effective for treatment of infants with X-linked severe combined immunodeficiency (X-SCID). The report will be presented during the 25th annual meeting of the American Society of Gene and Cell Therapy (ASGCT). The conference will take place in person and virtually May 16 – 19, 2022 at the Walter E. Washington Convention Center in Washington, D.C.
"All of our patients are doing very well," said Ewelina Mamcarz, M.D., of the St. Jude Department of Bone Marrow Transplantation and Cellular Therapy. "At a median follow up of over two and a half years, the therapy appears to be safe and effective. The patients develop functional immune systems with no evidence of abnormal cell division."
X-SCID, also known as bubble boy disease, is a rare, life-threatening disorder caused by a mutation in a single gene that prevents proper immune function. In 2019, St. Jude published an initial report in the New England Journal of Medicine documenting the success of the gene therapy developed and produced at St. Jude. Thursday, May 19, at 8:45 a.m. ET, Mamcarz will present interim results for the first 23 patients treated in the multi-center clinic trial.
The ASGCT annual meeting is a venue for professionals in gene and cell therapy to display their work with colleagues. The meeting serves a wide community, including academic researchers, clinicians, bio-industry developers, regulatory agencies, equipment manufacturers, patient advocates and others. The meeting will also feature other St. Jude scientists discussing research related to immunotherapies using chimeric antigen receptor (CAR) T cells from the Krenciute, Velasquez, Zhang and Gottschalk laboratories and immune response to vectors from the Davidoff laboratory.
Oral presentations preview
At 5:15 p.m. ET, Dalia Haydar, Ph.D., Bone Marrow Transplantation and Cellular Therapy, will discuss a CAR T cell with superior efficacy in an immune competent brain cancer model. Haydar is the first to test the function of different CAR domains in an immunocompetent model of a brain tumor. Haydar will show which domains worked best in this model. Haydar will also reveal the type of cells that are recruited into brain tumors to suppress the anti-cancer therapy.
Brooke Prinzing, Ph.D., Department of Bone Marrow Transplantation and Cellular Therapy, will discuss chimeric switch receptors that improve CAR T cell antitumor activity. The talk is Tuesday, May 17, at 5 p.m. ET. This research demonstrates how to enhance antitumor of CAR T cells.
Featured New Technologies
Awards and more
Stephen Gottschalk, M.D., chair of the St. Jude Department of Bone Marrow Transplantation and Cellular Therapy, will chair the workshop "Immune Effector Cell Therapies" on Sunday, May 15, 1 – 4:40 p.m. ET. The workshop includes a 2:50 p.m. ET talk by Giedre Krenciute, Ph.D., Bone Marrow Transplantation and Cellular Therapy, titled "Gene editing to improve CAR T cell therapy."
Haydar will receive an Excellence in Research Award for his abstract featuring a novel CAR T cell with superior efficacy in an immune competent brain cancer model during the George Stamatoyannopoulos Lecture. The event is Wednesday, May 18, at 10:15 am. ET. His abstract was selected as one of the top 18 that postdoctoral fellows or students submitted.
X-SCID gene therapy interim results
Mamcarz will present the interim status of the trial, the largest cohort of infants with X-SCID, who have received gene therapy. Over half of the infants in this report look immunologically like their peers, while the remaining patients appear to be following the pattern of immune recovery of their predecessors but are currently early post therapy. While the median follow-up is two and a half years, six patients are at or near the milestone of being five years post therapy.
"All patients have functional immune cells post gene therapy," Gottschalk said. "These results look and continue to be very encouraging. However, there are very few studies where patients have gotten gene therapy so early in life, so we need to continue to observe these children."
So far, the treatment appears safe and yields a stable, functioning immune system. There has been no sign of leukemogenesis.
"These patients get regular pediatric infections, and they recover from them," Mamcarz said. "There were several patients who had COVID-19, RSV or flu infections and fought them off without any issues."
St. Jude researchers have partnered with Mustang Bio, a biotech company that is seeking U.S. Food and Drug Administration approval for the St. Jude gene therapy approach for X-SCID.
St. Jude Media Relations Contacts
Michael Sheffield
Desk: (901) 595-0221
Cell: (901) 275-9065
michael.sheffield@stjude.org
media@stjude.org
Emily Gest
Desk: (901) 595-0260
Cell: (901) 568-9869
St. Jude Children's Research Hospital
St. Jude Children's Research Hospital is leading the way the world understands, treats and cures childhood cancer and other life-threatening diseases. It is the only National Cancer Institute-designated Comprehensive Cancer Center devoted solely to children. Treatments developed at St. Jude have helped push the overall childhood cancer survival rate from 20% to 80% since the hospital opened more than 60 years ago. St. Jude freely shares the breakthroughs it makes, and every child saved at St. Jude means doctors and scientists worldwide can use that knowledge to save thousands more children. To learn more, visit stjude.org or follow St. Jude on social media at @stjuderesearch.
---