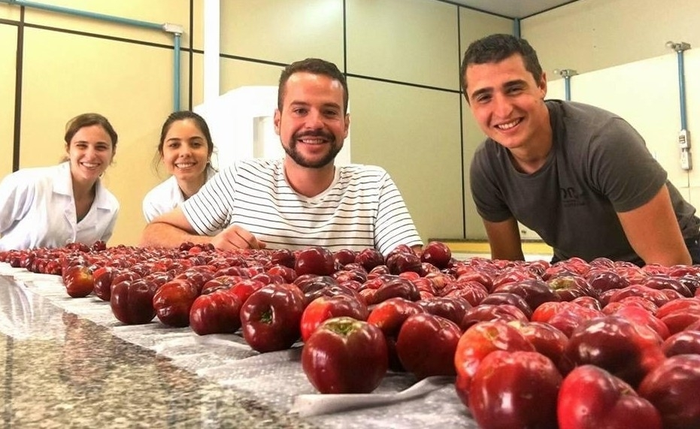 Antioxidants are important substances for the food and cosmetics industries because they inhibit the oxidation of lipid-rich products such as mayonnaise, margarine, moisturizing cream, and so on. The antioxidants currently used by manufacturers of such products are mostly synthetic, and the damage to health resulting from continual consumption of synthetic antioxidants has been the subject of scientific studies. Some of these antioxidants, such as TBHQ (tert-butylhydroquinone), are banned in several countries, yet still used in others, including Brazil.
As part of a search for natural alternatives, researchers at the University of São Paulo (USP) in Brazil have studied phenolic compounds from Acerola cherry (Malpighia emarginata) and extracted antioxidant microparticles as effective as TBHQ from the unripe (green) fruit. Their studies, which are supported by FAPESP, focus on developing a process that could easily be implemented on an industrial scale. Recent results are reported in an article published in the journal Future Foods.
"There are several studies proving the presence of antioxidant compounds in various natural sources, but more research is needed on ways to produce substances of interest and with significant potential applications on an industrial scale, and in an economically and technically feasible manner. Many studies in the field of biochemistry are conducted in the laboratory or with very small samples, so that their results can't be used by industry. Our aim is to work with processes that lead to products, typically ingredients, with practical applications," said Thais Maria Ferreira de Souza Vieira, a professor in the Department of Agroindustry, Nutrition and Food at the University of São Paulo's Luiz de Queiroz College of Agriculture (ESALQ-USP).
The researchers used representative samples (5 kg-10 kg of acerola), and only water or ethanol as a solvent, avoiding petroleum products owing to their toxicity. They set out to optimize productivity by retrieving from the raw material as much of the compounds of interest as possible while at the same time reducing energy expenditure and input costs.
"Colleagues of our group were already working with acerola, and in previous studies had compared green and ripe fruit, showing that unripe acerola contains more antioxidant compounds than ripe acerola. Green and ripe fruit is normally picked at the same time from the same tree. The pulp of unripe acerola isn't visually attractive, and we thought it would be a good idea to use unripe fruit to produce a natural antioxidant," said Bianca Ferraz Teixeira, first author of the article and a master's student at ESALQ-USP, formerly with a scientific initiation scholarship from FAPESP.
Process and tests
Samples were acquired from a large producer in Junqueirópolis, São Paulo state, washed, and lyophilized (freeze-dried), before being characterized and homogenized. An extract obtained by adding water was centrifuged and filtered.
"This extract was atomized in a spray dryer [a device that converts a fluid material into dried particles, used to produce powder milk, for example]. Microparticles were obtained in this manner," Teixeira explained. "We opted for spray drying because it's widely used by industry. It enabled us to transform the acerola extract into a powder that can be stored, marketed, and used straightforwardly without oxidizing. It could serve as a substitute for TBHQ, which is also used in powder form, doesn't easily spoil, and blends well into the product without affecting color, flavor or odor."
To test the efficacy of the microparticles, the researchers made an emulsion from oil, water and emulsifier, similar to that found in many products, including mayonnaise, salad dressing and cosmetics, and separated the samples into three groups, one with TBHQ, another with acerola microparticles, and a control with no additives.
"We added the proportion permitted by the rules in effect for the synthetic antioxidant and various different proportions of microencapsulated acerola powder. The latter proved to be just as effective as TBHQ in the same proportion," Teixeira said.
According to Vieira, the oil-in-water emulsion assay is ideal to explore possible applications and discover the most effective proportion of acerola powder. "Natural antioxidants are already commercially available, but it's no use having an encapsulated natural product that must be applied in large amounts in order to be effective because the cost is often unaffordably high," she said. "Nor should an antioxidant change the appearance, color or odor of the end-product. We had tasters analyze odor and found no difference between samples with the synthetic antioxidant and with the acerola-based product from the sensory standpoint."
Compounds
Teixeira recalled that acerola contains a large amount of vitamin C (ascorbic acid), which is not considered a phenolic compound but is a strong antioxidant. "The fruit also contains ferulic acid, chlorogenic acid, and coumaric acid. However, our tests showed ascorbic acid to be more abundant in unripe than ripe acerola," she said, reiterating that the efficacy of acerola is similar to that of synthetic antioxidants. "Of all the products we tested in the lab, this was the first to perform just as well. We used TBHQ as a benchmark for efficacy, but in France, Japan and the United States, this synthetic antioxidant is hardly used at all. Finding a natural alternative that's just as effective and easy to use is a significant achievement."
###
About São Paulo Research Foundation (FAPESP)
The São Paulo Research Foundation (FAPESP) is a public institution with the mission of supporting scientific research in all fields of knowledge by awarding scholarships, fellowships and grants to investigators linked with higher education and research institutions in the State of São Paulo, Brazil. FAPESP is aware that the very best research can only be done by working with the best researchers internationally. Therefore, it has established partnerships with funding agencies, higher education, private companies, and research organizations in other countries known for the quality of their research and has been encouraging scientists funded by its grants to further develop their international collaboration. You can learn more about FAPESP at www.fapesp.br/en and visit FAPESP news agency at www.agencia.fapesp.br/en to keep updated with the latest scientific breakthroughs FAPESP helps achieve through its many programs, awards and research centers. You may also subscribe to FAPESP news agency at http://agencia.fapesp.br/subscribe.
---
Article Title
Replacing synthetic antioxidants in food emulsions with microparticles from green acerola (Malpighia emarginata)
Article Publication Date
18-Feb-2022