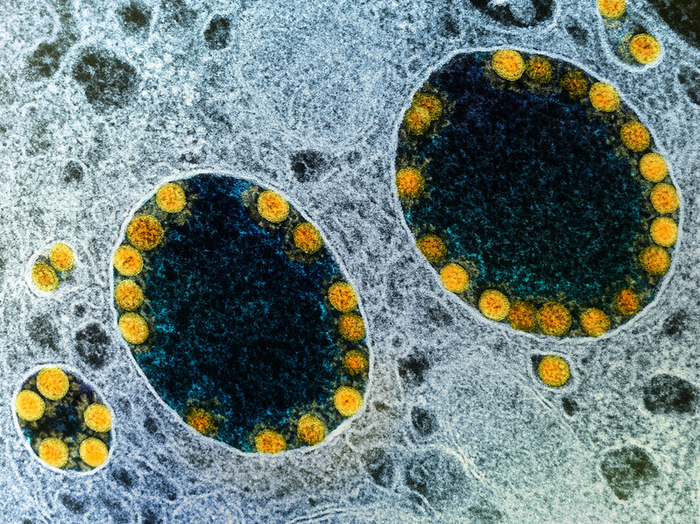 LA JOLLA, CA—The National Institute of Allergy and Infectious Diseases (NIAID), part of the National Institutes of Health (NIH), is sponsoring a major new antiviral drug development center that will be led by Scripps Research.
The center received an award in the amount of $67 million over 3 years, with potential renewal for two additional years, and will be known as the Center for Antiviral Medicines and Pandemic Preparedness (CAMPP). It will be one of nine NIAID-sponsored Antiviral Drug Discovery (AViDD) Centers for Pathogens of Pandemic Concern.
"The next global pandemic is a matter of 'when', not 'if', and with CAMPP we have a unique opportunity to prepare for that event," says project co-lead investigator Sumit Chanda, PhD, professor in the Department of Immunology and Microbiology at Scripps Research.
The AViDD Centers program is one of the U.S. government's responses to the COVID-19 pandemic and is aimed at the near-term development of drugs against viruses with high pandemic potential—including coronaviruses, filoviruses (such as Ebola virus), flaviviruses (yellow fever virus, dengue virus, Zika virus), paramyxoviruses, bunyaviruses, and togaviruses.
"Bringing together outstanding virology expertise with the drug discovery infrastructure of Calibr really enables the critical drug combination tools we need for this pandemic and future pandemic threats," says co-lead Arnab Chatterjee, PhD, vice president of Medicinal Chemistry at Calibr, Scripps Research's drug development arm.
Calibr's drug discovery expertise and capabilities are unique in the academic research community and are critical elements of CAMPP. The new center will leverage the significant global health drug discovery infrastructure and efforts that Calibr has built in partnership with the Bill & Melinda Gates Foundation and Wellcome Trust. Calibr had already made a major commitment to antivirals against coronaviruses with its drug repurposing efforts and its development of new antiviral agents that are advancing into clinical development.
The other CAMPP participants bring complementary expertise in virology, viral targets, chemistry, and drug discovery and delivery. These institutions include the Icahn School of Medicine at Mount Sinai, Washington University in St. Louis, the Perelman School of Medicine at the University of Pennsylvania, and the University of California, San Diego.
Scripps Research itself brings its renowned infectious disease, chemical biology, structural biology, and animal/organoid modeling teams to this effort, as well as its unique multidisciplinary environment.
"We are very excited to continue and expand our previous collaborations with Dr. Chanda's and Dr. Chatterjee's groups for the discovery and advancement of novel antivirals against pathogenic viruses including SARS-CoV-2," says co-lead investigator Adolfo Garcia-Sastre, PhD, professor in the Department of Microbiology and director of the Global Health and Emerging Pathogens Institute at the Icahn School of Medicine at Mount Sinai.
The new Center's efforts will include the discovery and development of next-generation drugs to combat coronaviruses and other viruses with pandemic potential by targeting known targets and exploring new paradigms.
The CAMPP portfolio includes later-stage programs that are expected to move through Investigational New Drug (IND)-enabling studies and clinical development over the course of the funding period, as well as highly innovative, early-stage ones. Over the award period, the Center will build multidisciplinary research capabilities that can be rapidly refocused in a new pandemic situation.
"The expertise we bring to this should allow us to develop efficient new methods as well as drugs targeting viral proteins that had been considered out of reach," Chanda says.
The grant number for this award is: 1U19AI171443-01.
To read a full list of the Center's researchers and projects, visit: https://www.campp.org/
About Scripps Research
Scripps Research is an independent, nonprofit biomedical institute ranked the most influential in the world for its impact on innovation by Nature Index. We are advancing human health through profound discoveries that address pressing medical concerns around the globe. Our drug discovery and development division, Calibr, works hand-in-hand with scientists across disciplines to bring new medicines to patients as quickly and efficiently as possible, while teams at Scripps Research Translational Institute harness genomics, digital medicine and cutting-edge informatics to understand individual health and render more effective healthcare. Scripps Research also trains the next generation of leading scientists at our Skaggs Graduate School, consistently named among the top 10 US programs for chemistry and biological sciences. Learn more at www.scripps.edu.
---