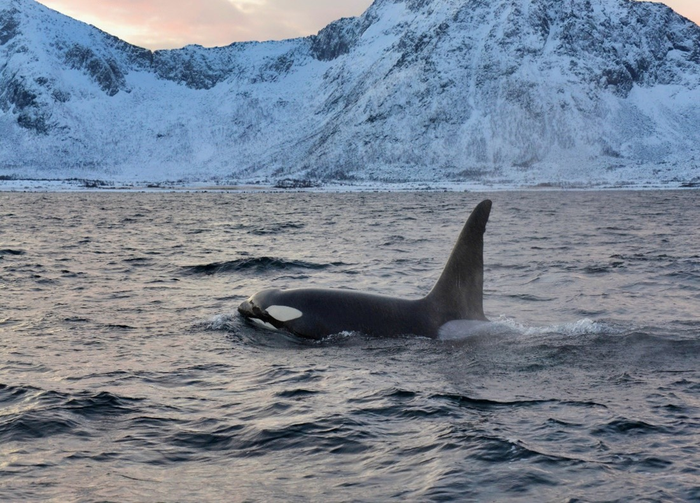 Les orques – également appelées « épaulards » – envahissent l'Arctique, venant ainsi perturber considérablement un écosystème déjà fortement ébranlé par les changements climatiques. En reconstituant l'alimentation de ces mammifères à partir des lipides présents dans leur lard, une équipe de chercheurs de l'Université McGill a fait des découvertes lui permettant de mieux comprendre l'impact de ces cétacés sur leur milieu de vie.
« Cette analyse nous renseignera sur les changements intervenant dans leur alimentation et sur les perturbations possibles des réseaux alimentaires de l'Arctique », affirme Anaïs Remili, doctorante au Département des sciences des ressources naturelles de l'Université McGill et auteure principale de l'étude.
Pour reconstituer l'alimentation des cétacés, les chercheurs ont réalisé une analyse quantitative de la signature des acides gras (QFASA) dans des échantillons provenant d'orques en captivité. Ils ont ensuite évalué la composition en acides gras d'orques sauvages du Groenland et d'éventuelles proies de ces prédateurs. Au terme de l'analyse précitée, ils ont déterminé que les orques du Groenland se nourrissaient principalement de phoques du Groenland et de phoques à capuchon, espèces trouvées dans l'estomac de certains animaux.
Cette nouvelle analyse pourrait faciliter l'étude de l'alimentation des orques partout dans le monde et nous permettre de mieux prédire les incidences possibles de ces cétacés sur les réseaux alimentaires de l'Arctique.
L'article « Validation of quantitative fatty acid signature analysis for estimating the diet composition 2 of free-ranging killer whales », par Anaïs Remili et coll., a été publié dans la revue Nature.
---
Journal
Scientific Reports
Article Title
Validation of quantitative fatty acid signature analysis for estimating the diet composition of free-ranging killer whales
Article Publication Date
13-May-2022