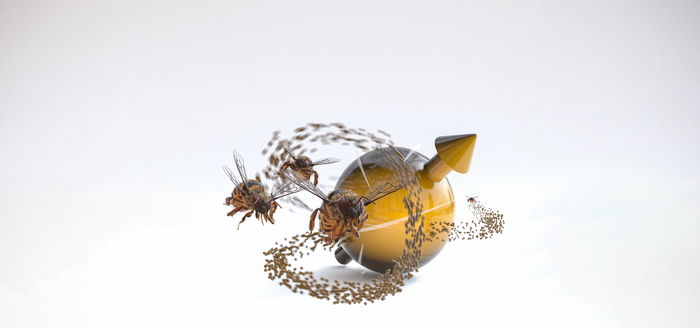 Scientists from around the world will present new findings on atoms, simple molecules, electrons and light at the 53rd Annual Meeting of the American Physical Society's Division of Atomic, Molecular and Optical Physics (DAMOP). The meeting will be held virtually and in person at the Rosen Centre Hotel in Orlando, Florida May 30-June 3.
A New Hybrid Format
This year's meeting will have both online and in person components. Browse a selection of newsworthy talks below or explore the scientific program in its entirety. Invited and focus sessions will be livestreamed to the virtual meeting platform. Contributed sessions may be pre-recorded and uploaded to the virtual meeting platform at the discretion of the presenter. All times are listed in Eastern Time.
Press Registration
Registration is required to access the virtual meeting platform. News media with valid APS press credentials may register for the meeting at no cost through the general registration page. To request press credentials, please complete this form. Registration will remain open throughout the meeting.
Health and Safety Requirements
All in-person attendees must provide proof of vaccination, including primary dosage(s) and any applicable boosters. On-site attendees must also receive a negative COVID test result before entering the meeting. Please review the health and safety requirements for complete details.
Newsworthy Talks
A Way to Chill Out Quantum Systems
May 31, 12:12 p.m. ET, Salon 9/10
When studying quantum behavior, like how particles also operate as waves, scientists seek to cool quantum systems to a near absolute-zero state where nearly all atomic motion slows. In these states, or Bose-Einstein Condensates (BECs), wave-like properties become dominant and collectively exhibit behaviors like rotational circulation. Here, quantum physicists present a new method to sense circulation in rotating BEC. The model improved rotation sensitivity by three orders of magnitude. By stimulating optomechanical entanglement via atomic currents, the approach also demonstrates how atomic rotation could be used as a form of information processing and storage.
A Classical Model Describes Both Quantum Simulators and Animal Behavior
June 2, 3:36 p.m. ET, Salon 9/10
To predict the behaviors of complex quantum systems, researchers use quantum simulators. But as quantum simulators move toward studying increasingly complex systems, researchers will no longer be able to use classical supercomputers to verify that these simulators are working as they should. Here, physicists detail how they examined a quantum simulator and found that, after an initial period, the simulator showed behaviors that could be described using a classical fluid dynamics model—one that also describes the foraging behaviors of some bees, sharks and other animals. This finding means that when traditional verification methods are beyond the reach of supercomputers, researchers could use this classical model to check that quantum simulators are behaving as expected.
A Better Way to Understand Ozone Formation
June 3, 11:06 a.m. ET, Salon 7/8
In a region of the upper atmosphere known as the stratosphere, naturally occurring ozone (O3) limits how much ultraviolet radiation hits Earth's surface. But in the lower atmospheric region called the troposphere, man-made ozone acts as an air pollutant that contributes to smog. For this talk, scientists discuss how they have reconciled theoretical predictions with experimental observations to effectively model ozone formation both in the atmosphere and at ground level. Their new approach could be used to learn more about Earth's atmospheric interactions and climate change.
Modeling Phosphorus Spectra for Extraterrestrial Biosignatures
June 3, 11:42 a.m. ET, Salon 7/8
Phosphorus, a key ingredient in DNA, is one potential biosignature that researchers look for when searching the cosmos for signs of extraterrestrial life. Here, astrophysicists share a line ratio emission model they constructed to calculate spectra of singly ionized phosphorus. The analysis could help determine what types of phosphorus signal that planets have biological perquisites or signs of life when detected in space.
Improving the Argon Dating Game Odds
June 3, 11:54 a.m. ET, Salon 11/12
Argon dating – which uses radioactive argon isotopes to reveal the age of water and ice samples – can help scientists reconstruct past climates within the last 50-1,500 years. However, there are only so many radioactive argon atoms per ice core or water sample, which complicates testing. In this session, researchers report on how they've optimized an argon dating laser-based technique called Atom Trap Trace Analysis, which enhances radioactive argon isotope detection in smaller samples. These updates could enable argon dating in icy mountain regions like the Andes or Tibetan Plateau and support large-scale tracing of global ocean currents over the millennium.
# # #
About DAMOP
The Division of Atomic, Molecular and Optical Physics was founded in 1943, and was the first division of the American Physical Society. Its central focus is fundamental research on atoms, simple molecules, electrons and light, and their interactions. It plays an enabling role underlying many areas of science through the development of methods for the control and manipulation of atoms, molecules, charged particles and light, through precision measurements and calculations of their properties, and through the invention of new ways to generate light with specific properties. Students who graduate with a background in AMO physics acquire a broad range of knowledge and skills that enable them to contribute to many areas of science and technology.
About APS
The American Physical Society is a nonprofit membership organization working to advance and diffuse the knowledge of physics through its outstanding research journals, scientific meetings and education, outreach, advocacy and international activities. APS represents more than 50,000 members, including physicists in academia, national laboratories and industry in the United States and throughout the world.
To receive APS press releases via email, sign up for the press list. Credentialed journalists receive a weekly tip sheet from the Physical Review journals and complimentary meeting registration.
---