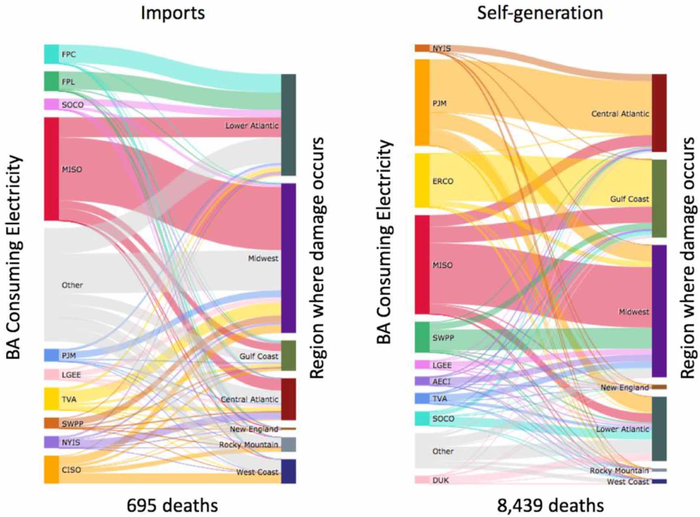 U.S. power plants burning coal and natural gas to generate electricity for export to other states accounted for about 700 premature deaths in 2019, according to new research published Thursday in Environmental Research Letters.
About 92% of the health damages linked to U.S. power production that year – and probably still – occurred within the states and regions where the power was both generated and used, the researchers found, but large discrepancies exist within that national total. More than half of the premature deaths associated with electricity use in most of California and the Northwest occurs in other western states supplying the West Coast. In addition, the study says, health damages from air pollution emitted by producing electricity disproportionately affect African Americans nationally, and Native Americans and other ethnicities regionally. Carbon dioxide emissions also get effectively exported when low-emission regions import electricity from high-emission regions, according to the study, tarnishing some climate policies.
"Regions with a lot of wind and solar power can import electricity from areas with a lot of coal- and gas-fired power, allowing people to benefit from the electricity while people in exporting areas suffer the health damages," said the study's lead author, Eleanor "Nora" Hennessy, a PhD student in Stanford's Department of Energy Resources Engineering.
As the U.S. power sector reduces coal-fired power overall, the total number of premature deaths linked to electricity generation is declining, the study finds. It estimates that number was between 4,000 and 9,000 in 2019. Previous estimates were between 8,500 and 16,400 for various years before 2019.
However, the exporting of health damages may not follow that decline. The U.S. power sector wants more long-distance transmission lines built to ensure the reliability of regional electric grids increasingly dependent on wind and solar power. If renewable electricity standards continue to vary from one state to the next, the exporting of negative impacts could increase, especially if electricity imports are from coal-fired power plants.
Shifting focus
Research on the health impacts of power production traditionally have focused on where the electricity is generated and how the air pollution travels from there, and regulations have followed that path. The researchers here, however, want to shift some of the focus to where the problematic electricity is being used.
"People deserve the information at least, so they understand the health consequences of electricity exports from generating stations they live near, especially coal-fired plants," said the study's senior author, Ines Azevedo, associate professor in Energy Resources Engineering.
"The health impacts include damaged respiratory and cardiovascular systems, heart disease, lung cancer, and strokes – all affecting far more people than the estimated 700 who die prematurely each year," Azevedo said.
The high number of premature deaths linked to electricity consumed on the West Coast but generated elsewhere is due primarily to California, Oregon and Washington not having coal-fired power plants, while all the other western states do. However, the three coastal states are moving their laws and regulations from requirements on generation to use, according to the study. In Washington, a 2019 law bars imports of coal-fired power by 2025. California's grid is to be carbon-free by 2045, which probably will mean almost no imports of electricity generated with fossil fuel.
U.S. East and Midwest
While West Coast states are exporting health impacts toother western states, states east of the Rocky Mountains tend to keep the health damages from power production within large regional grids – or "balancing areas" in power sector parlance. Electricity use in the regional grid covering the much of the U.S. Midwest along with much of Arkansas, Mississippi and Louisiana is linked to more premature deaths than in any other region. This is true for self-generated power and imports. Self-generation also leads to significant premature deaths within these three balancing areas: Texas; the regional grid covering most of a triangle from New Jersey down to Virginia and up to Chicago; and the grid basically from Oklahoma to North Dakota.
Regarding ethnicity, African Americans have the highest mortality rate from electricity-related air pollution at about 3.3 deaths per 100,000 people, which exceeds the overall national average of about 2.5 deaths per 100,000. Slightly above the average, about 2.8 deaths per 100,000 White people are due to the air pollution from electricity generation.
But the national averages obscure some big regional differences in ethnic population impacts. African Americans are hit particularly hard in the Southeast, as Native Americans are in the desert Southwest and west Texas. Asians suffer disproportionately in New York State, as Pacific Islanders do on the West Coast and in Nevada.
In terms of CO2, more than half of the emissions behind California's electricity use are from power produced in other Western states. The state's own energy is low carbon, but it imports 27 percent of its power from states with relatively high CO2 emissions. While CO2 emissions do not directly cause immediate health damage for people nearby, they are correlated with emissions of other air pollutants, like soot, sulfur dioxide and nitrogen oxides, causing the hundreds of premature deaths per year from exported power.
"As the grid gets cleaner, the effects of power imports are expected to decrease," said Hennessy, "but the impacts of electricity imports must be monitored and considered during the energy transition to ensure that people in certain states, or of certain ethnicities or income levels are not forced to bear the burden of an overall low-carbon U.S. electricity system."
Other authors of the study are Stanford professor Sally Benson, and adjunct professor Jacques de Chalendar, PhD '22.
This work was supported by the Department of Energy Resources Engineering at Stanford University.
---
Journal
Environmental Research Letters
Method of Research
Observational study
Subject of Research
Not applicable
Article Title
Distributional health impacts of electricity imports in the United States
Article Publication Date
19-May-2022
COI Statement
The authors declare no conflicting interests.