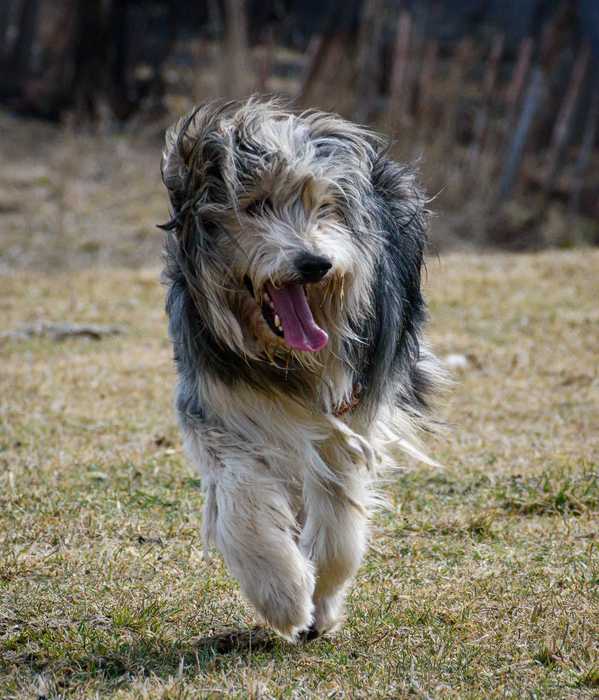 The Patagonian sheepdog (PGOD) originated from the ancestral shepherds of the United Kingdom is nowadays the closest link to a now extinct population of shepherds from which modern herding breeds descend. This was shown by research recently published in the journal named PLOS Genetics.
The research was based on the genomic characterization of the Patagonian sheepdog. For this, it was necessary to take samples of 159 Patagonian sheepdogs from the region of Aysén and Magallanes, in addition to some of them belonging to the Province of Chubut, Argentina. In this route of almost 13.000 kilometers, hair samples and 22 body measurements were extracted, in addition to collecting information on their pastoralist behavior, health status, reproductive status and nutrition, among other data.
For Natasha Barrios, a member of Universidad Austral de Chile and who led the study, this Patagonia dog, unknown in the world, is shown as the missing link between the old shepherds of the United Kingdom and the modern herding breeds. In that line, she said that "today we have an idea of what these dogs were and looked like before the official set up of modern breeds. It has been incredibly silent and stealthy working in the extreme of South America for the last 140 years, making it a valuable genetic and cultural reservoir."
DNA sequencing from blood samples was performed by means of a whole-genome genotyping chip. This chip has approximately 170.000 potential markers of polymorphisms within the dog's genome. To identify these variants, the obtained data were compared with data of similar characteristics from 1,514 individuals belonging to 175 recognized dog breeds, considering within this group herding breeds of European origin.
Regarding the advantages of this type of approach, Guillermo Nourdin, Bioinformatics expert at the MELISA Institute, who was responsible for the management and analysis of genomic data, highlighted the global, integrative and massive look at genomic data in the research. In addition, this approach "identified common traits that match populations of Patagonian sheepdog together with modern herding dog breeds that have a common ancestor of European origin," he stated.
Finally, Prof. Elard Koch, senior researcher and Chairman at the MELISA Institute, said that they were pleased with the participation of Guillermo Nourdin in this study of Patagonian sheepdogs: "Collaborating with our bioinformatics capabilities in research as relevant as this one, is encouraging for our researchers and a major goal for our institution" Koch remarked.
This research opens the door to the future exploration of different phenotype-genotype association analyzes, which would, for example, the exploration of genetic traits associated with their behavior, resistance and ability to work; additionally, to search for possible diseases prone to some modern herding breeds, where Patagonian sheepdog could be key to understanding how and why they have spread today.
###
This work was funded by: National Research and Development Agency, FONDECYT 1181592, Chile. (https://www.anid.cl) to MAG, National Agency for Research and Development, National Doctoral Scholarship 2018, Chile (www.anid.cl) to NB, National Agency for Research and Development, REDI 170062, Chile (www.anid.cl) to CGL, National Agency for Research and Development, PIA/BASAL FB0002, Chile (www.anid.cl) to CGL, The Intramural Program of the National Human Genome Research Institute of the National Institute of Health, Bethesda, Maryland, United States of America to EAO, DLD, HGP, ANH. The sponsors had no role in the design of the study, the collection and analysis of data, the decision to publish or the preparation of the manuscript.
Participating researchers:
Natasha Barrios, Institute of Pharmacology and Morphophysiology, Graduate School, School of Veterinary Sciences, Southern University of Chile; Cesar Gonzalez-Lagos, Department of Sciences, School of Liberal Arts, Adolfo Ibanez University, Santiago, Chile, and Center for Applied Ecology and Sustainability (CAPES), Santiago, Chile; Dayna L. Dreger, Heidi G. Parker, Andrew N. Hogan and Elaine A. Ostrander, Cancer Genetics and Comparative Genomics Branch, National Human Genome Research Institute, National Institutes of Health (NIH), Bethesda, Maryland, USA; Guillermo Nourdin-Galindo, Biotechnology Division, MELISA Institute, Concepcion, Chile; Marcelo A. Gomez, Institute of Pharmacology and Morphophysiology, School of Veterinary Sciences, Universidad Austral de Chile, Valdivia, Chile.
---
Method of Research
Experimental study
Subject of Research
Animals
Article Title
Patagonian sheepdog: Genomic analyses trace the footprints of extinct UK herding dogs to South America
Article Publication Date
28-Apr-2022
COI Statement
Competing interests: The authors have declared that no competing interests exist.