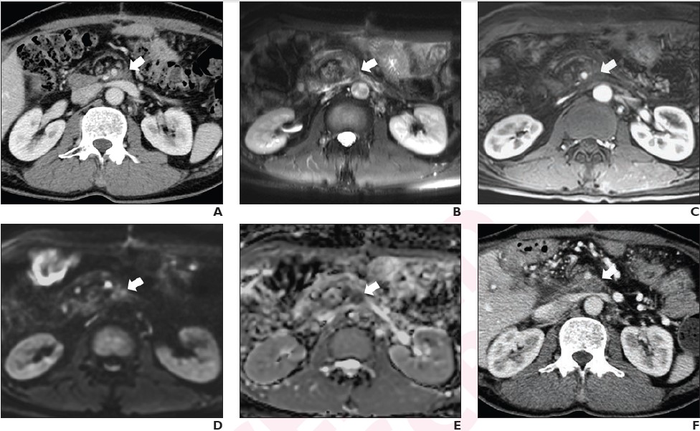 Leesburg, VA, May 25, 2022—According to ARRS' American Journal of Roentgenology (AJR), adding diffusion-weighted MRI (DWI) to conventional MRI improves the differentiation of locally recurrent tumor and post-surgical fibrosis after pancreatic ductal adenocarcinoma (PDAC) resection, primarily due to improved sensitivity for recurrence.
"The findings indicate a potential role for MRI with DWI in surveillance protocols after PDAC resection," clarified corresponding author Tae Wook Kang, MD from Samsung Medical Center in Seoul, South Korea.
Kang and colleagues' retrospective study included 66 patients (35 men, 31 women; mean age, 60.5 years) with PDAC resection between January 2009 and March 2016, who underwent postoperative surveillance CT demonstrating a soft tissue lesion at the operative site or at the site of peripancreatic vessels and subsequent MRI with DWI for further evaluation. CT at least 6 months after MRI served as reference standard, with increase in size of the soft tissue by ≥5 mm differentiating locally recurrent tumor (n=26) and post-surgical fibrosis (n=40). Two observers independently reviewed MRI examinations in separate sessions: conventional MRI alone vs MRI with DWI.
Compared with MRI alone, MRI and DWI showed higher sensitivity (observer 1: 88.5% vs 61.5%, p=.008; observer 2: 84.6% vs 42.3%, p= .001) without difference in specificity (observer 1: 72.5% vs 80.0%, p=.08; observer 2, 95.0% vs 85.0%, p=.10) in detecting local recurrence after PDAC resection.
"MRI with DWI as a problem-solving tool during post-operative surveillance after PDAC resection could facilitate earlier detection of recurrences," the authors of this AJR article added, "guiding prognostic assessment and treatment decisions."
---
North America's first radiological society, the American Roentgen Ray Society (ARRS) remains dedicated to the advancement of medicine through the profession of medical imaging and its allied sciences. An international forum for progress in radiology since the discovery of the x-ray, ARRS maintains its mission of improving health through a community committed to advancing knowledge and skills with the world's longest continuously published radiology journal—American Journal of Roentgenology—the ARRS Annual Meeting, InPractice magazine, topical symposia, myriad multimedia educational materials, as well as awarding scholarships via The Roentgen Fund®.
MEDIA CONTACT:
Logan K. Young, PIO
44211 Slatestone Court
Leesburg, VA 20176
703-858-4332
---
Journal
American Journal of Roentgenology
Method of Research
Imaging analysis
Subject of Research
People
Article Title
Utility of Diffusion-Weighted MRI for Detection of Locally Recurrent Pancreatic Cancer After Surgical Resection
Article Publication Date
25-May-2022