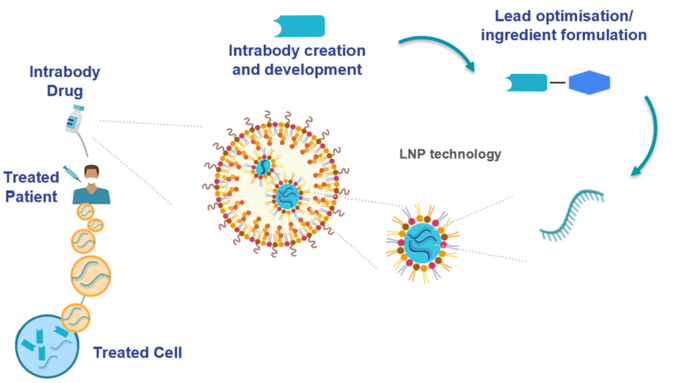 MUNICH, Germany & MELBOURNE, Australia--()—Mermaid Bio GmbH of Munich, Germany, and WEHI in Melbourne, Australia, today announced a collaboration to discover and develop a novel class of drug candidates that modulate misfunctioning proteins inside cells that can cause a wide range of illnesses. Specifically, they are applying Lipid Nanoparticle (LNP)/ RNA delivery technologies, similar to the ones used in the mRNA vaccines for COVID-19, to turn diseased cells into nanobody factories in order to treat themselves.
"Antibodies dominate the world of extracellular disease targets," said Ranja Salvamoser, PhD, Executive Director of Mermaid Bio. "Our innovation is to combine two cutting-edge technologies to deliver therapeutics into aberrant cells, in order to treat diseases at their roots."
"This is an incredibly exciting approach to drug discovery," said A/Prof James Vince, PhD, laboratory head at WEHI and Scientific Director at Mermaid Bio. "By delivering nanobodies via LNP and mRNA technology, where a single mRNA molecule can produce hundreds of copies of the encoded protein, we will solve the key challenge to using antibodies within cells."
The initial studies will involve protein targets associated with liver diseases and liver cancer. "LNPs, when they are injected into the blood stream, migrate to the liver and are taken up by cells there, so choosing liver diseases is a logical starting point in the development of intracellular nanobody medicines", said Dr Salvamoser. "Major pharmaceutical companies are advancing LNP technologies, and as LNPs become more targeted in their delivery into different tissues, we will also pursue nanobody targeting of intracellular proteins throughout the body."
Intracellular nanobodies (intrabodies) would allow antibody-driven medicines to compete with small molecule drugs to treat intracellular diseases. This market is estimated to exceed $100 billion annually. "The great thing about Mermaid Bio's approach is that this opens the door to a wide array of future disease treatments, as nanobodies can target proteins viewed as undruggable with small molecules, and can be made to specifically bind disease-causing protein variants" said Chris Baldwin, PhD, Business Director of Mermaid Bio. "As we prove the approach, there will be plenty of opportunities for us, our partners, and our peers to develop exciting new therapeutic candidates in a broad range of therapeutic areas".
The collaboration draws on the broad potential of world-class medical research performed at WEHI in the areas of oncology, immune-oncology, immunology/inflammation, infectious diseases, neurodegeneration and rare diseases. "We are delighted to explore our novel platform to develop novel therapeutic candidates based on molecular targets around which WEHI has specific expertise and capabilities", said Dr Salvamoser.
About Nanobodies
Human antibodies are incredibly effective at binding to their target protein and have been utilised to treat a wide range of illnesses, from cancers to skin diseases. They are also highly specific and avoid off-target effects, or side effects, that are common issues with small molecule drug candidates. However, conventional antibodies are very large in size, which can hinder tissue penetration, and due to the cellular environment, cannot function inside cells.
In contrast, nanobodies have a very simple structure and are roughly one-tenth the size of a human antibody - but with similar affinity and binding capabilities against their targets. Critically, unlike conventional antibodies, nanobodies have also been shown to retain their binding to antigens inside cells. They are created from a special type of antibody only found in sharks and members of the camel family, including llamas and alpacas.
While the small size and stability of a nanobody enables it to function effectively inside of cells, it also means that nanobodies get filtered from the blood stream rather quickly, creating an issue that holds back medicines based on direct treatment with nanobody protein.

About mRNA/LNPs
Lipid nanoparticles (LNPs) are nano structures composed of lipids that can protect mRNA from degradation in the blood stream. Once inside the body, they can enter cells and their contents are released. mRNA delivered in this way can then be utilised to produce unique proteins of interest.
In the case of mRNA vaccines for COVID-19, the mRNA encodes a coronavirus coat protein. These proteins cause the body to react and produce antibodies to arm the body against potential COVID-19 infections. In the case of intrabodies, the mRNA that is delivered causes the cell to make hundreds of copies of the nanobody that have been designed by researchers. These nanobodies then bind to a specific protein of interest in the cell and change the disease progression within the cell.
---
About WEHI (Walter and Eliza Hall Institute of Medical Research)
WEHI is where the world's brightest minds collaborate and innovate to make life-changing scientific discoveries that help people live healthier for longer. Our medical researchers have been serving the community for more than 100 years, making transformative discoveries in cancers, infectious and immune diseases, developmental disorders, and healthy ageing. WEHI brings together diverse and creative people with different experience and expertise to solve some of the world's most complex health problems. With partners across science, health, government, industry, and philanthropy, we are committed to long-term discovery, collaboration, and translation. At WEHI, we are brighter together.
Find out more at www.wehi.edu.au
About Mermaid Bio
Mermaid Bio's mission is to discover and develop breakthrough intrabodies (antibodies for intracellular targets) to treat unmet patient needs. We link single domain antibodies (nanobodies) together with advancements in drug delivery (using mRNA/LNP systems) to create a proprietary platform capable of producing breakthrough medicines. For more information, visit https://mermaid.bio and connect with us on LinkedIn.
Contacts
Mermaid Contact: Chris Baldwin
+49 1522 426 7878
WEHI Contact: Hashela Kumarawansa
+61 475 751 811
---
Method of Research
Observational study
Subject of Research
Cells